Megan Fox Shares Kind Words for Machine Gun Kelly's Guitarist Sophie Lloyd Amid Breakup Drama
Megan Fox returned to Instagram on Sunday to shut down speculation that Machine Gun Kelly cheated on her. She also turned to guitarist Sophie Lloyd's Instagram page to show support for the musician who was roped into the situation. There is no evidence that Kelly had an affair with his touring guitarist, but her name became associated with the drama after Fox responded to a joke about her.
"How me making a joke in order to absolve this girl of a hurtful accusation somehow turned into a confirmation of it – I will never understand," Fox wrote in the comments section for one of Lloyd's Instagram posts. "Why are people so...so dumb. Sophie, you are insanely talented. Welcome to Hollywood. Your first unwarranted PR disaster. You have now been baptized by the flames of fame. It only gets worse from here, unfortunately. Just ignore it as much as you can. [Heart emoji] Middle finger up."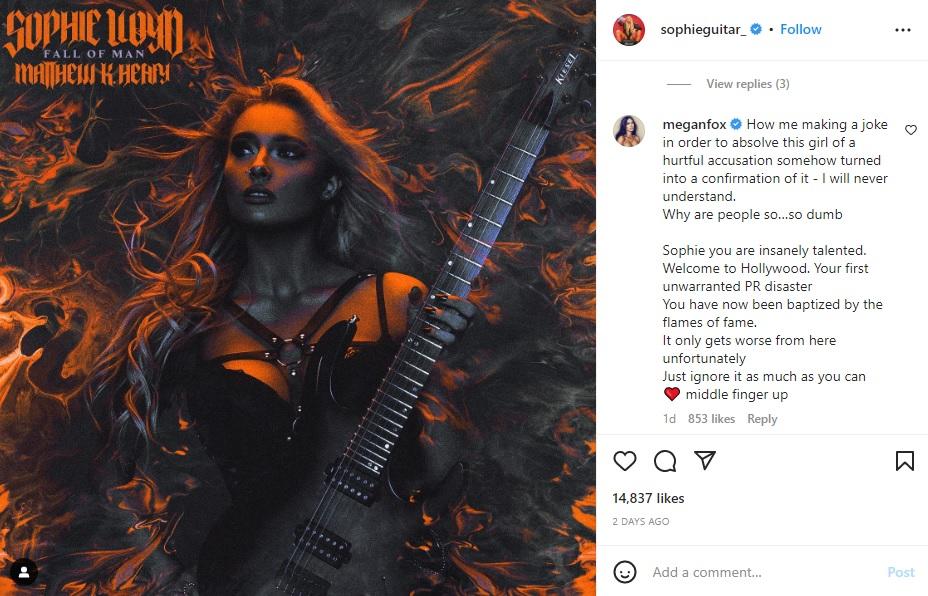 Lloyd appreciated Fox's support. "The internet is so wild! Sending so much love [Fox]," Lloyd replied.
During Super Bowl weekend, Fox deleted all photos with Kelly on her Instagram page. She then posted a new photo gallery with a lyric from Beyonce's "Pray You Catch Me," which led to speculation that Kelly cheated on the actress. "Probably got with Sophie," one fan wrote, referring to Lloyd. Instead of ignoring that comment, Fox joked, "Maybe I got with Sophie."
Since this comment linked Lloyd to the situation (without any evidence), Lloyd's management team released a statement calling out media outlets for connecting her to Fox and Kelly's relationship troubles. "Any suggestion that she has ever acted in an unprofessional manner or stepped out of her relationship are untrue," Lloyd's team said. "It's disrespectful to her as a female artist and poor journalism and social commentary to be reporting anything else."
Fox deleted her Instagram page at one point, but she returned on Sunday to share a statement. While she denied Kelly ever cheated on her, she did not confirm or deny reports that their relationship has hit a rough patch. "While I do hate to rob you of running baseless news stories that would have been much more accurately written by ChatGPT, you need to let this story die and leave all of these innocent people alone now," she wrote in part.
Fox and Kelly, whose real name is Colson Baker, got engaged in January 2022. Sources told multiple outlets in the past week that they are working on saving their relationship. "Megan and MGK have had ups and downs throughout their relationship, but at the end of the day, they have a lot of love for each other and a deep connection," one source recently told Entertainment Tonight. "They have very strong feelings for one another, so their emotions often come out in intense ways."
0
comments