Rey Mysterio's Son Dominik Walks out on WWE Hall of Fame Speech
Rey Mysterio's family drama continues ahead of WrestleMania 39. WWE inducted the wrestling icon into the WWE Hall of Fame on Friday night, alongside Stacy Keibler, The Great Muta, Andy Kaufman and referee Tim White. In a ceremony broadcast live on Peacock, Mysterio, the headling inductee, stepped up to the podium at Crypto.com Arena in Los Angeles to address his family, peers and fans. However, his son, Dominik Mysterio, walked out in the middle of the speech. Dominik's Judgement Day stablemates Rhea Ripley and Damian Priest also exited the ceremony at the same time.
The crowd inside the L.A. venue (which also hosted WWE SmackDown and its FOX broadcast beforehand) erupted in boos at the sight. Mysterio pulled the crowd back in, declaring, "Let me just say this: I'll take care of business tomorrow." The legendary luchador is booked to face his son on Saturday night at WrestleMania, which is going down at SoFi Stadium in Inglewood, California, and will be streamed on Peacock.
In the WWE storyline, Dominik is lashing out at his dad for what he claims was years of neglect as Rey became a wrestling icon. The WWE Hall of Fame induction only fanned those flames even more. After months of attacks and harassment from Dominik and the rest of the Judgement Day, Rey finally snapped and agreed to fight his son as WrestleMania.
Dominik walking out on Rey's Hall of Fame speech is the latest extension of this feud. The moment drew big reactions from viewers, who didn't expect a legitimately moving moment to be interrupted like this. Scroll through to see reactions to the moment in question.
Slide 1
The STRENGTH and commitment of Dominik Mysterio as a performer. 😂👏 pic.twitter.com/eMbjOPTZpE

— RN Pro Wrestling (@RNProWrestling) April 1, 2023
"I want Rey Mysterio to beat the living s— out of Dominik tomorrow," one person wrote. A second person added, "This going too far…"
prev
next
Slide 2
I love the commitment to the storyline between Rey Mysterio and Dominik. This is HEAT🔥🔥 #WWEHOF pic.twitter.com/pwb0SOjdNM

— Public Enemies Podcast (@TheEnemiesPE3) April 1, 2023
"This mfer Dominik Mysterio is incredible man," another person wrote. "He just knows how to be a great heel."
prev
next
Slide 3
Congratulations Rey Mysterio for being inducted in the Hall of Fame. That name and mask is legendary. What a beautiful speech and shoutout to his wife Angie for holding him down since day one. I can't wait to see him beat Dominik's ass tomorrow at #Wrestlemania #WWEHOF pic.twitter.com/NbTk5384Xc

— Alan Martinez (@AlanPressStart) April 1, 2023
"I love this," a fourth person wrote. "Dom is doing some really great work rn. He's growing on me — big time."
prev
next
Slide 6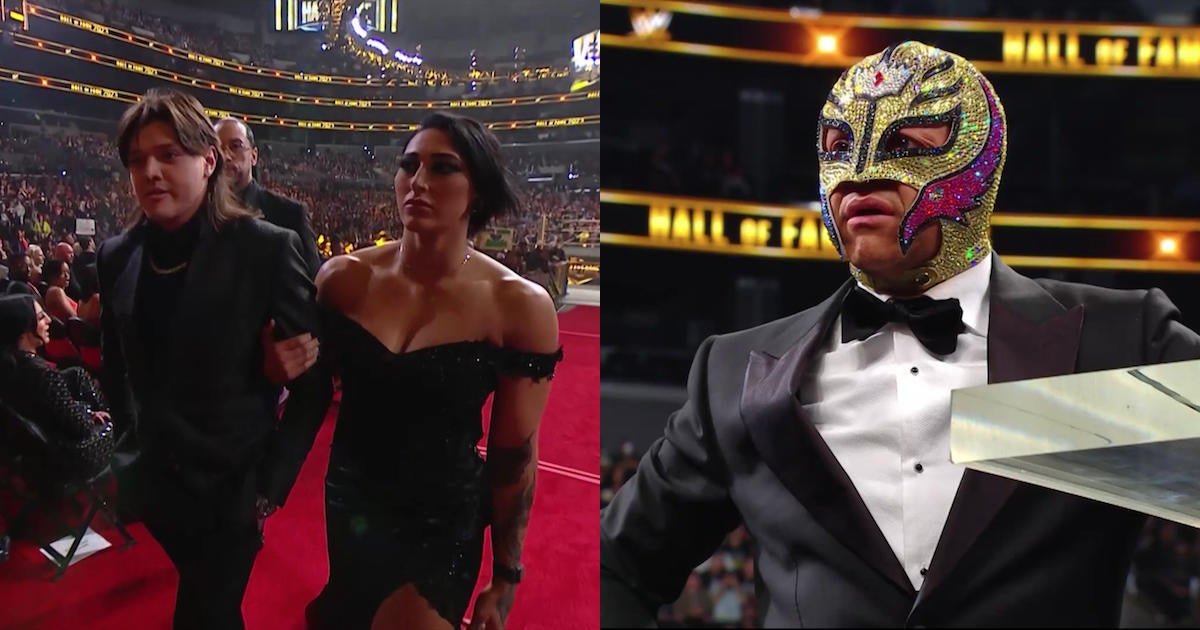 "Having the Rey and Dominick storyline carry into his HOF induction is perfect," a wrestling fan wrote. One more added, "They are absolutely doing this Rey Mysterio and Dom fued the justice It deserves, this is excellent."
prev
0
comments