Gracie Hunt: Chiefs Owner's Daughter Talks Future With Team, Experience With Miss USA (Exclusive)
Gracie Hunt is the daughter of Kansas City Chiefs CEO and Chairman Clark Hunt and wears many hats with the team. But is the 23-year-old on her way to being the future owner of the Chiefs or an executive in the NFL? PopCulture.com spoke exclusively to Gracie Hunt who revealed she would like to work in the sports industry for many years to come.
"I love sports. I love the Chiefs," Hunt exclusively told PopCulture. "And it's part of my DNA. It's something I see myself being involved with in some capacity for the rest of my life. And then on top of that, I also have my own passions and ventures that I'm pursuing individually."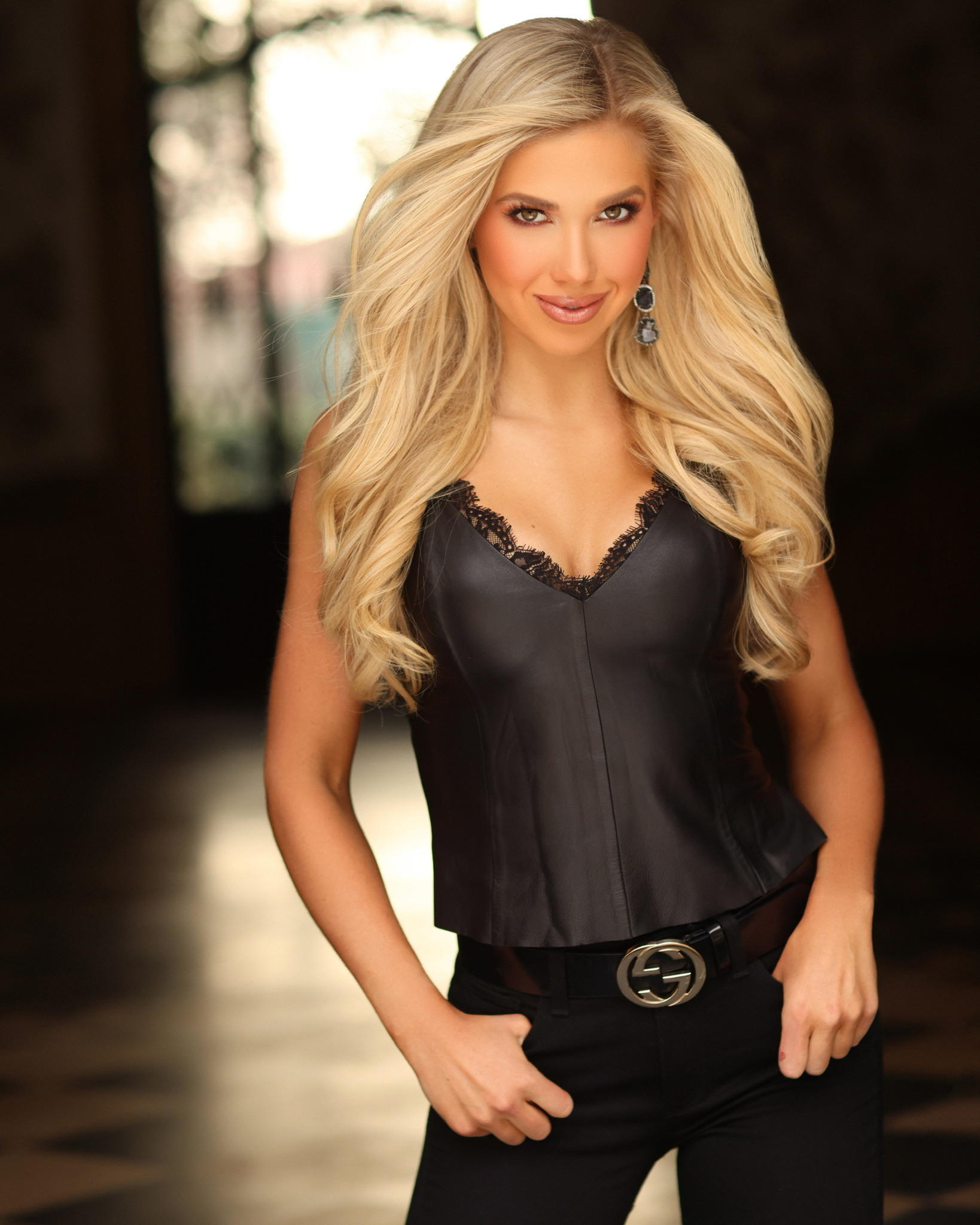 When it comes to the Chiefs, Hunt helps with marketing, serves on the selection committee for the Chiefs Cheerleaders and is now helping with the launch of Chiefs Fit — two fitness centers opening in Kansas City. "I'm a fitness fanatic. I developed a passion for all things health and wellness when I was a soccer player," Hunt said. "I've had (Celiac Disease) since I was tiny. And those led me on a journey to get my nutrition accreditation and my training accreditation. And so for Chiefs Fit, I'm so excited about us having two locations in Kansas City with state-of-the-art equipment where KC residents and all of Chief's Kingdom can go and have access to fitness equipment and recovery equipment, and all of the things that can help keep you on track to achieve your health and fitness goals."
It's not a surprise to see Hunt getting involved in Chiefs Fit since she played soccer in high school and helped her team win a state championship. But one of the other things Hunt has done to help her in the NFL world is competing in pageants as she won Miss Kansas City USA 2021 and was a semifinalist in the 2021 Miss USA Competition.
"They gave me grit. I'll say, once you go to an experience like Miss USA, it's so character-building, and it's so fun. I have friends that I walked away from that pageant with and I'm about to be in their wedding," Hunt explained. "So it was a fun experience, but it was a lot of pressure. And I think that in that situation you are either going to crumble or you're going to rise under pressure.
"And for me, I had the most incredible team of people who helped coach and train me to get to that point. But when you're out there on that stage alone, it's very different from team sports because you have your teammates to rely on in that environment. But in pageantry it's just you, and you have to trust your training, you have to know your worth. And I think that just helped shape my confidence to be able to walk into any environment and to know how to
handle whatever comes at me."
And along with what she has going on with the Chiefs, Hunt launched a nonprofit called Breaking Barriers Through Sports in 2016. The organization uses sports as a mechanism to promote respect and inclusion while breaking barriers imposed by society. Hunt said she started Breaking Barriers Though Sports when she had the "opportunity to travel to South Africa, visit orphanages and see that we are so blessed in so many ways in this country, and there are people in other parts of the world playing soccer with balls made up of wadded up tattered rags. And we brought them gear and partnered with athletes and asked them to put on soccer clinics for those children."
"When I walked away from that, I realized sports are a universal language," Hunt added. "They have the power to break barriers, they have the power to promote respect and inclusion and really help level the playing field for people, and provide opportunity. And that's one of the most beautiful parts about the game for me."
0
comments