Wendy's Revives Fan-Favorite Menu Item
It's that time of year again. Fast food restaurant chains are pausing the ongoing, years-long fast food chicken sandwich wars to kick off March. As Lent season begins, fast food chains welcome back the seafood season, with 2023 bringing back one fan-favorite menu item making a return to Wendy's this month: Wendy's Crispy Panko Fish Sandwich.
A staple this time of year, the Crispy Panko Fish Sandwich boasts a Wild-Caught Alaskan Pollock fillet that is coated in crispy panko breading. The fillet is topped with lettuce, a slice of American cheese, pickles, and creamy dill tartar sauce, with all of the ingredients sandwiched between a premium bun. While the sandwich is a fan-favorite, it is a relatively new addition to the Wendy's lineup, having first been introduced in 2021 as a replacement for the chain's previous Cod Sandwich as part of the chain's vow of responsible food sourcing. Wendy's noted that the Wild Alaskan Pollock fillet comes from the world's largest certified sustainable fishery," and that "Wild Alaskan Pollock has traceability built into the supply chain, which is a priority for us at Wendy's."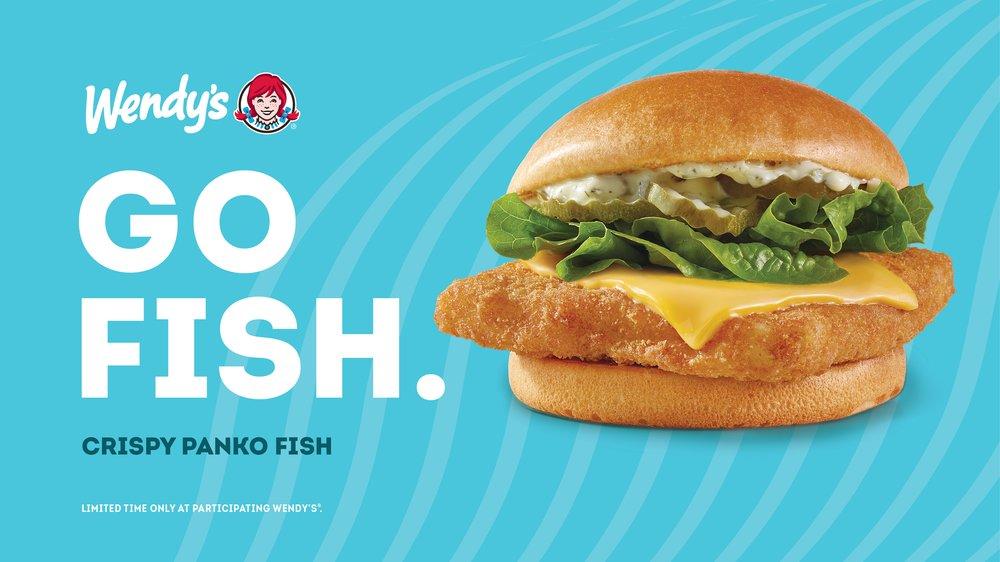 "We pride ourselves on offering what we believe is the best all-around fish sandwich among fast food restaurants. The Wild Alaskan Pollock fillet's buttery flakiness is complimented by savory notes of garlic and onion inspiring our fans' love of the fish sandwich's texture, flavor and crispiness," John Li, Vice President of Culinary Innovation, said of the beloved sandwich. "Then, we get to the cheese. We know our fans enjoy adding a slice of creamy cheese, so we added a slice of American cheese to complement the crunchiness of the Wild Alaskan Pollock fillet, lettuce and pickles."
The return of the Crispy Panko Fish Sandwich marks the return of some delicious pairings. According to Wendy's, the sandwich pairs perfectly with their Hot & Crispy fries for "a savory lover's dream." Garlic lovers can double down on the taste by adding Hot & Crispy garlic fries to their order "to accompany the notes of garlic and onion from our fish sandwich." Li also recommended pairing the sandwich with an ice-cold Coke for a complete meal.
The Crispy Panko Fish Sandwich is now available at participating Wendy's locations nationwide with a suggested retail price of $5.89. Given that it is a limited time offering, the sandwich will only be available for a limited time before retiring until next year's fast food seafood season. However, some locations may offer the sandwich year-round.
0
comments