'Sister Wives': Meri Brown Reflects on Her Past 3 Months After Kody Brown Split
Sister Wives star Meri Brown is reflecting on her past as she looks toward the future. The TLC star took to her Instagram Story Thursday to share two quotes that resonated with her three months after her split from husband Kody Brown was made public, including one reading, "Who I was does not dictate who I am and who I am becoming." Meri's second quote was credited to late poet Maya Angelou and read, "We delight in the beauty of the butterfly, but rarely admit the changes it has gone through to achieve the beauty."
Meri and Kody's split was revealed during the Sister Wives: One on One conversations that aired in December, in which Meri revealed when she knew her relationship of 32 years was officially over. "Even since being in Flagstaff, he has led me to believe that he was trying," she said at the time. "You know, our first anniversary that we had here in Flagstaff, it was cheers to a new beginning as opposed to this last anniversary he's like, 'I don't even know why you called me Meri.' He's like, 'We're not married. We're not acting as married.'"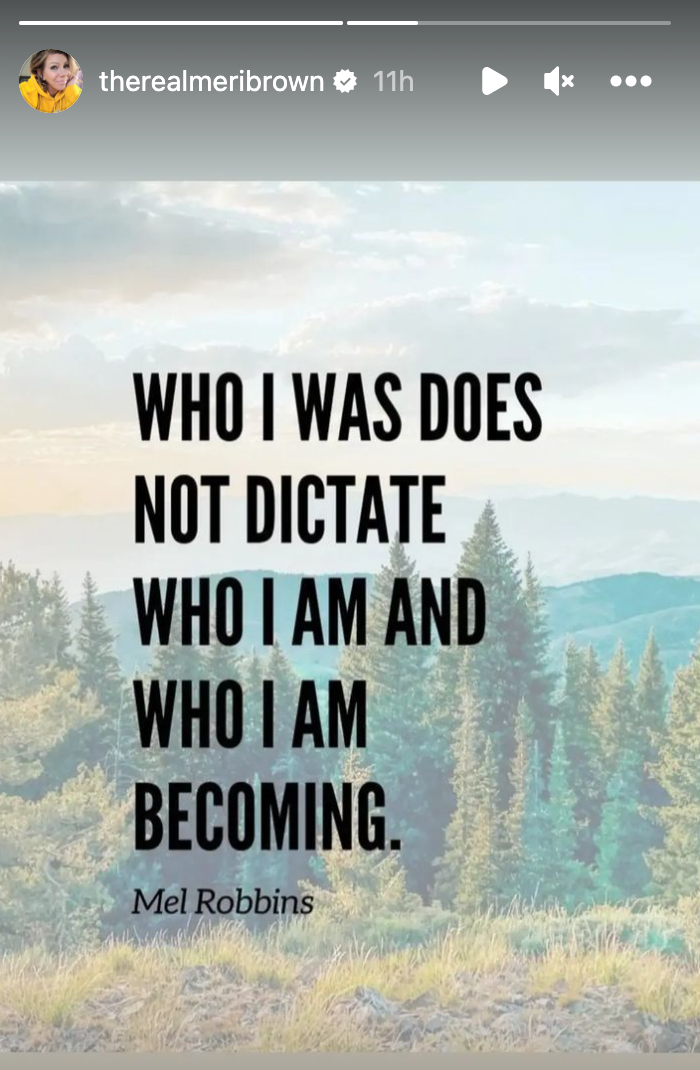 Meri recalled being confused by Kody's sentiment. "I said to him, 'Then if that's where we are, don't you think that we should address that publicly?' And he said, 'No I don't want to address it. I don't want that to be out there publicly because I don't want that judgment,'" she said.
Meri isn't the only one of Kody's wives to leave the plural marriage recently. In November 2021, Christine Brown announced she was leaving her spiritual marriage to Kody, and Janelle Brown also revealed during the One on One special that she had left Kody. Robyn Brown is currently the only woman married to Kody. Christine has since found love with boyfriend David Woolley, but Meri shut down speculation in February about her dating life after fans wondered if she was possibly dating a female friend.
"I've got people really wondering what I may or may not want to say. I'm just gonna do it. I am ...straight," she said on Instagram Live at the time. Meri went on to say, "It does not matter who I take a picture with and post it. I'm either dating this guy or dating this girl because people can't seem to think I can be friends, completely platonic friends, with females or males."
0
comments