Tom Hanks' Wife Rita Wilson Addresses Tense Red Carpet Photo Where He Appears to Be Screaming at Staffer
Tom Hanks' "nice guy" image appeared to crumble when a photo of him sternly talking to a man on the Cannes Film Festival red carpet Tuesday evening surfaced. His wife, singer Rita Wilson, was by his side during the tense moment, which seemed unusual for Hanks. Wilson clarified what was going on, telling fans that they were simply struggling to hear what the red carpet staffer was saying amid the chaotic scene.
"'This is called I can't hear you. People are screaming. What did you say? Where are we supposed to go?'" Wilson wrote in a since-expired Instagram Story post, reports E! News. "But that doesn't sell stories! Nice try. We had a great time! Go see Asteroid City!"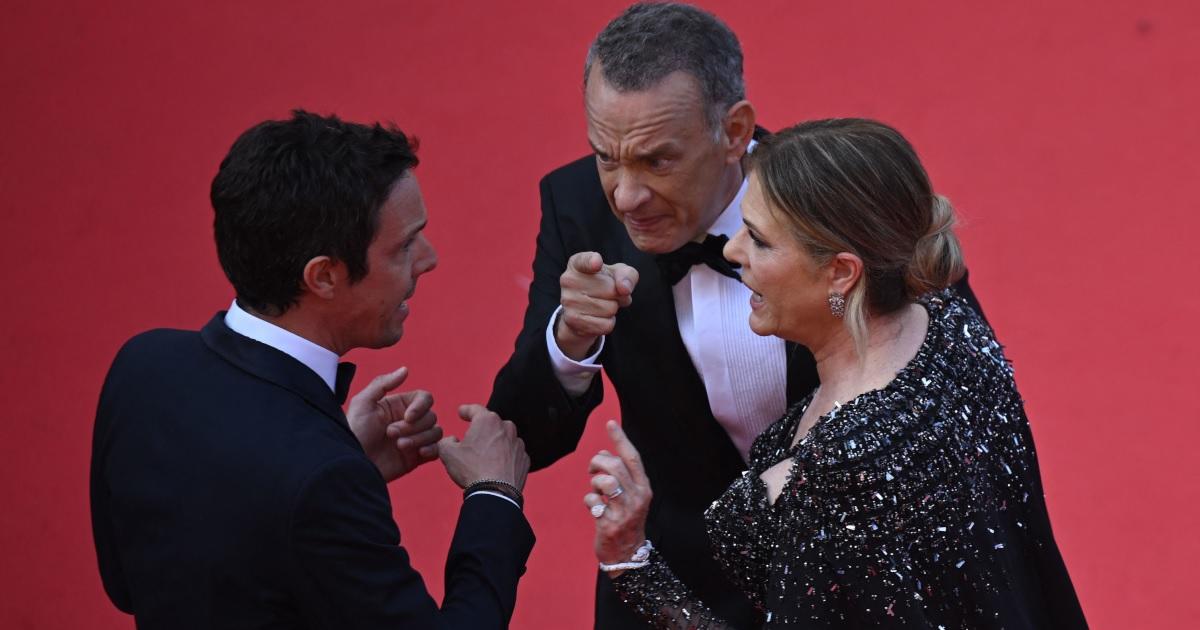 There is a photo of Hanks holding his hand up to his ear as he struggles to hear what the staffer is saying. It appears that he was trying to get Hanks to pose with his Asteroid City co-stars and director Wes Anderson. The man was later identified as Vincent Chapalain, reports The Daily Mail.
Chapalain responded to Twitter questions about what was going on, backing up Wilson's explanation. "They just ask me if they should go back to the start of the mat with the rest of the film crew (I'm not security)," he wrote in French. "And with the cries of the photographers, they are obliged to speak loudly."
Asteroid City is the new film from Anderson, whose previous movies include The Royal Tenenbaums, Moonrise Kingdom, and The Grand Budapest Hotel. The movie sees a group of students and parents coming from all over the country to take part in a Junior Stargazer convention in a fictional desert town. This is Anderson's first time working with Hanks, who plays Jason Schwartzman's onscreen father-in-law. Scarlett Johansson, Jeffrey Wright, Tilda Swinton, Bryan Cranston, Edward Norton, and Adrien Brody are just a few of the A-listers populating the cast. The film will hit theaters on June 16, before expanding wide on June 23.
Hanks starred in Elvis, A Man Called Otto, and Disney's live-action Pinocchio remake last year. After Asteroid City, he will be seen in Here, which reunites him with his Forrest Gump co-star Robin Wright. Other Forrest Gump vets are behind the project, including director Robert Zemeckis and Eric Roth. The story is based on Richard McGuire's novel about people living in the same room across different periods of time. Sony Pictures plans to release the movie in 2024. Hanks also published his first novel, The Making of Another Major Motion Picture Masterpiece, earlier this month.
0
comments