Who Is Echo Quan? Meet Ke Huy Quan's Wife
Ke Huy Quan's incredible awards season is poised to end on Sunday night with a Best Supporting Actor Oscar for Everything Everywhere All at Once. Throughout the season, Quan has been alongside his wife Echo Quan. The Indiana Jones and the Temple of Doom star credited Echo with inspiring him to return to acting.
After starring in Indiana Jones and the Temple of Doom and The Goonies as a child actor, Quan found trouble getting work in Hollywood. In the late 1990s, he quit acting and studied at the University of Southern California. He graduated from the school's film program and then worked behind the scenes in various roles. Quan, 51, was an assistant fight choreographer on X-Men (2000) and an assistant on The One (2001).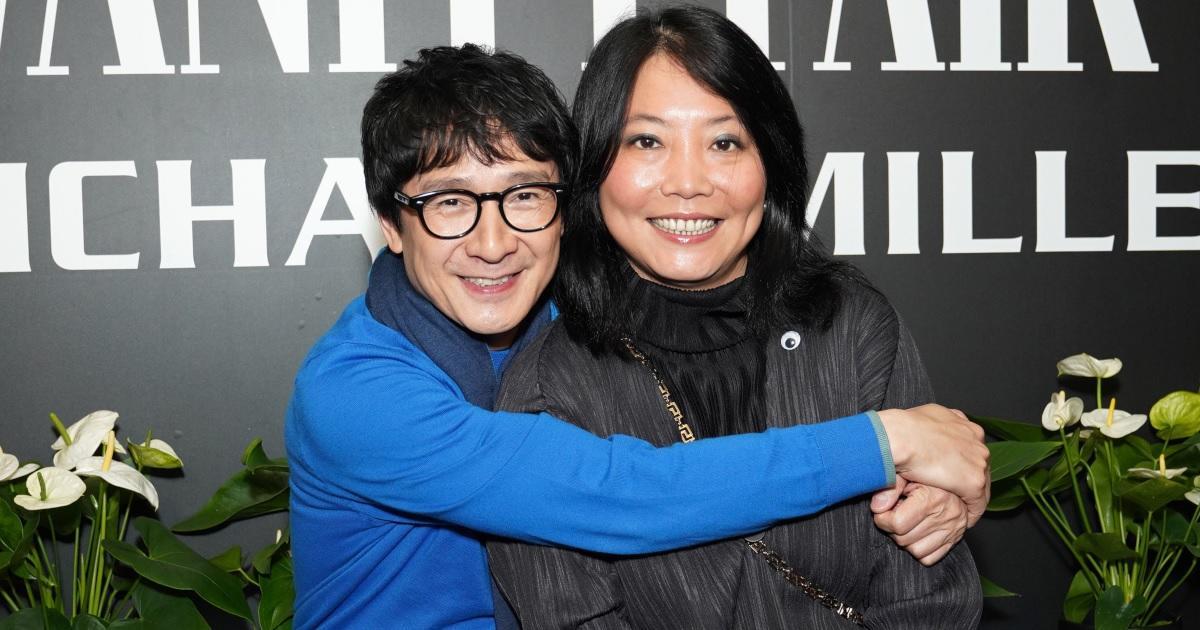 In 2004, he worked with the legendary Hong Kong filmmaker Wong Kar-Wai as an assistant director on 2046. He met Echo while working on the film. It's unclear when the couple married since Quan has kept his private life out of the spotlight. Quan and Echo worked together again on Everything Everywhere All at Once, as she is credited as a translator.
Quan saw the success of Crazy Rich Asians in 2018 and was inspired to resume his acting career. He spent a year talking with Echo about giving in to the "acting bug" again before taking the Everything Everywhere job, he told Vanity Fair. "I was going to be 50 years old," he said. "I didn't know what it would be like to go and audition and get rejected again and again. I didn't know whether Hollywood wanted me again."
In Everything Everywhere, Quan plays Waymond Wang, the husband of Michelle Yeoh's Evelyn Quan Wang. The role required him to put his stunt experience to work, particularly in one scene where he has to use a fanny pack to fend off security guards. Echo wasn't too thrilled about that scene.
"I actually took the fanny pack home and practiced for a long time," Quan told Entertainment Weekly. "The fanny pack is six- or seven feet long, and I was constantly throwing this around, wrapping it around my neck and stuff. I ended up breaking a lot of things in the house, and my wife wasn't too happy about that. Can you imagine? It was just me swinging this fanny pack wherever I go, to the living room or the bedroom, or the kitchen. I was doing it for months."
Echo also got a shout-out when Quan won the Golden Globe for Best Supporting Actor in January. After thanking Steven Spielberg for casting him in The Temple of Doom and Everything Everywhere directors Dan Kwan and Daniel Scheinert, he thanked Echo for her support. "Last but not least, I want to thank the most important person in my life, the one person that has never stopped believing in me, my wife," Quan said. "I love you with all my heart."
Quan will likely get another opportunity to thank Echo Sunday night, this time at the stage of the Dolby Theatre during the 95th Academy Awards. The other nominees in the Best Supporting Actor category are Brendan Gleeson and Barry Keoghan of The Banshees of Inisherin; The Fabelmans' Judd Hirsch; and Causeway star Brian Tyree Henry. The Oscars start at 8:30 p.m. ET/5:30 p.m. PT, live on ABC.
0
comments