Everything Coming to Netflix This Weekend (March 17)
Netflix's streaming library will continue to grow this weekend! After stocking titles including Bert Kreischer: Razzle Dazzle and Shadow and Bone Season 2 throughout the week, the streamer is keeping the momentum going this weekend when it adds six new titles, all Netflix original series and films, to the streaming library, giving subscribers the opportunity to press play on everything from the new dance competition Dance 100 to The Magician's Elephant, the streamer's adaptation of Newbery Award-winning author Kate DiCamillo's classic novel.
Netflix offers four subscription plans – the basic with ads plan ($7 per month), the basic plan ($10 per month), the standard plan ($15.50 per month), and the premium plan ($20 per month). The streamer also recently debuted a "Netflix Free Section," allowing non-subscribers to watch a selection of the streamer's most beloved originals at no cost. Keep scrolling to see everything coming to Netflix this weekend, and don't forget to check out all of the titles that will be leaving before the end of the month.
'Dance 100'
Premiere Date: Friday, March 17
Type: Netflix Series
Synopsis: "Dance 100 is an epic street dance competition showcasing eight accomplished dancers who are ready to prove they're the next superstar choreographer. Showcasing one hundred of the world's best dancers, known as the Dance 100, the contestants must choreograph, teach and perform next-level group performances that will wow the judges, who, in a twist- are their own dancers. Dance 100 is hosted by Ally Love
prev
next
'In His Shadow'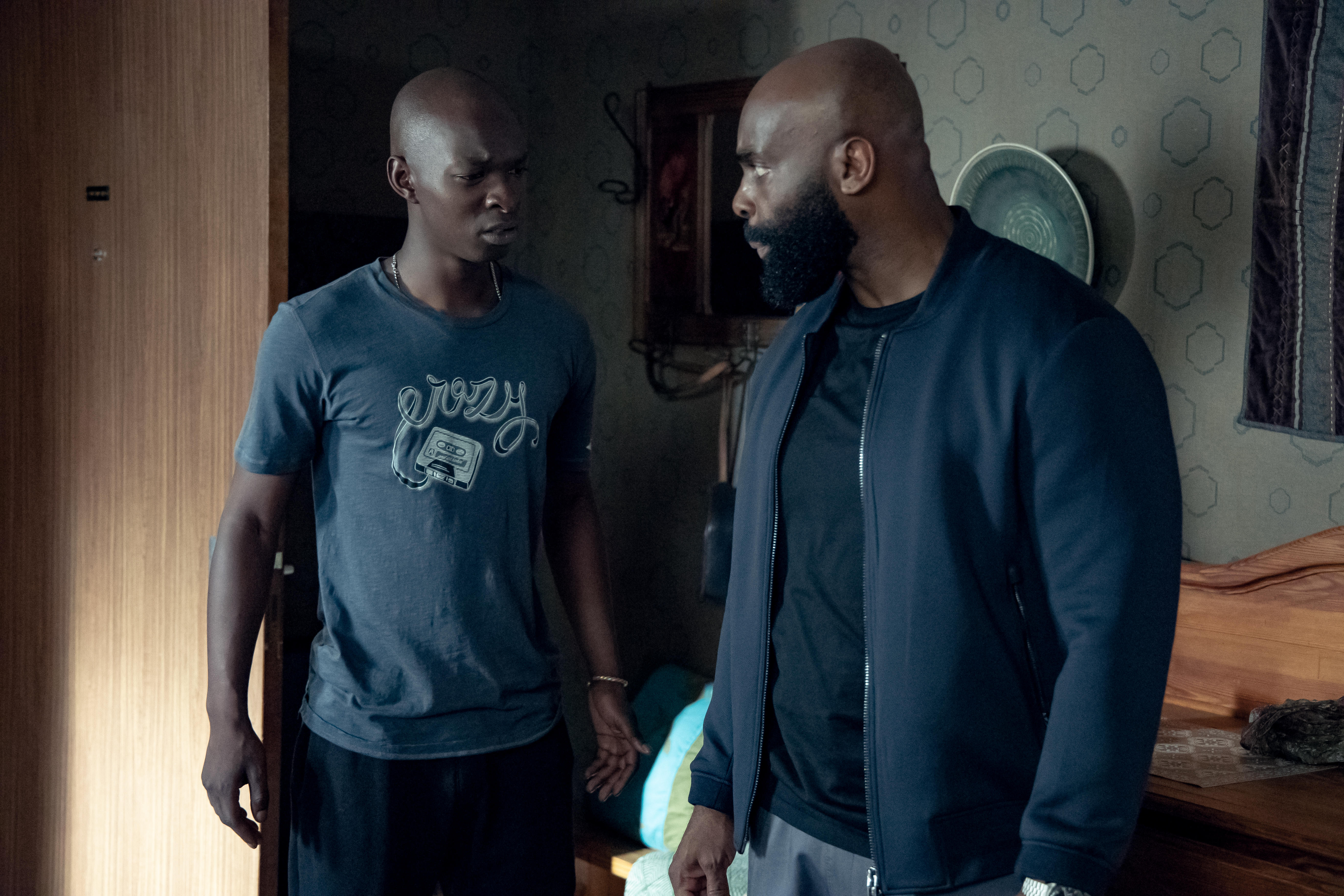 Premiere Date: Friday, March 17
Type: Netflix Film
Synopsis: "Adama, 25, lost his sight as a child. His father's sudden death has brought buried family conflicts with his half-brother Ibrahim to the surface, a charismatic figure in the neighborhood. Adama's own stability is about to implode as Ibrahim descends deeper into violence and chaos. Saving his mother and his best friend will mean Adama having to face up to his half-brother and confront his fate."
prev
next
'Maestro in Blue'
Premiere Date: Friday, March 17
Type: Netflix Series
Synopsis: "A musician goes to lead a festival on a scenic island, where he begins an unexpected romance and finds himself
prev
next
'The Magician's Elephant'
Premiere Date: Friday, March 17
Type: Netflix Film
Synopsis: "When young Peter, who is searching for his long-lost sister, crosses paths with a fortune teller in the market square, there is only one question on his mind: is his sister still alive? The answer – that he must follow a mysterious elephant – sets Peter off on a remarkable journey to complete three seemingly impossible tasks that magically change the face of his town forever. THE MAGICIAN'S ELEPHANT is based on Newbery Award-winning author Kate DiCamillo's classic novel."
prev
next
'Noise'
Premiere Date: Friday, March 17
Type: Netflix Film
Synopsis: "The film tells the story of Matt, an influencer and young parent to newborn Julius, who discovers a dark secret from his dementing father's past. He starts an in-depth investigation, which consequently opens a Pandora's box of secrets and unravels more family dramas than anticipated. Matt's wife, Liv, is deeply concerned and will do everything in her power not to lose him, but is it too late..?"
prev
next
'Sky High: The Series'
Premiere Date: Friday, March 17
Type: Netflix Series
Synopsis: "A phone call in the middle of the night will change Sole's destiny: Ángel, her husband and leader of a gang of gangsters has died; turned overnight into a young widow with a son to take care of and many troubled businesses to run, Sole is not willing to return to the tutelage of her father Rogelio, one of the biggest dealers of stolen objects in Madrid. Determined to make a living for herself, Sole will find new allies along the way who will help her to unravel the mystery of the deaths that have marked her destiny, while she makes contact with the gang of thieves and manages to win their trust so that she can once again carry out robberies as ambitious as those of the old days. But neither the police nor the different mafias she'll have to compete with will be willing to make her way to heaven easy."
prev
next
What's leaving this weekend?
The Netflix streaming library will suffer a loss this weekend. On Saturday, the second season of the Australian reality series Instant Hotel is set to depart, following the exit of Season 1 in December. Although the show is considered a Netflix Original in the U.S. Netflix only served as the U.S. distributor for the series, which aired on Australia's Seven Network and was produced by Seven Studios. It seems likely that Netflix's licensing deal with Seven Studios may have expired, explaining the show's departure from the streaming service, which will be followed by several more exits later this month.
Leaving 3/24/23
Shtisel: Seasons 1-3
Leaving 3/25/23
Big Time Rush: Seasons 1-4
Leaving 3/31/23
30 Minutes or Less
Brokeback Mountain
prev
next
What was added this week?
Avail. 3/14/23
Ariyoshi Assists – NETFLIX SERIES
Bert Kreischer: Razzle Dazzle – NETFLIX COMEDY
Avail. 3/15/23
The Law of the Jungle – NETFLIX SERIES
Money Shot: The Pornhub Story – NETFLIX DOCUMENTARY
Avail. 3/16/23
The Chronicles of Riddick
Kick-Ass 2
Pitch Black
Riddick
Shadow and Bone: Season 2 – NETFLIX SERIES
Still Time – NETFLIX FILM
prev
0
comments