Every TV Show, Movie, and Original Coming to Netflix This Week (March 13)
March has already treated Netflix subscribers to Chris Rock: Selective Outrage, You: Season 4 Part 2, and Luther: The Fallen Sun, and this week, more than a dozen new titles are joining the list. With a content catalog numbering in the hundreds, Netflix is set to make the shelves of its streaming library even fuller when it drops 16 new titles this week.
This week's new additions will be a big one for Netflix originals, with 12 Netflix original series and films scheduled to debut. The arrival of fresh original content will begin on Tuesday when the new Netflix series Ariyoshi Assists debuts alongside the new Netflix comedy title Bert Kreischer: Razzle Dazzle. Later in the week, subscribers will be able to press play on everything from In His Shadow to Noise to Money Shot: The Pornhub Story. Perhaps most-anticipated, though, is the long-awaited journey back into the Fold when Shadow and Bone, Netflix's adaptation of Leigh Bardugo's books, returns with its second season.
You can watch all of these titles and more by signing up for one of the streamer's four subscription plans – the basic with ads plan ($7 per month), the basic plan ($10 per month), the standard plan ($15.50 per month), and the premium plan ($20 per month). For those not quite ready to commit, you can get a taste of what Netflix has to offer by checking out the "Netflix Free Section," which includes a selection of some of the streamer's best originals for non-subscribers to check out. Keep scrolling to see everything set to be added to the streaming library this week, and don't forget to check out all of the titles that are set to leave before the end of the month!
'Ariyoshi Assists'
Premiere Date: Tuesday, March 14
Type: Netflix Series
Synopsis: "Hiroiki Ariyoshi, one of the most famous and popular hosts in Japanese TV today, will assist 10 guest hosts, including artists and professional athletes, who will each host their own episode. Every episode is built around a unique concept and format catered to highlight the special talents of the hosts. Experienced comedians including both veterans and up-and-comers participate and attempt to conquer the various segments proposed by the hosts, all while trying to land jokes about the absurd set-ups that Ariyoshi suddenly throws at them. Will Ariyoshi successfully assist the hosts? What results is the wildest, funniest variety show bourne out of maximum passion and unpredictable moments.
Ariyoshi Assists brings chaos to guest hosts GENERATIONS, IKKO, Summers, Tenshin Nasukawa, Maaya Uchida, AHN MIKA, Ken Horiuchi (Neptune), Fuwachan, Ryoff Karma, and Rino Sashihara with =Love, and the comedians including Eiji Kotouge (Viking), Toshiaki Kasuga (Audrey), Tetsuya Morita (Saraba Seishun no Hikari), Takushi Tanaka (Ungirls), Soichi Nakaoka (Lotti), Eiko Kano, Kayoko Okubo (Oasiz), Hironobu Komiya and Shuji Aida (Sanshiro), Masanori Hasegawa and Takashi Watanabe (Nishikigoi), and Koji Yamamoto and Futoshi Seki (Time Machine Sangou).
The series is produced by Kazuaki Hashimoto and Toshiyuki Yokozawa, creators of the TV variety shows Ariyoshi no Kabe and Ariyoshi Zemi by Nippon TV."
prev
next
'Bert Kreischer: Razzle Dazzle'
Premiere Date: Tuesday, March 14
Type: Netflix Comedy
Synopsis: "Shameless – and shirtless – as ever, Bert Kreischer spills in a riotous set on bodily emissions, being bullied by his kids and the explosive end to his family's escape room outing in his newest Netflix comedy special, Razzle Dazzle."
prev
next
'The Law of the Jungle'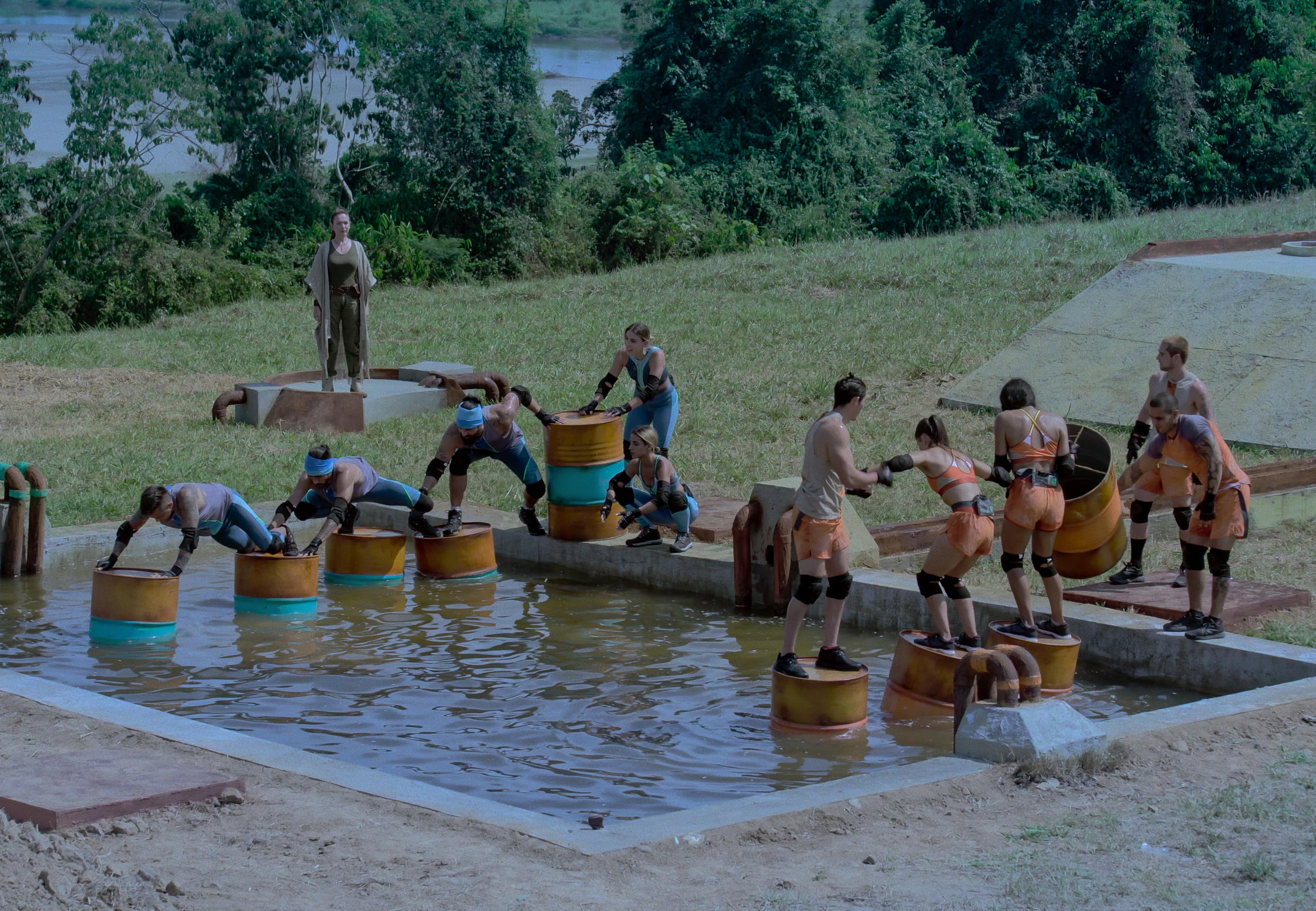 Premiere Date: Wednesday, March 15
Type: Netflix Series
Synopsis: "In the middle of the jungle, twelve people must work as a team, or sabotage each other for a cut of a jackpot. A fierce competition, both mentally and physically, where every player has their price – what's yours?"
prev
next
'Money Shot: The Pornhub Story'
Premiere Date: Wednesday, March 15
Type: Netflix Documentary
Synopsis: "Pornhub, the internet's most famous adult entertainment platform, fundamentally changed how pornography is made and distributed. This enabled erotic content creators to reach a massive audience while the company made billions of dollars – but it also became embroiled in allegations including non-consensual material and trafficking on the site.
As anti-trafficking organizations seek justice for victims, can the online giant protect those from whom they profit, or is this a new wave of censorship for adult performers making consensual porn?"
prev
next
'Shadow and Bone: Season 2'
Premiere Date: Thursday, March 16
Type: Netflix Series
Synopsis: "Alina Starkov is on the run. A beacon of hope to some and a suspected traitor to others, she's determined to bring down the Shadow Fold and save Ravka from ruin. But General Kirigan has returned to finish what he started. Backed by a terrifying new army of seemingly indestructible shadow monsters and fearsome new Grisha recruits, Kirigan is more dangerous than ever. To stand a fighting chance against him, Alina and Mal rally their own powerful new allies and begin a continent-spanning journey to find two mythical creatures that will amplify her powers. Back in Ketterdam, the Crows must forge new alliances as they contend with old rivals and even older grudges that threaten not only their place in the Barrel, but their very lives. When a chance at a deadly heist comes their way, the Crows will once again find themselves on a collision course with the legendary Sun Summoner. Based on Leigh Bardugo's worldwide bestselling Grishaverse novels, SHADOW AND BONE returns for a second season of new friendships, new romance, bigger battles, epic adventures – and a shocking family secret that could shatter everything."
prev
next
What else is being added this week?
Avail. 3/16/23
The Chronicles of Riddick
Kick-Ass 2
Pitch Black
Riddick
Avail. 3/16/23
Still Time – NETFLIX FILM
Avail. 3/17/23
Dance 100 – NETFLIX SERIES
In His Shadow – NETFLIX FILM
Maestro in Blue – NETFLIX SERIES
The Magician's Elephant – NETFLIX FILM
Noise – NETFLIX FILM
Sky High: The Series – NETFLIX SERIES
prev
next
What's leaving this week?
The Netflix streaming library may be getting some new additions this week, but it will also see a few losses. On Thursday, Lee Daniels' The Butler and the first three seasons of Outback Truckers are set to exit. The departures will be followed by several more throughout March.
Leaving 3/18/23
Instant Hotel: Season 2
Leaving 3/24/23
Shtisel: Seasons 1-3
Leaving 3/25/23
Big Time Rush: Seasons 1-4
Leaving 3/31/23
30 Minutes or Less
Brokeback Mountain
prev
0
comments