NBA and WNBA Have New Soft Drink Sponsor
The NBA and WNBA have landed a deal with a new soft drink. It was announced on Wednesday that Starry, PepsiCo's newly unveiled lemon-lime flavored soda, has inked a deal with the leagues along with NBA G League to be the official drink sponsor. Starry made its official debut earlier this month and is expected to additional announcements about marketing plans in the coming months.
Starry's partnership with the NBA and WNBA includes being the title partner of the league's 3-Point Contest. This year the Starry 3-Point Contest will take place in Salt Lake City on Saturday, Feb. 18 during NBA All-Star Saturday Night at 8 p.m. ET on TNT. Additionally, some of the NBA and WNBA's biggest names will be repping the Starry brand, including Zion Williamson, Zach Lavine, A'ja Wilson, and Klay Thompson.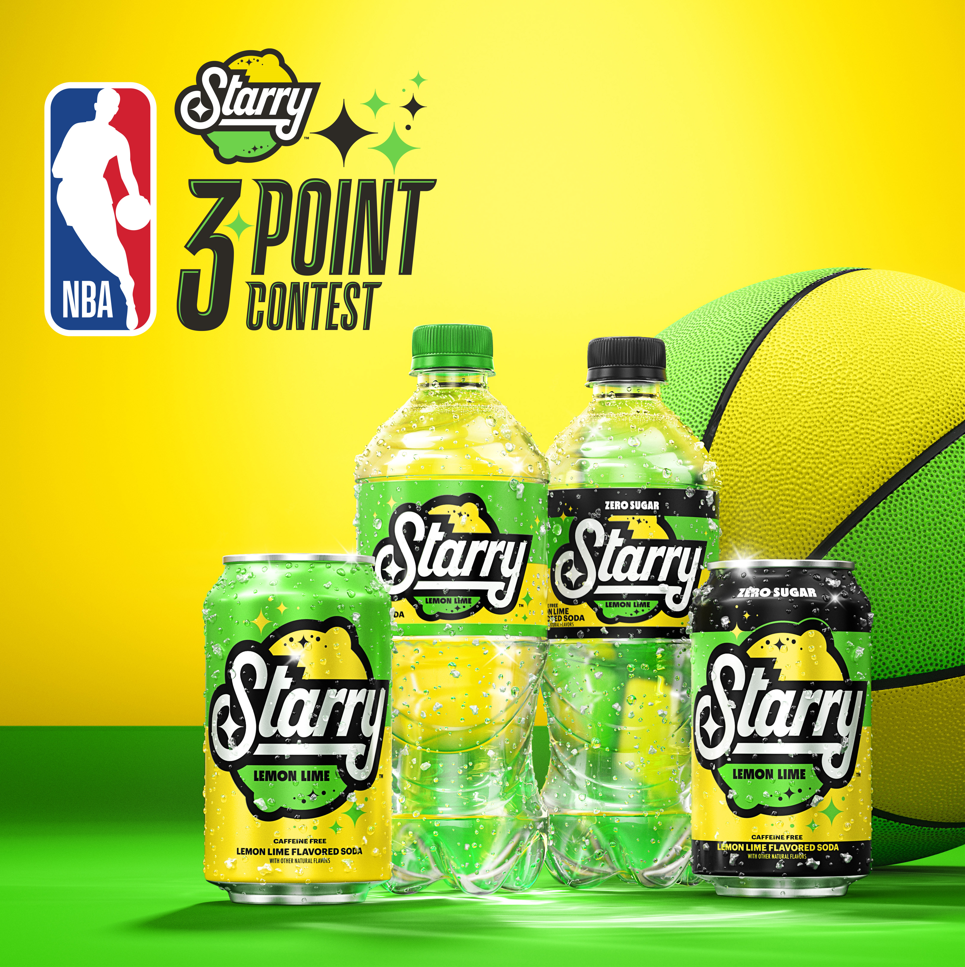 PepsiCo signed on with the NBA, WNBA and G League as the official food and beverage partner in 2015, a deal that includes Aquafina, Brisk, Doritos, Gatorade, Ruffles and now Starry. "STARRY Hits Different. It has an attitude that embraces the irreverent optimism of our consumers and basketball fans alike. We believe that a dose of the unexpected creates a little more fun, and that's why partnerships with the NBA, WNBA and NBA G League, and specifically the 3-Point Contests, are the perfect fit for STARRY," Michael Smith, senior director of Starry Brand Marketing, said in a statement. "STARRY will bring a fresh perspective to the NBA, WNBA and NBA G League and help elevate the game's most exciting moments."
Starry will have a big presence during the NBA All-Star game which will feature some of the league's best players. The 10 starters for the All-Star game are LeBron James, Stephen Curry, Nikola Jokic, Luka Doncic, Zion Williamson, Giannis Antetokounmpo, Kevin Durant, Jayson Tatum, Donovan Mitchell and Kyrie Irving. For James, this is the 19th time he's been selected to the All-Star game, tying Kareem Abdul-Jabbar for the most in league history.
James and Antetokounmpo are the captains and will pick their teams shortly before the game. If James plays in the game, he will be the first player in NBA history to appear in 19 All-Star games. The reserves, which are chosen by votes from the NBA coaches, will be announced on Feb. 2.
0
comments