Sam Smith Abruptly Ends Concert, Apologizes to Fans: 'Something Was Really Wrong'
Sam Smith apologized to their fans after abruptly stopping their concert in Manchester, U.K. Wednesday night. Smith felt "something wrong" with their voice while performing the third song, but their condition only worsened as they tried to perform the next song. The "Unholy" singer also postponed upcoming shows in Birmingham and Glasgow.
Smith, 31, dealt with a virus during their tour of Europe and hoped their show in the U.K. would go off without a problem. "Today in soundcheck I felt fine and was so excited to give Manchester an amazing show tonight, with a special surprise at the end," Smith wrote. "During my third song, I noticed something was wrong with my voice. I prayed it was just my voice waking up for the show but into the fourth song I could feel something was really wrong."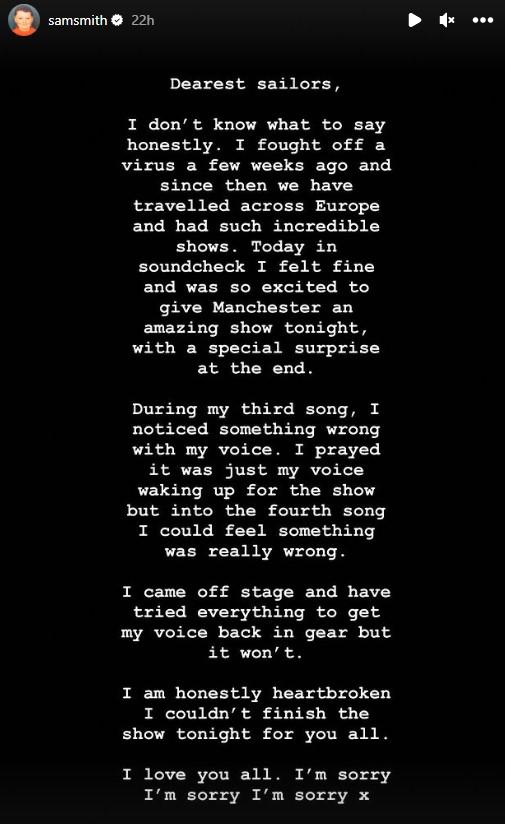 The singer left the stage and "tried everything" to get their voice back. Nothing worked, and Smith called off the show early. "I am honestly heartbroken I couldn't finish the show tonight for you all," they wrote. "I love you all. I'm sorry I'm sorry I'm sorry. X."
Smith started the show with "Stay With Me." He then performed "I'm Not The Only One" and "Like I Can." He started "Too Good at Goodbyes" before leaving the stage, reports NME. The lights were temporarily dimmed and fans thought there was a power cut. The audience was told Smith had "vocal issues" and were asked to leave the venue.
On Thursday, Smith confirmed their shows in Birmingham and Glasgow would have to be rescheduled due to his health. Fans will be provided refunds for the Birmingham, Glasgow, and Manchester shows. Smith is next scheduled to perform in Warsaw at the Orange Warsaw Festival on June 2. The Glashow concert was already a rescheduled show from April that Smith had to miss due to an illness.
"Doctors have advised due to a vocal cord injury, Sam must have complete vocal rest," Smith's spokesperson said. "Sam is heartbroken to have had to cancel these shows but they have been told by doctors that if they keep singing, they will do permanent damage to their voice. If they take some rest they will be able to perform again." Smith added another "I'm sorry" on top of that statement, including a broken heart emoji.
Smith is touring to support their newest album, Gloria. The album is their first since 2020's Love Goes and features the hits "Love Me More," "Unholy," "Gimme" and "I'm Not Here to Make Friends." Smith and Kim Petras won the Grammy for Best Pop Duo/Group Performance for "Unholy."
This was not the first time Smith had to cancel shows because of vocal issues. In 2015, they canceled tour dates in Australia, Japan, and The Philippines because of a small hemorrhage on their vocal cords. The "Stay With Me" singer needed surgery and spent two months recovering before they could resume their tour.
0
comments