Olivia Wilde Responds to Backlash to Instagram Post Calling A$AP Rocky Hot
Olivia Wilde called A$AP Rocky "hot" during Rihanna's Super Bowl LVII halftime show, which some found offensive. On Instagram Monday, the Don't Worry Darling director responded, clarifying that she was praising Rocky for supporting his partner. During her performance, Rihanna announced she and Rocky are expecting their second child together.
In a since-deleted Instagram Stories post, Wilde shared a video of Rocky filming Rihanna during her halftime performance. "If I thought he was hot before, this really put me over the edge," Wilde, 38, captioned the post, notes Entertainment Tonight. Critics then took to Twitter, with one calling Wilde's comment "so inappropriate." Another said Widle was "really living up to that last name [of] hers."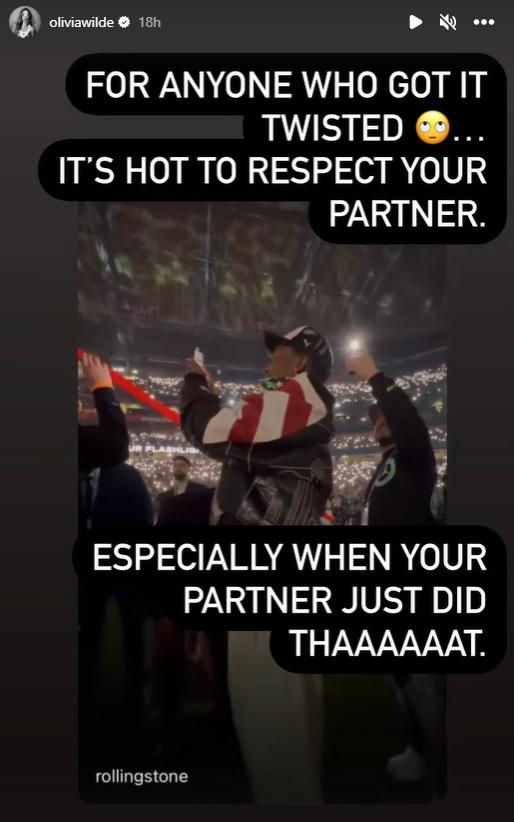 Wilde shared the same video of Rocky filming Rihanna again, this time with a clarification of her comments. "For anyone who got it twisted... it's hot to respect your partner," Wilde wrote, including an eye-rolling emoji. "Especially when your partner just did thaaaaaat." In her next slide, Wilde showed off a picture of herself in La Ligne jeans. "Anyway, more jeans. Get some," she wrote.
Rocky, whose real name is Rakim Mayers, has been dating Rihanna since 2020. He was seen filming Rihanna's performance from the field, holding up his phone in a viral video the NFL shared on Twitter. The "Goldie" rapper also wore a jacket that included the image of Rihanna's hand holding a football, first used when the NFL announced Rihanna was the 2023 Super Bowl halftime act.
"A$AP has been very supportive throughout her preparation and has really been stepping up his parenting game while she has been busy with rehearsals," a source told ET before the game. "[A$AP] and her son plan to be there supporting her during her big day."
Rihanna's Super Bowl halftime show was the first sponsored by Apple Music. Before the show, she told Nate Burleson she would have a "surprise" guest at the show, but she performed solo. Later, Rihanna's representative confirmed that she is expecting her second child. The setlist focused on Rihanna's past hits, including "Bitch Better Have My Money," "We Found Love," "Work," "All of the Lights," "Umbrella" and "Diamonds."
Super Bowl LVII saw the Kansas City Chiefs beat the Philadelphia Eagles. The game drew an average audience of 113 million viewers on television, according to Fox Sports. Rihanna's halftime show logged 118.7 million viewers across television and digital platforms, making it the second-most watched halftime show since Katy Perry's 2015 show.
0
comments