Kelly Osbourne Isn't Happy With Mom Sharon for Sharing Baby News
Kelly Osbourne kept her pregnancy out of the public eye, so she was unsurprisingly not happy when her mother, Sharon Osbourne, shared the news that she gave birth to a baby boy. Sharon let the news slip during Tuesday's episode of the U.K. talk show The Talk, even going so far as to reveal the baby boy's name. This is Osbourne's first child with her boyfriend, Sid Wilson of Slipknot.
"I am not ready to share him with the world," Osbourne wrote in an Instagram Stories post Wednesday. "It is no one's place but mine to share any information on my baby." This was Osbourne's first post on Instagram since November, when she posted a simple Instagram Story message reading, "OK, here we go," reports Entertainment Tonight. That started speculation that she went into labor around that time.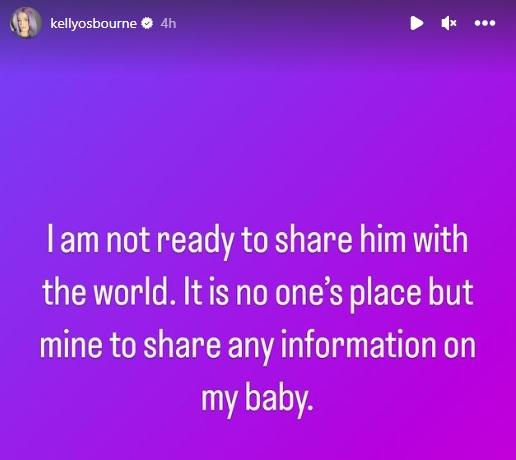 Although paparazzi photos from late November appeared to show that Osbourne had given birth, she never confirmed that. On The Talk Tuesday, Sharon broke the news, revealing that Osbourne and Wilson named their baby Sidney. "So great, so great. She won't let a picture go out of him, and I'm so proud of her," Sharon said.
Osbourne has not written anything about her pregnancy since she announced it in May 2022, although she did show off her baby bump on Red Table Talk in September. She shared a photo of herself holding up the sonogram image. "I know that I have been very quiet these past few months so I thought I would share with you all as to why," Osbourne wrote in May. "I am over the moon to announce that I am going to be a Mumma. To say that I am happy does not quite cut it. I am ecstatic!"
Osbourne's parents appear to have a habit of sharing information without her permission. In October, she told Entertainment Tonight that her dad, Ozzy Osbourne, told everyone the baby's gender before she had a chance to herself. The boy is Ozzy's first grandson, as brother Jack Osbourne's four children are all girls.
0
comments
"I'm really, really excited," Osbourne, 38, told ET. "And my parents have been incredible and been with me every step of the way on this journey, 'cause my boyfriend is in a band, they tour, so, he's hardly been here, so, every milestone I've kinda gone through with my dad, and he's been great, even though he sometimes says the wrong thing. I'll walk into the room and he'll go, 'Wow, you're big.' and I'm like, 'Thanks, Dad.'"
Osbourne and Wilson, 45, have known each other since 1999, when Slipknot was touring with Ozzfest, reports PEOPLE. In January 2022, they confirmed they were in a relationship when Osbourne shared photos to celebrate Wilson's birthday. Osbourne also published a photo of the two kissing on Valentine's Day, referring to Wilson as her "best friend" and "soulmate."