Amanda Seyfried Holds Dress Together Onstage After Wardrobe Malfunction at Critics Choice Awards
Amanda Seyfried took a long enough break from creating her new musical to attend the 2023 Critics' Choice Awards on Sunday night. Although she added another award to her growing collection for The Dropout, it didn't go perfectly because her dress fell apart. When she picked up the award for Best Actress in a Limited Series or Movie Made for Television, she had to hold the back together to make sure it didn't fall from her shoulders.
Seyfried, 37, later had to go up onstage again when The Dropout won the Best Limited Series award. This time, she wore a black leather jacket over her dress to join her co-stars. The Dropout stars Seyfried as disgraced Theranos founder Elizabeth Holmes, a role that already brought Seyfried an Emmy and Golden Globe award.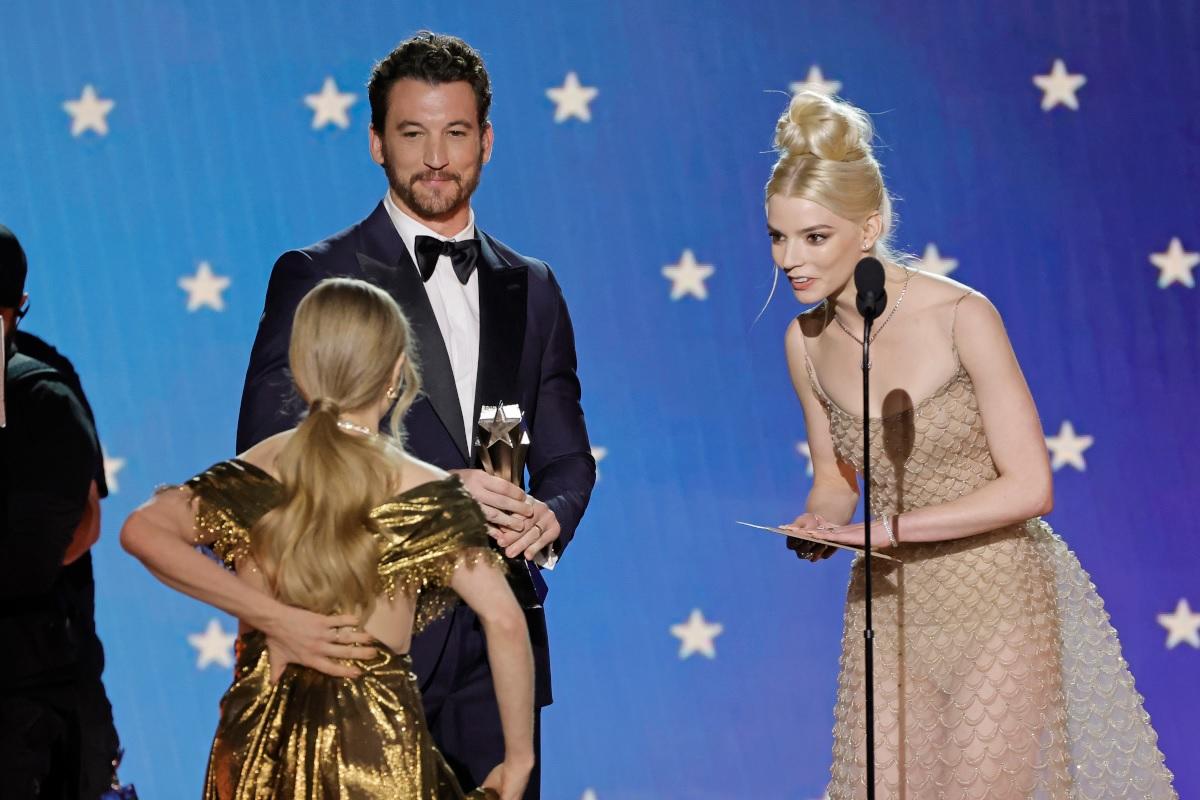 The Mean Girls star was prepared for something to go wrong. During her red carpet interview with Access Hollywood, she said the vintage Dior gown "keeps breaking." It was even falling off her shoulder in the middle of the interview! "I'm just going to take off my dress," she joked. "It's fine! Honestly, it's old."
The Critics Choice Awards took place a few days after Seyfried skipped the Golden Globes. When presenter Mo Brings Plenty announced that she won Best Performance in a Limited Series, Anthology Series, or Motion Picture Made for Television, he said Seyfried couldn't be there because she is "deep in the process of creating a new musical." At first, this sounded like a strange excuse, but it turns out she really is working on a musical.
"The creators are working diligently to bring something beyond comprehension to life onto the stage," Seyfried later told Entertainment Tonight. "It was just honestly, I just wanted to give a bonafide explanation as to why I missed it... I didn't want that generic, 'Can't be here tonight.'"
0
comments
After the Golden Globes, insiders told Variety that Seyfriend and Evan Rachel Wood are working on a musical version of Thelma & Louise. Callie Khouri, who won an Oscar for writing the 1991 movie, is writing the book with Haley Feiffer. Neko Case is working on the score and Scott Delman is producing.
Seyfried also spoke about missing the Golden Globes in an Instagram video she shared on Wednesday. "I was on FaceTime with my Dropout team, my wonderful Dropout team who are the reason I got this award," Seyfried said from New York. "It is a true honor to have been a part of that. I had to miss it because I am doing something that is magic and it's musical. So I'm finally getting to do something that I've never really done. That's all I can really say about it. Hopefully more soon. But it's a lot of work. It's more fun, and it's been a great night. So in lieu of any acceptance speech, I'm just going to say thanks to all my Dropout family and my family."