'Fear the Walking Dead': Danay García and Rubén Blades React to Series Ending (Exclusive)
We spoke to Danay García and Rubén Blades ahead of the 'Fear the Walking Dead' series finale.
Another Walking Dead series has come to an end. On Sunday, the final episode of Fear the Walking Dead aired on AMC, which marked the end of an eight-year run for The Walking Dead spinoff. PopCulture.com spoke to Fear the Walking Dead cast members Danay García (Luciana) and Rubén Blades (Daniel), who are not ready for the show to be over.
"I'm going through it," García told PopCulture. "I think that everything will really hit once everything aired, once everything is out. The process of shooting it was kind of strange because we didn't feel like it was done. I couldn't help myself but to wonder, 'Where are they going? What is the story? Where are we heading? Do we find Spot? I have all the maps. I'm supposed to know where everybody's at.' And for the first time, we didn't have to justify anything. So that felt really weird. But the energy on set that day was, it was like, 'Is it done?' It didn't feel that way. Ruben was the first person I called after I read it, and he was halfway there. And I remember a call, he's like, 'I'm not done.' I hang up the phone. 'I'm like, I don't want to...'"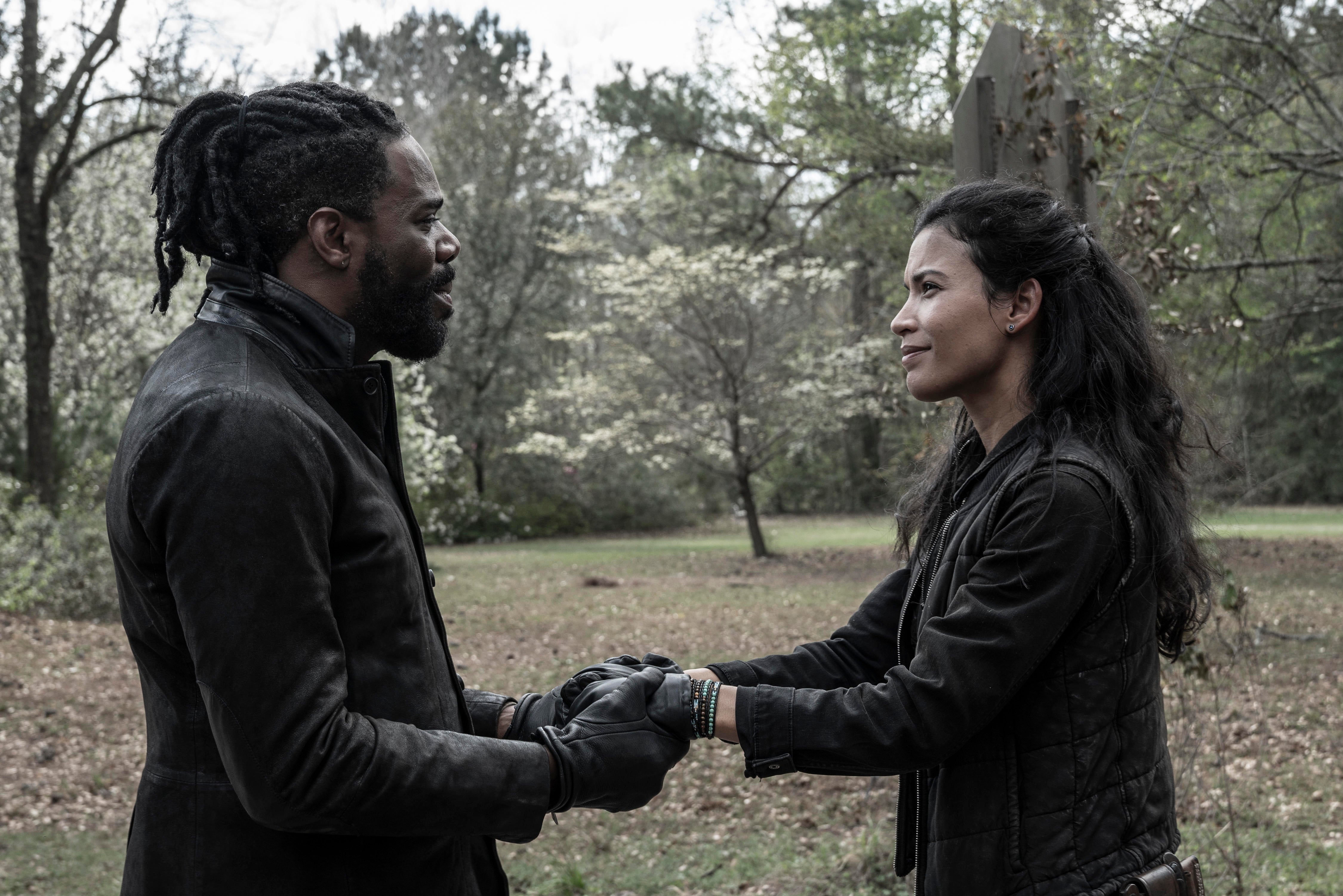 Blades believes the story will continue despite the show's ending. "Nobody has suggested it, nobody has said anything about it," he said. "But I get the sense that somehow, I don't know if it's like me consoling myself saying like, 'Oh, it's not over.' I know that it's over, but somehow I don't feel it's done."
The series finale showed the group going their separate ways after Padre was destroyed by zombies. Luciana and Daniel end up traveling together, but it's not clear where they are going. "I think basically going forward, I think that what Daniel would do is now, Daniel is also depending upon Luciana to survive," Blades explained. "So Luciana had set up a network of places for the gas stations and whatnot. I think Luciana probably has a better understanding of what's in front of them than Salazar. I think that he would defer to her and say, 'You take care of this.' And then he'll give his opinion, but I think that the one carrying it forward is Luciana at this point."
One of the biggest surprises of the episode was the return of Alicia Clark played by Alycia Debnam-Carey. Alicia has not been seen all season as her last appearance was toward the end of Season 7. In the series finale, Alicia reunites with her mother Madison (Kim Dickens) and the two travel to Los Angeles with Tracy (Antonella Rose).
"We were delighted," García said about Debnam-Carey's return. "And I can say this for me, and on behalf of all the cast, we could not... She carried the torch when Madison left and Alicia became that side of the character of Madison. And she carried that, and for her to return and consider that, not just for us, but for the fans. And personally, we finished what we started. It felt right. It was the best part of ending it. That felt like a closure. Oh, she's back and we had that moment. And we didn't see each other on screen, but we saw each other in character. And that felt really great. And she's a great, great actress, and we were so lucky to have her back for that little section of time. She made everything so much better right away for the finale."
0
comments