Krispy Kreme Kicks off Pumpkin Spice Season With New Fall Doughnut Collection
As fall lovers eagerly await the return of Starbucks' Pumpkin Spice Latte, Krispy Kreme is getting an early start on the game. With summer quickly drawing to a close, the iconic doughnut chain, known and loved for its Original Glazed Doughnuts and other doughnut offerings, is preparing to roll out an all-new doughnut collection celebrating all things fall, and all four doughnuts and two drinks in the lineup are pumpkin spice!
The pumpkin spice doughnut line consists of four returning treats and two all-new additions. Among he returning treats is the Pumpkin Spice Original Glazed Doughnut, which takes the chain's classic Original Glazed doughnut and adds a pumpkin spice twist. Building on that is the Pumpkin Spice Original Filled Cheesecake Doughnut, which adds a creamy cheesecake filing and decorates the doughnut with cheesecake icing. Also returning is the Pumpkin Spice Cake Doughnut, described by Krispy Kreme as "a perfectly spiced old-fashioned cake doughnut covered in iconic glaze." The final returning treat is the Pumpkin Spice Latte, which is a latte flavored with pumpkin pie sauce that is topped with whipped cream and pumpkin spice seasoning and available hot, iced, or frozen.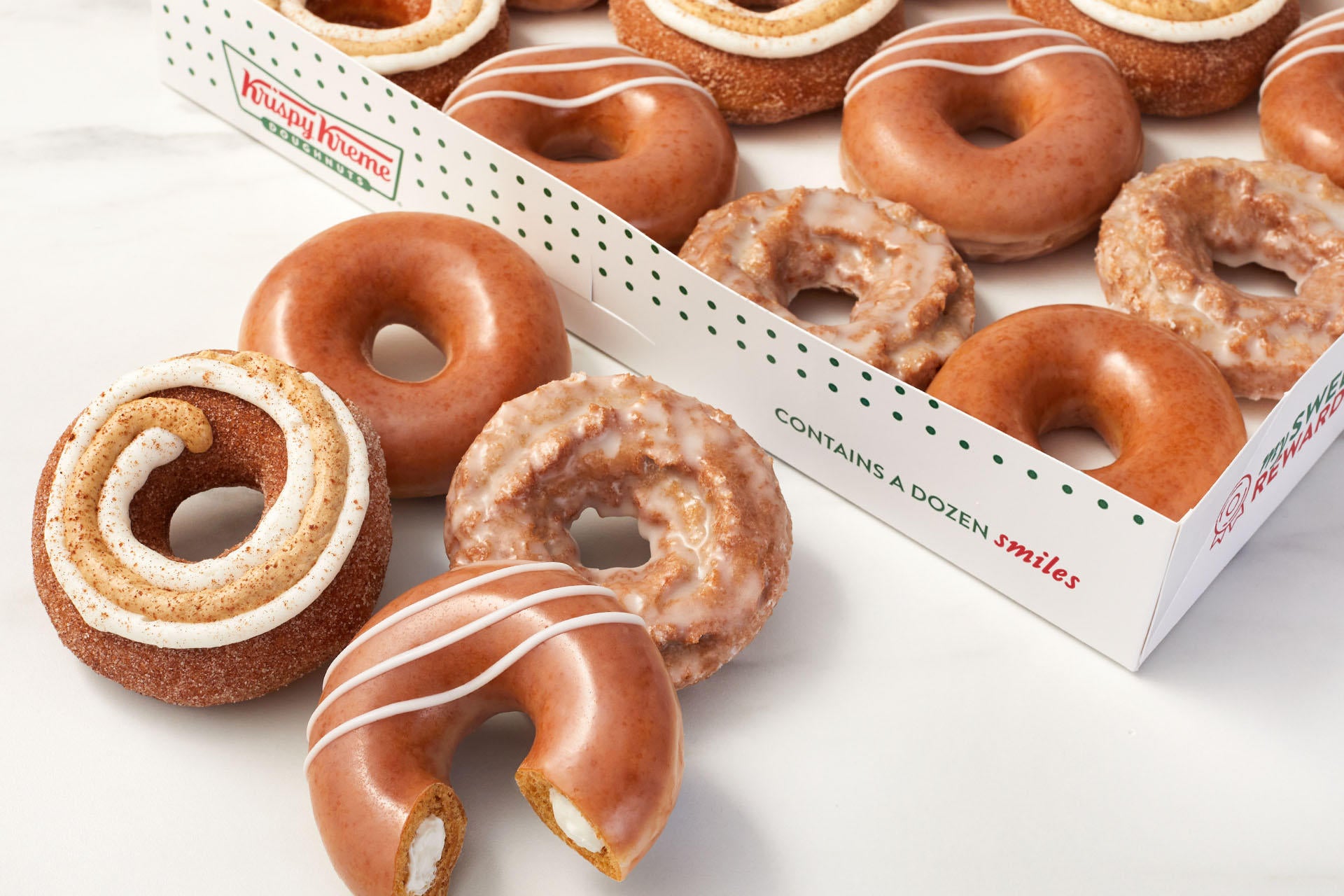 Krispy Kreme is also brewing up something new, with both the Pumpkin Spice Latte Swirl Doughnut and Pumpkin Spice Iced Coffee also joining the fall menu. The Pumpkin Spice Latte Swirl Doughnut is a Pumpkin Spice Doughnut dipped in a pumpkin spice/sugar blend and topped with a swirl of vanilla and coffee buttercream. Meanwhile, the Pumpkin Spice Iced Coffee, which pairs perfectly with any of the fall doughnuts, is an Iced Coffee blended with pumpkin pie sauce.
"Sure, pumpkin spice is generally associated with fall, but true fans of the flavor will agree that August is close enough," Dave Skena, Global Chief Brand Officer for Krispy Kreme," said in a press release. "So, we're pulling fall forward, enabling our guests to indulge and enjoy early with delicious pumpkin spice doughnuts and drinks, including our Pumpkin Spice Latte, which you can get iced or frozen, by the way."
The fall doughnut and drink lineup is set to roll out extra early this year, with the pumpkin spice doughnuts and drinks set to appear on Krispy Kreme menus nationwide on Monday, Aug. 8. The lineup is a limited-time offering, though, meaning it will eventually disappear and be replaced by a new collection.
0
comments