'That '90s Show' Offers 'Unholy' Update on Pastor Dave
That '90s Show is giving fans of That '70s Show a treat when it comes to seeing what the cast of characters is up to about 20 years later. While we see full updates on Eric Forman (Topher Grace), Donna Pinciotti (Laura Prepon) and others, one character we got a briefer update on was Pastor Dave. For those who don't remember Pastor Dave, he was played by Kids in the Hall legend Kevin McDonald in six episodes between Seasons 2 and 4. He was the Forman family's church leader and eventually struck up a friendship with patriarch Red (Kurtwood Smith).
In Episode 2 of That '90s Show, Kitty Forman (Debra Jo Rupp) runs into Pastor Dave off-camera at the local video rental store. He is apparently hanging out in the backroom "Adults Only" section of the store when Kitty notices him.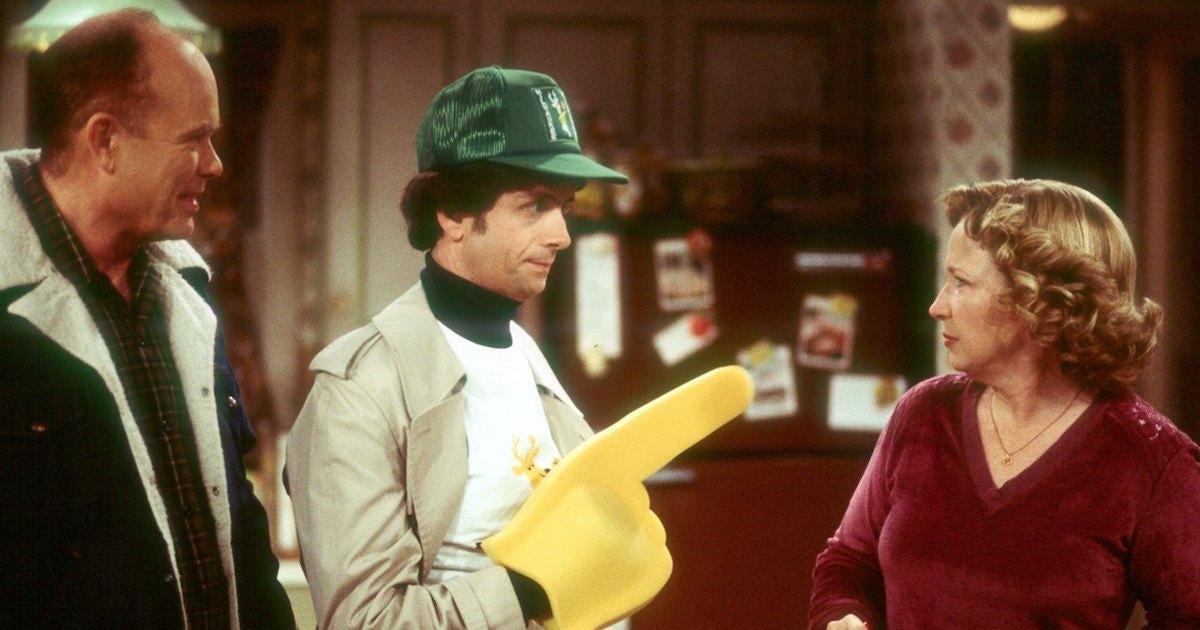 "Pastor Dave, it's Kitty! I haven't seen you since the potluck!" she says as she enthusiastically enters the area. After a brief pause, she walks back out in disgust, noting, "That was very unholy!"
While McDonald himself does not appear in the scene, it's fun that That '90s Show is referencing a fan-favorite character established in That '70s Show.
About That '90s Show on Netflix
That '90s Show is the Netflix sequel series to FOX's hit sitcom That '70s Show (1998-2006). It features returning cast members Kurtwood Smith and Debra Jo Rupp as Red and Kitty Forman, respectively, alongside a new group of teens played by Callie Haverda, Ashley Aufderheide, Mace Coronel, Reyn Doi, Sam Morelos and Maxwell Acee Donovan. However, these beloved That '70s Show cast members return for guest appearances: Topher Grace, Laura Prepon, Wilmer Valderrama, Mila Kunis, Ashton Kutcher, Tommy Chong and Don Stark. While the focus here is on the kids, fans of the original show will be pleased to know the lead character, Leia Forman (Haverda), is the daughter of Eric Forman (Grace) and Donna Pinciotti (Prepon). Leia and her friends get into all kinds of hijinks, not unlike the original cast of characters, so the spirit of the original series is alive and well. Netflix has renewed the show for a 16-episode Season 2.
0
comments