Netflix's 'Wednesday' Getting Backlash After Jenna Ortega Revealed She Had COVID While Filming
Wednesday is Netflix's newest big hit, with Jenna Ortega earning a breakout role as Wednesday Addams. One of the most buzzed-about scenes features her dancing to The Cramps' "Goo Goo Muck" in the fourth episode. Viewers loved the scene, although some are starting to turn against the show after Ortega revealed she had COVID-19 while filming.
In a new interview with NME, Ortega casually revealed that the dance scene was filmed during her first day with COVID, noting it was "awful" to shoot. "I woke up and – it's weird, I never get sick and when I do it's not very bad – I had the body aches," the You star explained. "I felt like I'd been hit by a car and that a little goblin had been let loose in my throat and was scratching the walls of my esophagus. They were giving me medicine between takes because we were waiting on the positive result."
MGM, which produced Wednesday, confirmed that Ortega tested positive for COVID. "Strict COVID protocols were followed and once the positive test was confirmed production removed Jenna from set," the studio said. Ortega later said she wanted to redo the scene, but there was no time. "I think I probably could have done it a bit better," she told NME.
'This is a bad thing right?'
this is a bad thing right? we all agree that this is not some "persevering through hardship" moment, its a why the fuck didn't she get sent home, she could get horrendously sick or infect others kinda moment pic.twitter.com/dBlwOf2ulr

— Lily Simpson is Emotionally Dead like Twltter (@LilySimpson1312) December 3, 2022
Netflix understood that the dance scene could go viral, going so far as to publish it on YouTube, where it has racked up 10 million views. The streamer also shared a video of the cast discussing the scene on Nov. 27. In that clip, Ortega said she choreographed the dance scene herself. She did not mention her COVID diagnosis.
prev
next
Potential 'Violation' of protocols
Film worker w/ Health & Safety experience here. Depends on what the test was for. If it was routine cadence testing that was done, she would've been within compliance. But if she had symptoms and they tested her for that reason? HUGE violation of protocols

— Lara, Hormonal & Poly Arc (@LaraOnSet) December 3, 2022
"I actually felt really insecure about this," Ortega said of the scene. "I choreographed that myself, and I think it's very obvious that I'm not a dancer or choreographer."She also told Vulture that her experience gave her a "new level of respect" for choreographers.
prev
next
'Pretty irresponsible'
Wow.......Just Wow.
Pretty irresponsible for all parties. 💯

— The Indian With No Fucks (@IsaiahPavlik) December 7, 2022
After learning about Ortega's COVID diagnosis, Wednesday viewers took to social media to express their shock and disappointment.
prev
next
Who was to blame?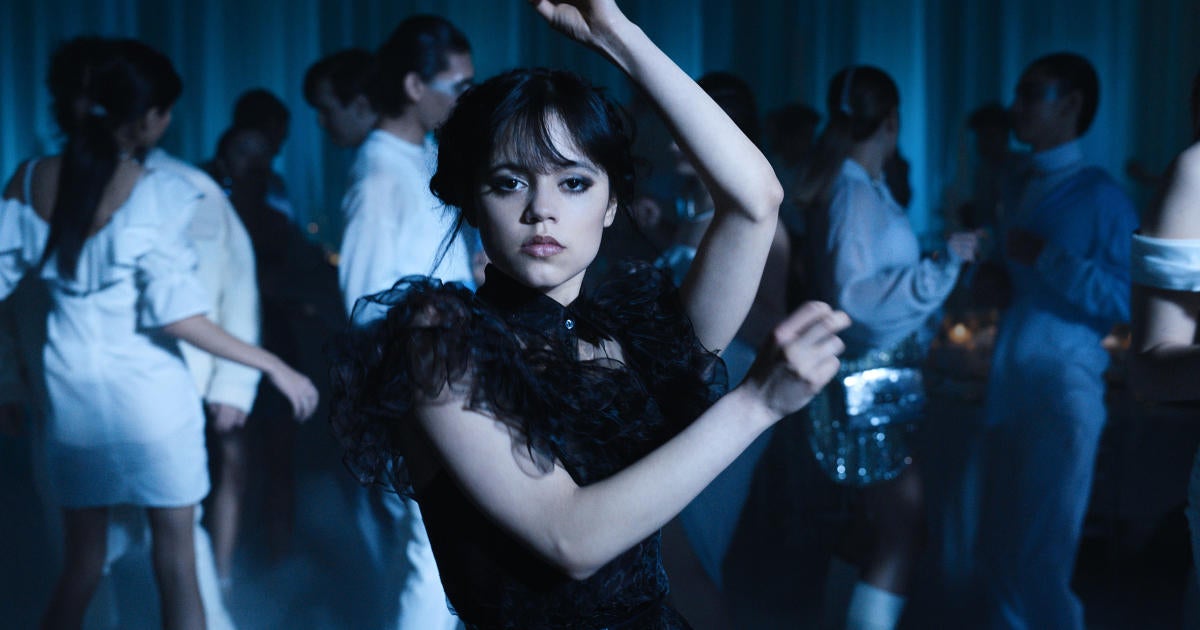 Part of the debate among fans has been over who is to blame for Ortega continuing to work while showing COVID symptoms. Several believe the responsibility lay with director Tim Burton and the studio, not Ortega. "I don't blame Jenna for working while Covid+ bc as others have stated, I doubt she has the power/clout to go against Netflix/Burton," one person wrote on Reddit. "But I am kinda raising an eyebrow at how she's telling this story like it's a good anecdote of how tough/dedicated she is, and not framing it as how fucked up the situation was."
prev
next
'This isn't ok'
So much for "the film industry has such high Covid protection measures"

— inkbot kowalski, MSc. (@inkbotkowalski) December 7, 2022
"This isn't ok. Moreover, the amount of people praising her work ethic is not ok," one person tweeted. "Anyone else would be ridiculed for this but because her show is doing well it's ok?"
prev
next
'Why couldn't they... reschedule?'
A sick person would not have been allowed on a commercial set. Sooo why couldn't they suck it up & reschedule? There is insurance for this stuff.

— Cotton-headed Ninnymuggins (@lazo_jenn) December 7, 2022
Wednesday has become the third-most watched English-language series on Netflix in just two weeks of release, according to the streamer. The eight-episode first season was directed by Burton and created by Alfred Gough and Miles Millar. The series is a new take on The Addams Family, featuring Wednesday as a student at an academy of outcasts. Wednesday uses her psychic abilities to solve a murder mystery in the nearby town.
prev
0
comments