Budweiser Super Bowl Commercial Barely Features Clydesdales, Disappointing Viewers
Budweiser's Super Bowl LVII celebrates how a six-pack can bring people together, not horses. That means the famous Clydesdales are barely seen in the spot, leading to disappointment among traditionalists. The spot was released on YouTube earlier this month, giving fans a taste of what to expect between plays.
The spot is titled "Six Degrees of Bud," and shows how bottles from six-packs are passed from one Bud drinker to the next. Clydesdales only appear in the opening shot, before the camera pulls back to reveal that we have been looking at a television. Kevin Bacon was chosen to narrate, a reference to the famous "Six Degrees of Kevin Bacon" game. Unfortunately, Bacon does not appear onscreen (neither the food nor the actor).
"It wasn't until I actually saw the spot that I said to myself, 'Oh, that's right. A six-pack is six degrees of connection," the Footloose actor told PEOPLE in late January when the ad was unveiled. "I didn't even think to myself, 'Oh, of course, they're coming to me.' I just thought they wanted me because of my voice." Bacon noted that the game is a "beautiful concept," since it highlights how "we are all connected," even if you take him out of the equation.
Budweiser shifted its Super Bowl advertising strategy to only focus on its main brands, including Bud Light, Michelob Ultra, and Busch Light. That's because it is the first time in three decades that Anheuser-Busch is not the exclusive Super Bowl beer advertiser. That means other beer makers will pop up during the broadcast, notes USA Today. The "Six Degrees of Bud" ad will also only play in select regional markets.
Even though Clydesdales are hardly featured in this year's Super Bowl commercial, PETA took Budweister to task with a new statement on Saturday. The animal rights organization accused Anheuser-Busch of cutting the bony parts of the horses' tails off when they are young, which PETA called a cruel practice. PETA plans to drive a mobile billboard around the Budweiser brewery in St. Louis on Sunday, then in front of popular bars in the city, reports St. Louis Today.
"The safety and wellbeing of our beloved Clydesdales is our top priority," an Aunheuser-Busch spokesperson said. "Combined with our highly trained staff of professional caretakers, we partner with an equine medical expert to ensure our animals receive the highest level and quality of care."
Scroll on to see how others reacted to Budweiser's Super Bowl LVII commercial.
'There's no point of watching them'
"I've been writing this company for years saying if there's no Clydesdales in their commercials, there's no point of watching them," one fan wrote on YouTube. "We ALL looked forward to see what the Clydesdales were going to be up to. I miss the laughs and heartfelt soul-touching stories. So again... CLYDESDALES ARE YOUR AWESOME MASCOT... USE THEM! Geez... and these people get paid for thinking this other junk up... and I mean junk. ️ Don't you EVER listen to your consumers?
prev
next
'They're gorgeous, proud animals!'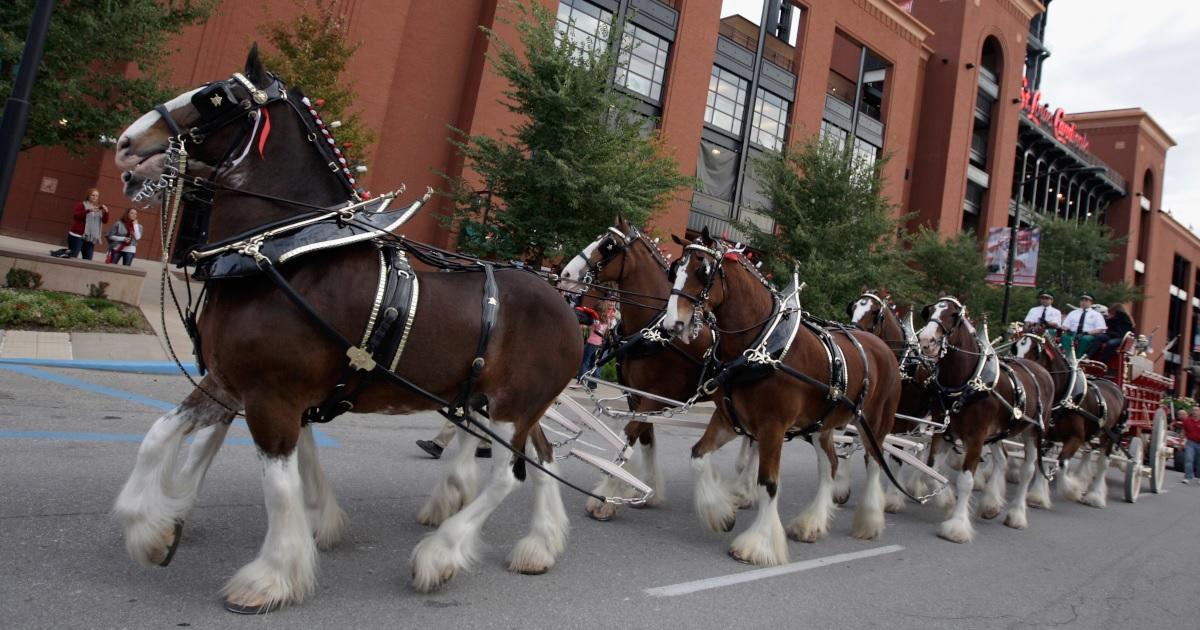 "I don't know who writes their commercials, but they aren't using the greatest asset they have…THE CLYDESDALES!!!!!!!!! Most companies would give anything for a marketing tool like the Clydesdales," another wrote. "Use them!! They're gorgeous, proud animals! Stick with what got you "there!" I've toured the brewery, Grant's Farm, and Warm Springs Ranch. People love those horses!"
prev
next
'The horses are the only reason I might buy beer'

"I watch the Superbowl for the Budweiser commercial. No horses, I won't have time. They have the greatest marketing strategy in the world and fail to use it. The horses are the only reason I might buy beer, because I support them," another person wrote.
prev
next
'It's really what the people want to see'
"I don't get it. The Clydesdale horses have so much more recognition and it's really what the people want to see," one person wrote. "You show me a 6 pack split 6 ways? Whoever is selling this as advertising is getting something for nothing. I'm Joe Six Pack, I'll tell you what we want. We want the horses on every main street from coast to coast. We want the horses on military bases around the world. We want the horses delivering Budweiser water at every natural disaster. We are not that hard to sell beer to."
prev
next
'It has no heart and soul'
"Probably the first time I'd say I don't care for the commercial at all," one person wrote. "It has an interesting message of six degrees of separation, but it wasn't used well at all. It has no heart and soul like commercials of years past. And agreed with others, needs the Clydesdales, Dalmatians, and mostly some heart and soul."
prev
next
Not the first Budweiser commercial without Clydesdales
This was not the first time a Budweiser commercial didn't include the Clydesdales. They were missing in the 2018 spot, which highlighted the company's work in helping hurricane and flood relief organizations. In 2021, they chose not to run a spot at all, and instead donated to the Ad Council and COVID Collaborative's COVID-19 Vaccine Education Initiative.
prev
0
comments