'The Masked Singer': Who Is Macaw?
The second and final new contestant for The Masked Singer's special "Country Night" episode was Macaw. The singer blew the audience away with his performance of a Tim McGraw classic and reached the battle royale. In the end, he beat out the Fairy and will move on to the semifinals. Who is he? Check out the clues and guesses from Macaw's debut (if you haven't already been watching via FuboTV or another live service).
Performances and Song Picks
Episode 6: "Live Like You Were Dying" by Tim McGraw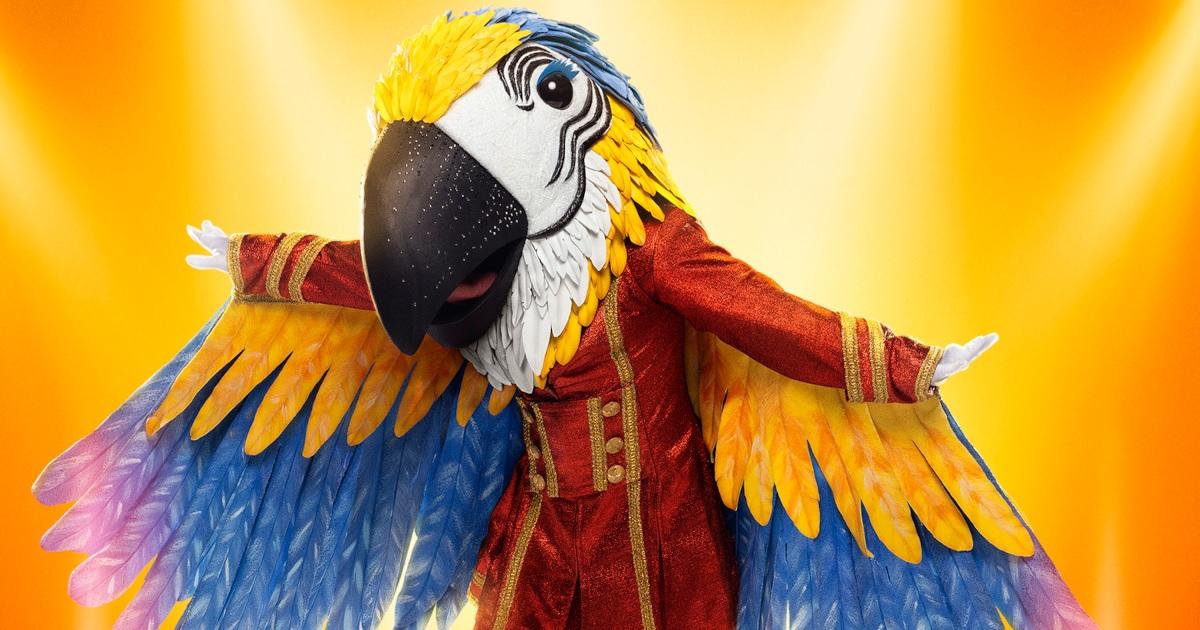 Show Clues
Episode 6 monologue: "I'm so excited to become Macaw because he's everything I'm not. Flashy, confident, and he sings country songs. Even though I've been performing from an early age, it definitely didn't start out as a passion. My dad would bribe me with quesadillas to perform at our local Mexican restaurant and eventually, I spread my wings on bigger stages. But the pressure to always be the good son has brought me some anxiety. But somewhere on the journey of melted cheese and panic attacks, I learned to take breaks and reset. What started as a way to make my parents happy turned into what actually fills me with glee. This is the year I decided to be brave, not only on stage but in my own life. So this feels like the perfect opportunity to put my newfound courage on display."

Episode 6 Visual Clues: Arrows were pointing up. There was a hint that he's been performing since television was mostly in black and white. Yellow dolphins also made appearances, as well as a jar of salsa. The overall style of the package was very psychedelic.

Episode 6 On-stage Clue: Dana Carter brought out a silver medal. "It wasn't until I left the nest that I struck gold," Macaw said.
The Guesses
Robin Thicke's guess: Elijah Wood
Jenny McCarthy Wahlberg's guess: Zayn Malik
Ken Jeong's guess: No guess
Nicole Scherzinger's guess: Doug Robb of Hoobastank
Our guess: This is a really difficult one and had us stumped at first. However, fans on social media were guessing American Idol alum David Archuleta, who sounds like a good pick. We definitely do not believe it is a One Direction member or Elijah Wood though. Robb doesn't sound like a good guess either. Macaw's comment about striking gold after he left the nest must be a hint that he was a member of a group and found success as a solo artist.
The unmasked celebrities in Season 9 so far are Lele Pons (Jackalope), Malin Akerman (Squirrel), Michael Bolton (Wolf), Grandmaster Flash (Polar Bear), Debbie Gibson (Night Owl), Howie Mandel (Rock Lobster), Sara Evans (Mustang) and Dick Van Dyke (Gnome).
How to Watch
The Masked Singer airs on Wednesday nights at 8 p.m. ET on Fox. If you don't have a traditional cable package, FuboTV allows you to watch The Masked Singer live (there's even a free trial available). Additionally, all episodes of The Masked Singer are available on Hulu the following day.
0
comments