'Selling Sunset's Chrishell Stause Undergoes Surgery
Chrishell Stause is recovering from surgery to remove an ovarian cyst with the help of partner G Flip. The Selling Sunset star revealed on her Instagram Story Wednesday evening that she had undergone a procedure to remove the cyst that had been causing her pain.
"Had minor surgery today and had a large ovarian cyst removed," Stause wrote over a photo of her in her hospital bed. "Thank you Dr. Hakakha for taking such good care of me." The Netflix star added that she was "feeling good" and was "being looked after" by her love. Stause concluded her brief message with a suggestion to her followers, "If you have bad, unexplained cramps, don't ignore it."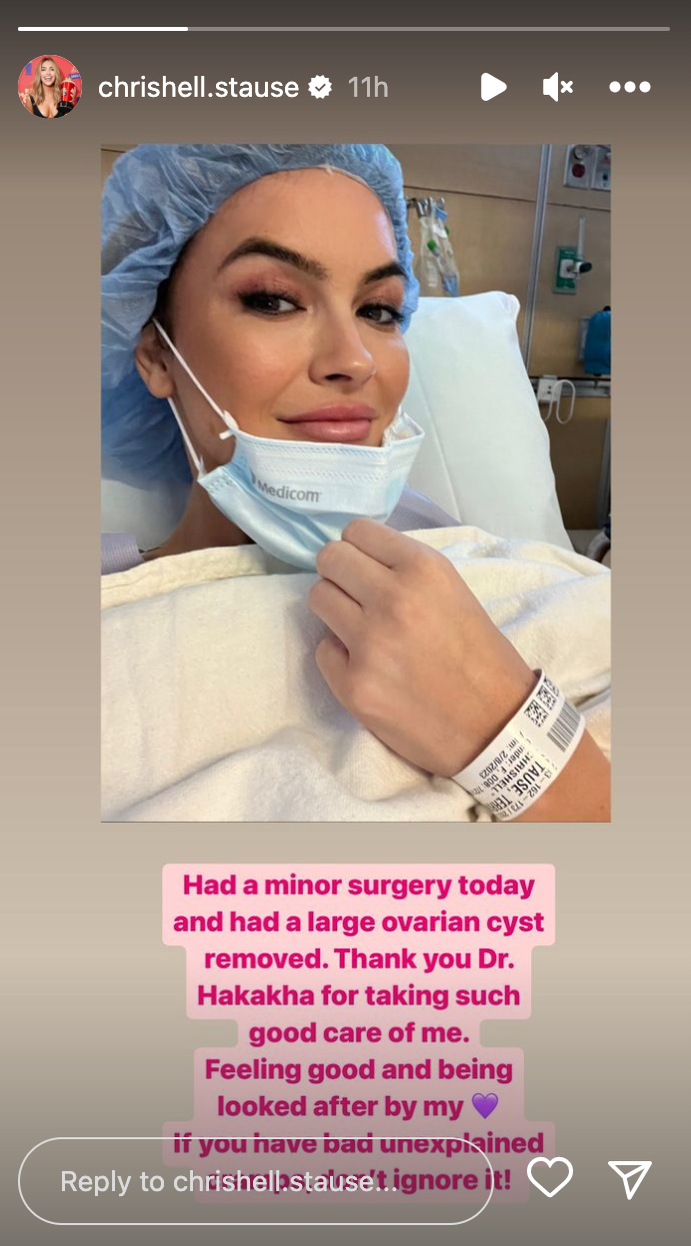 Stause's shoutout to her partner, who is non-binary, comes shortly after the couple opened up about their relationship in a conversation with Vogue Australia published Wednesday. While the Australian singer and reality star went public with their romance in May, Stause revealed she and G Flip first kissed at a party after she got stood up by her date.
The real estate expert continued that she "definitely still thought [she] was straight at that party," but was immediately attracted to G Flip. "[It] opened my brain up to the fact that I'm attracted to energy, not whatever physical thing that people have in their head. I don't have a type," she explained. "I feel like you get to an age and you're supposed to know it all by then, but there is no age where you know it all, because you're always evolving," Stause added. "And this is the perfect example of a relationship that a few years ago I wouldn't have thought was possible."
In September, Stause shared a touching post for G Flip's birthday to Instagram. "Imagine you took all of the things you love about an emotionally intelligent secure man, and all the things you love about a strong loving caring woman, and blended them together to make one magical human," she wrote at the time. "Oh and it would be cool if they could also be a sexy musical genius that is hilarious and maybe give them a hot Australian accent too because why not. ...Even though I could list a million things I love about you, your kind genuine heart is my absolute favorite."
0
comments