There's a Huge Curtis Stone Cookware Sale at HSN, and the Deals are Legit
Each product has been independently selected by our editorial team. We may receive commissions from some links to products on this page. Promotions are subject to availability and retailer terms.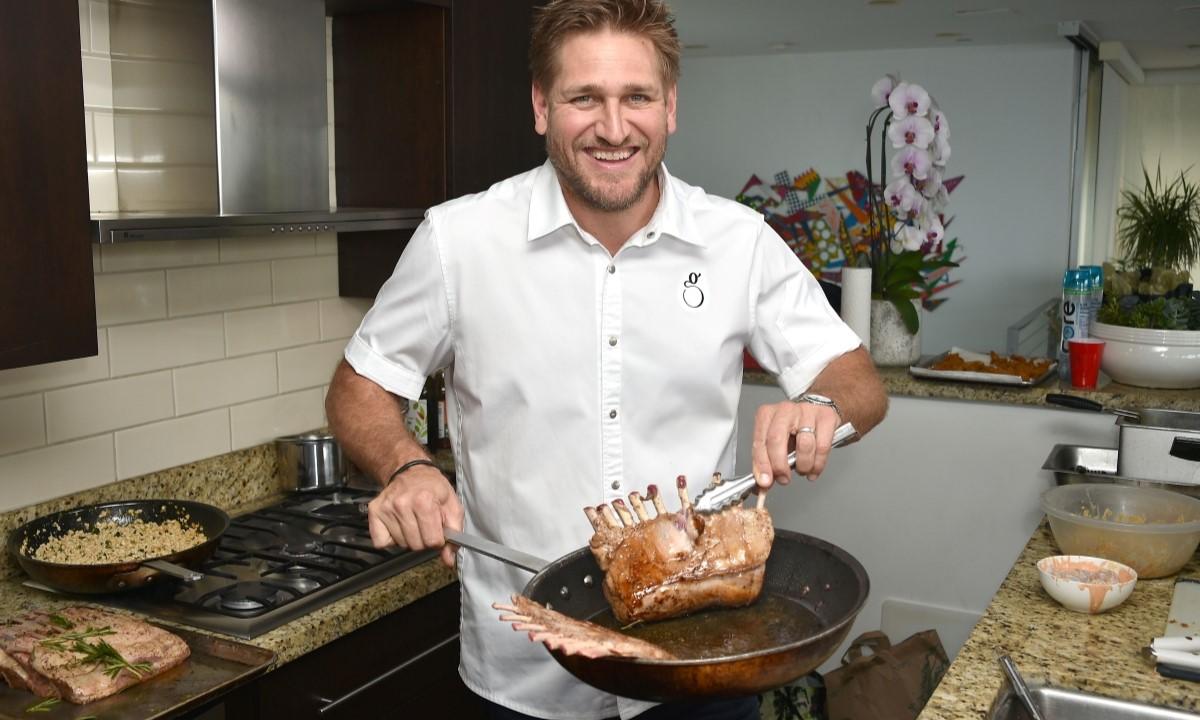 Many celebrity chefs have their own cookware lines, but Australian celebrity chef Curtis Stone's name brand kitchen essentials have done over $255 million in sales over the past 10 years -- and for good reason. His nonstick Dura-Pan technology with five layers of titanium coating is safe for metal utensils, and it's free from the PFOA chemicals that are present in lower-quality nonstick pans. Most importantly, some of his bestselling pots, pans, kitchen appliances, wine and even food items are on sale now during the Home Shopping Network, and the savings are huge. There's never been a better time to try out his cookware and bakeware collection.
Our favorite Curtis Stone brand picks from the HSN sale:
If you've never shopped on the HSN website before, you can save $10 on your first order with the promo code HSN2023. Additionally, the Home Shopping Network offers a FlexPay plan, which breaks down the payment for your order into easy monthly installments so you don't have to pay all at once. There's 0% interest if you choose this option.
Curtis Stone says, "Cooking should be fun and easy. I design kitchen solutions to help make meals hassle-free." If you're interested in testing out his Dura-Pan technology cookware and bakeware products, this sale is the perfect excuse to buy some of the high-quality (yet affordable!) kitchen essentials. You can also skip the cooking and purchase some of his premade foods or wine while you're at it.
Top picks from the Curtis Stone kitchenware sale at HSN
Save big on chef-approved cookware from the Home Shopping Network by ordering now. Hone your skills in the kitchen with brand-new kitchen products you'll be so glad you bought. Shipping and handling is included in the prices.
Curtis Stone 14-piece Dura-Pan nonstick all-purpose cookware set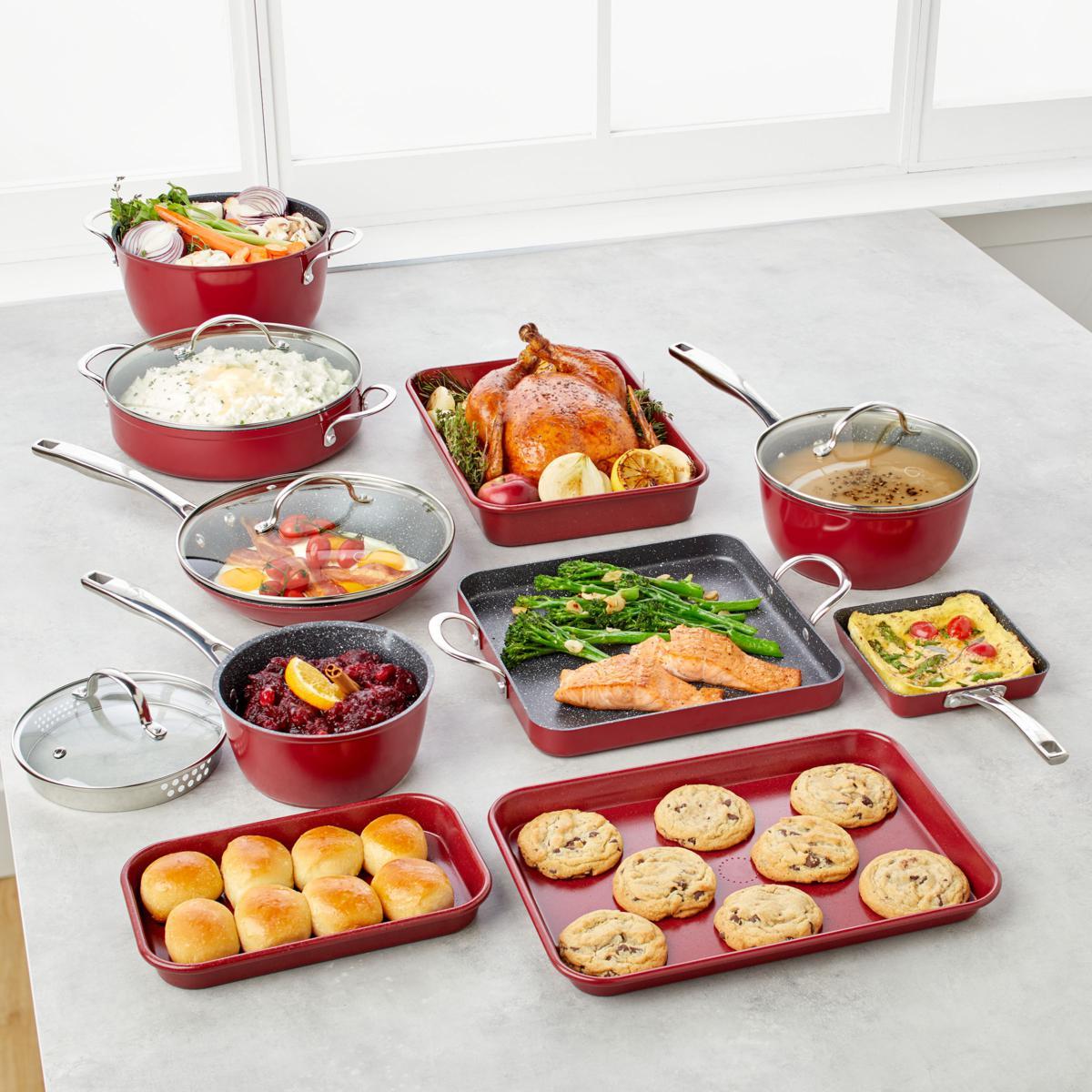 The Dura-Pan technology is what Curtis Stone's cookware is known for. Right now, you can get the entire set for only $200 in either red or stone gray. The set includes a 9.5-inch frypan, 3.3-quart sauté pan with lid, a 2.8-quart saucepan with lid, a 1.5-quart saucepan with lid, a five-quart stockpot with lid, an 11-inch grill pan, a 5.5-inch grill pan, a roasting pan, a sheet pan and a micro pan. Also included is a user and care guide with 10 recipes and a manufacturer's one-year warranty. Use metal utensils on these nonstick pots and pans without worrying about it.
Curtis Stone 14-piece Dura-Pan nonstick all-purpose cookware set, $200 (down from $250)
$200 at HSN
Need a stacking cookware set to save space in a small kitchen? Curtis Stone and HSN have you covered. Each of these unique pieces also have Dura-Pan coating. Here's what you get: an eight-inch frypan with buffet handles, a 10-inch frypan with buffet handles, a three-quart sauteuse pan with a divider, an 11-inch square griddle pan, a two-quart saucepan with buffet handles and a 4.8-quart stockpot with buffet handles.
Curtis Stone 10-piece Dura-Pan stacking cookware set, $200 (down from $260)
$200 at HSN
Curtis Stone Four Stones wine, 12-bottle set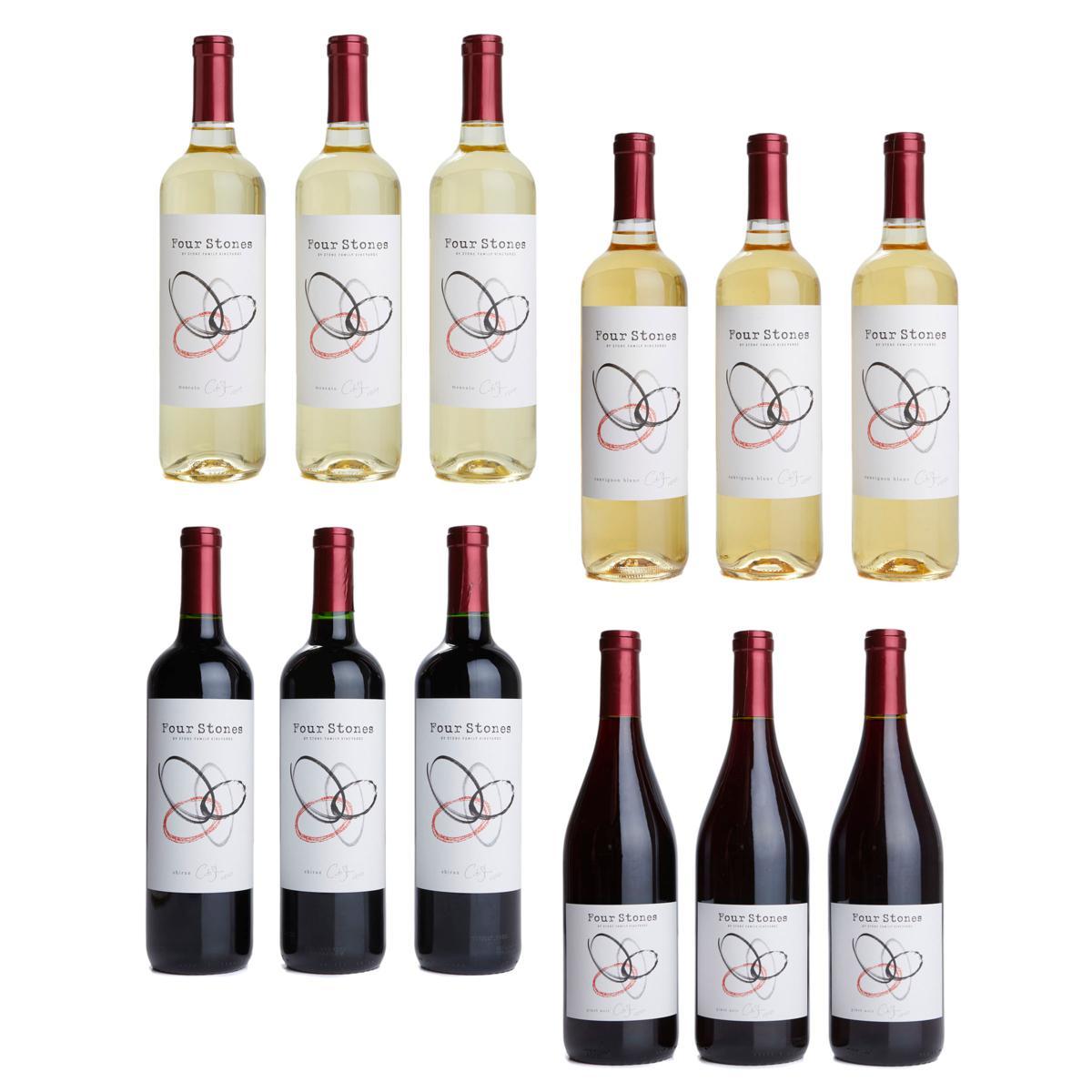 Curtis Stone's Four Stones wines are made in either Australia or California, depending on where the individual grapes grow best. With this 12-bottle mixed wine set, you are going to get four different wines: three bottles of 2019 Moscato, three bottles of 2020 Sauvignon Blanc, three bottles of 2020 Pinot Noir and three bottles of 2021 Shiraz. The wines have a five-star rating on the HSN website, and with a blend like this, you can pair them with anything.
If you have a strong preference between red and white, you can also get 12 bottles of white wine or 12 bottles of red wine instead of the mixed package.
Curtis Stone Four Stones wine, 12-bottle set, $132 (down from $166)
$132 at HSN
Not sure about getting the 12-set yet? Try them out first with a set of three bottles of either Pinot Noir, Shiraz, Sauvignon Blanc or Moscato.
Curtis Stone Four Stones white wine, three-bottle set, $42 (down from $53)
$42 at HSN
Let someone else cook for you. Curtis Stone shows off his chef skills by selling Australian pork and beef meatballs that have been hand-rolled with Italian spices. They hold up well in tomato sauces, white sauces and on their own.
Curtis Stone two-ounce beef and pork meatballs, 20-count, $65 (down from $75)
$65 at HSN
Curtis Stone Dura-Pan nonstick single burner griddle pan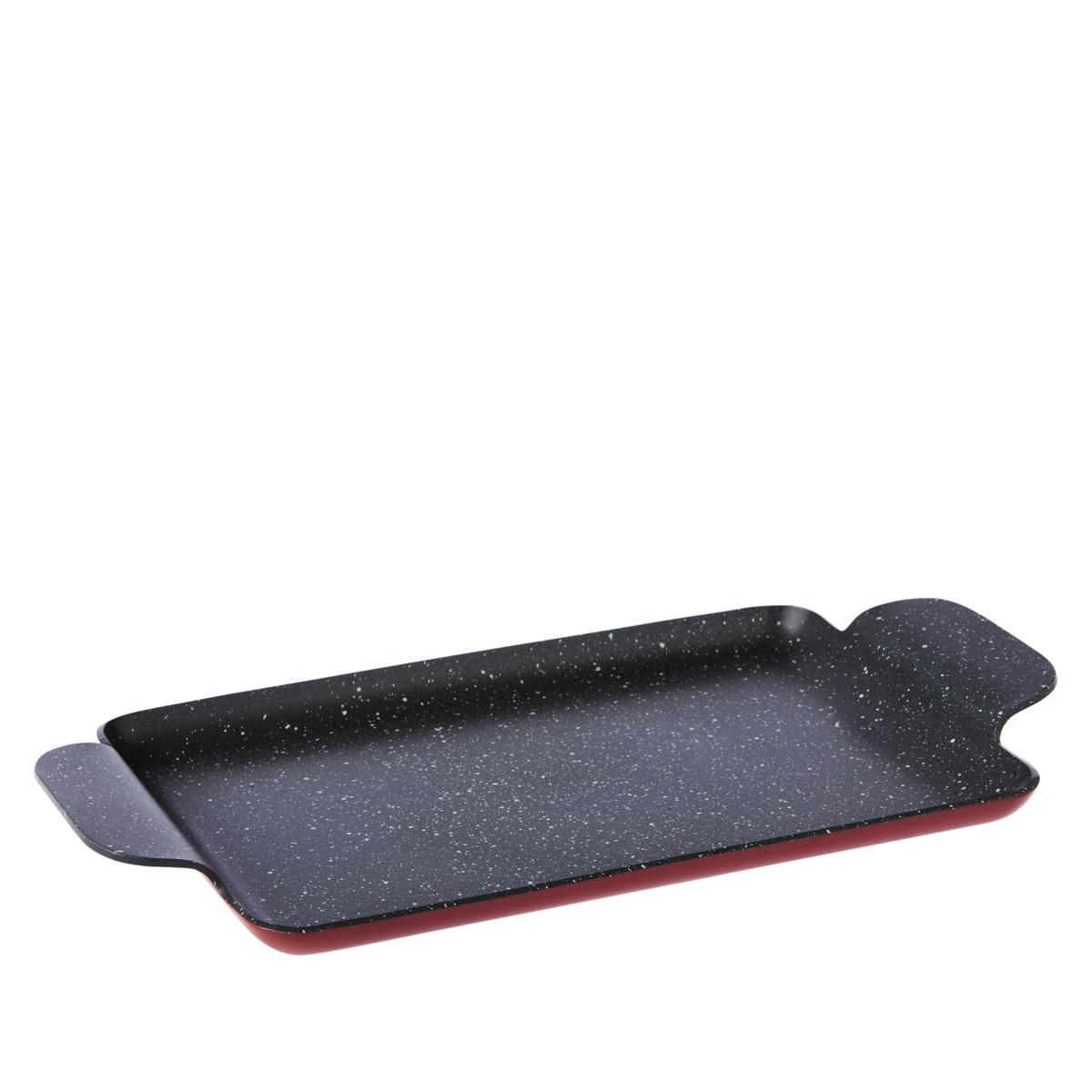 If you don't want to buy an entire Dura-Pan set, you can try out a piece that's on sale now at HSN. This single-burner griddle pan is great for making an easy meal for one to two people on an aluminum-made nonstick griddle pan.
Curtis Stone Dura-Pan nonstick single burner griddle pan, $30 (down from $35)
$30 at HSN
The Curtis Stone fry basket is designed to fit perfectly into a 4.8-quart pot but should nestle into many different kinds of saucepans or stock pots safely with the lift-and-lock feature. With this fry basket, you can fry, blanch, steam, boil or drain foods quickly. It takes the mess out of frying foods.
Curtis Stone 4.8-quart fry basket, $23 (reduced from $27)
$23 at HSN
Curtis Stone 1.6-quart Dura-Pan multi-function soup maker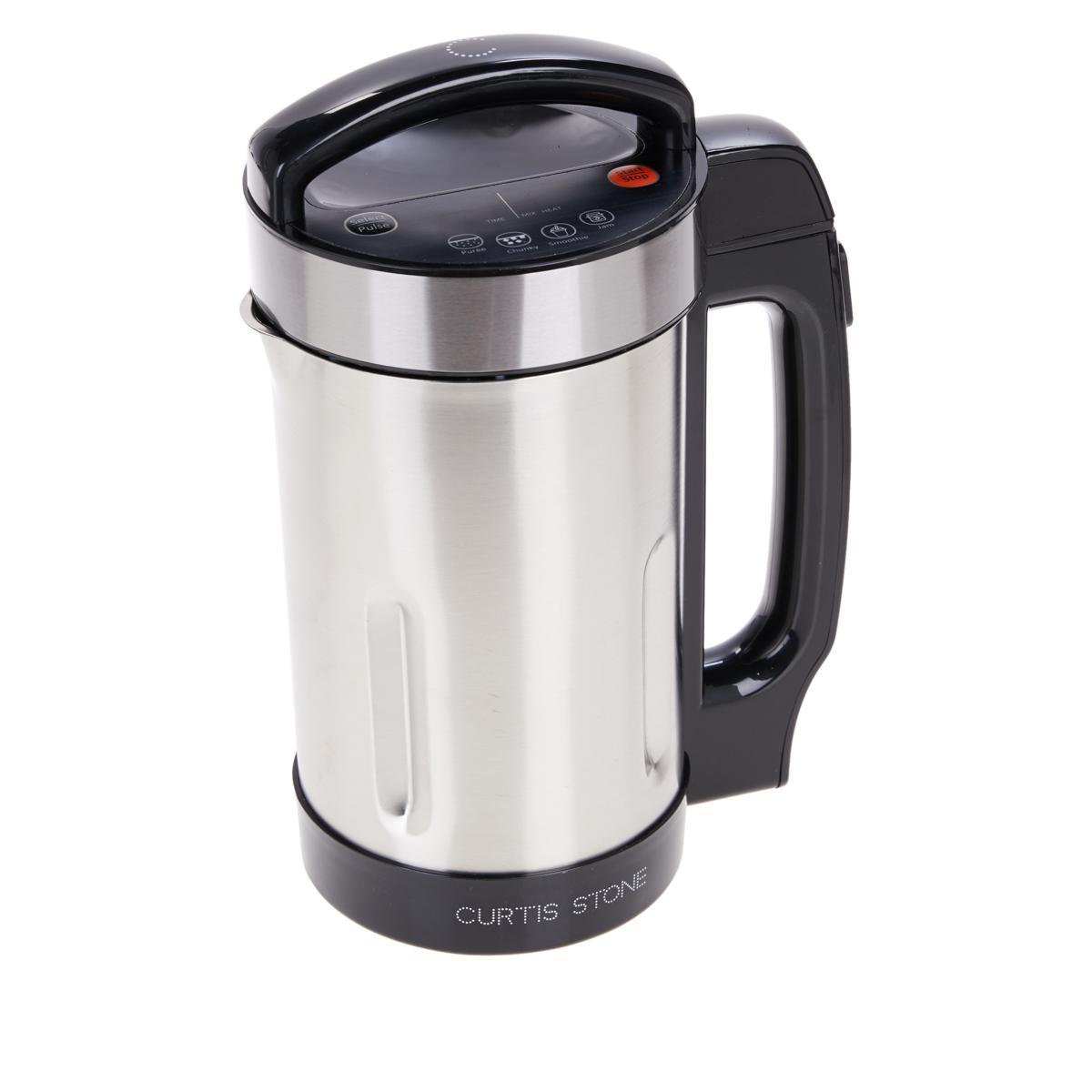 This item is so much more than just a soup maker. You can also make smoothies, sauces, purees and more with it. There are five preset modes: puree, chunky, smoothie, jam and sauté. And the inside of the soup maker has a Dura-Pan nonstick coating, which will make cleaning up even easier too. You get 12 free recipes included with your purchase.
Curtis Stone 1.6-quart Dura-Pan multi-function soup maker, $110 (down from $130)
$110 at HSN
These cedar wraps from Curtis Stone will infuse your food with the fragrant aroma of western red cedar, which adds a delicate flavor that tastes great on seafood, meat, poultry and vegetables. Soak the wraps for 10 to 20 minutes, place seasoned food on the wrap, bundle it up with the included twine, and then cook on a preheated grill or oven.
Curtis Stone 8-piece set of cedar wraps, $13 (down from $17)

$13 at HSN
0
comments