Exes Austin Butler and Vanessa Hudgens Awkwardly Cross Paths on Oscars Night
Vanessa Hudgens and Austin Butler had a bit of an awkward run-in at the Oscars. The exes, who dated for eight years before splitting in 2020, dodged one another while leaving Vanity Fair's Academy Awards afterparty after the Elvis star lost the Best Actor Oscar to The Whale's Brendan Fraser. As Butler waved to cameras alongside Sharon Stone while leaving the post-ceremony party, Hudgens, who hosted ABC's pre-Oscars, kept it moving walking right past her ex after seeing who was in front of her.
After a video of the non-interaction went viral, the Princess Switch star seemed to comment on her Instagram Story, posting a clip from Sunday's awards ceremony in which education activist Malala Yousafzai told Jimmy Kimmel, "I only talk about peace." Hudgens wrote alongside the video, "Let's all be on the 'I only talk about peace' train. OK?"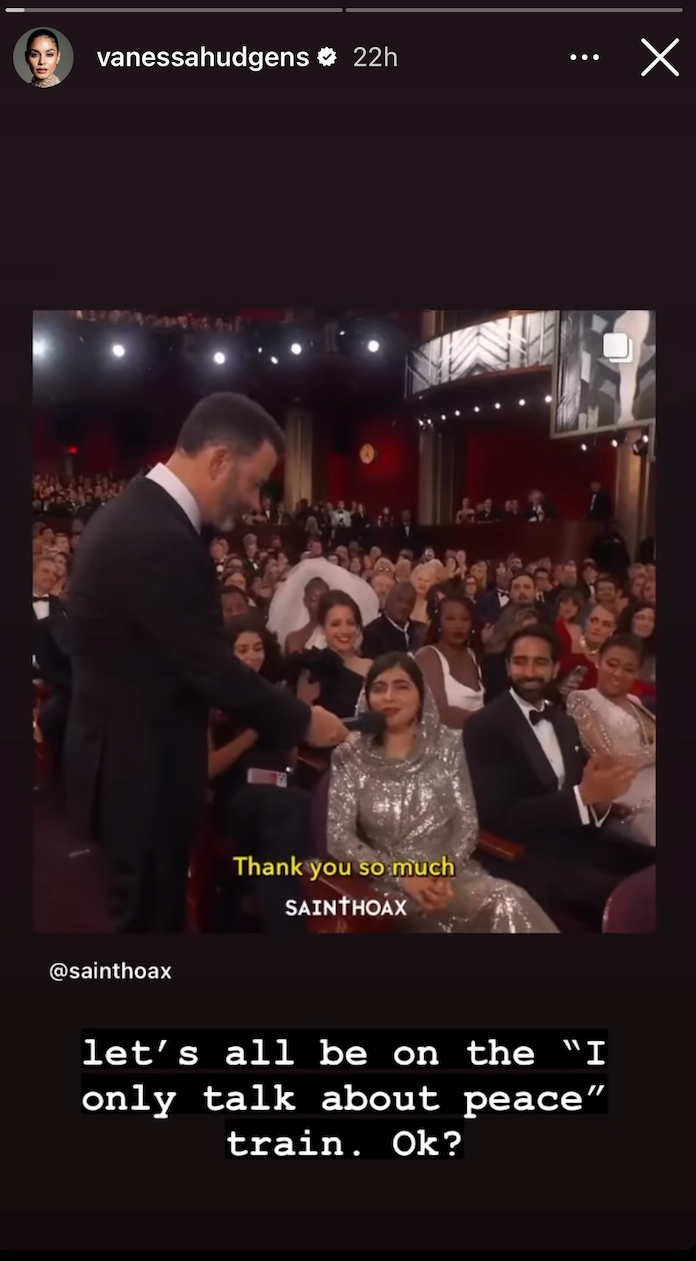 Hudgens and Butler have both moved on since their split, with the High School Musical star getting engaged to baseball player Cole Tucker at the end of 2022 and the Oscar nominee dating model Kaia Gerber. But Hudgens had a major role in Butler's Elvis Presley transformation, which she first revealed shortly after Butler's casting in Elvis was announced in 2019.
"It's so crazy, because last December, we were driving along and we were listening to Christmas music, and then an Elvis Presley Christmas song came on," she said on Live With Kelly and Ryan at the time. "He had just dyed his hair dark – he's a natural blonde – and I was looking at him and he was singing along and I was like, 'Babe, you need to play Elvis. I don't know how, but I'm serious. You need to play him.'"
Butler told the same story years later during The Hollywood Reporter's Actors Roundtable, but didn't mention his ex by name. "I was looking at Christmas lights and there was an Elvis Christmas song on the radio. I was with a friend of mine and I was singing along and my friend kind of looked over at me and goes, 'You've got to play Elvis.' I said, 'That's such a long shot,'" he said. "... And then a couple of weeks later I was playing the piano. I never really sang for any of my friends or anything. That same friend was there. I was playing the piano. She said, 'I'm serious. You've got to figure out how you can get the rights to a script and write something and do Elvis' life.'"
0
comments