Justin Long and Kate Bosworth Spark Engagement Rumors
Actors Justin Long and Kate Bosworth sparked engagement rumors with their appearance at the Vanity Fair Oscars party on Sunday following the awards show. Bosworth, 40, showed off a giant diamond ring on her left finger as the couple walked the red carpet. Long, 44, and Bosworth started dating after making House of Darkness in 2021.
Bosworth and Long smiled for the camera as they posed for photographers. The Superman Returns star wore a Monique Lhuillier dress, notes Us Weekly. When Bosworth put her hand on the Barbarian star's chest, she showed off the diamond ring. The couple has not commented on the speculation. Before the event, Bosworth shared videos of herself getting ready and later posted photos in her Instagram Story.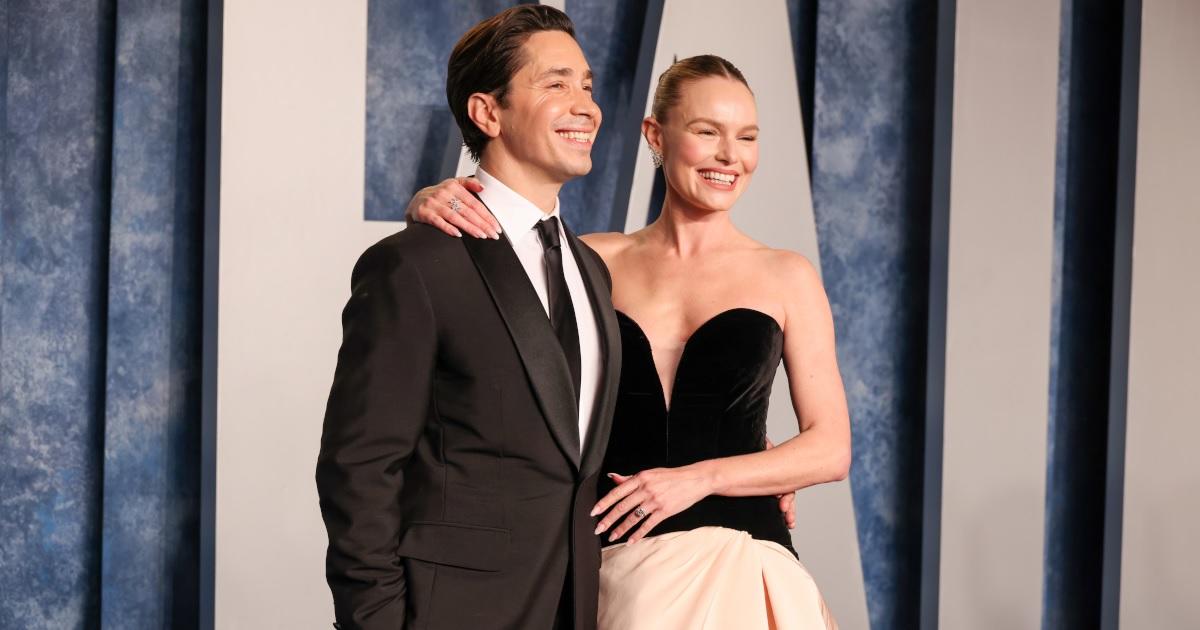 After finishing up work on House of Darkness, Bosworth's Instagram activity hinted at their relationship and they were seen together multiple times throughout 2021. In January 2022, a source told Us Weekly the two were dating "for a few months" by that point. "They secretly have been on a few getaways together. They both love to travel," the insider said, adding that the two were keeping their relationship "low-key and private."
Throughout 2022, the couple became more open about publicly discussing their relationship. While on The Viall Files in April 2022, Long even said he thought he "found" the one. "It's weird. I want to [talk about it], but I also want to be protective," Long told Nick Viall. "I want to scream it from the rooftops, but I also want to be protective. It's sacred."
By January though, Long was ready to write a full-blown tribute to Bosworth on her 40th birthday. "She is also the best part of my day, every day – even when we're not together," Long began on Jan. 2. "She laughs with abandon. She makes me laugh the same – all the time. She sees beauty everywhere and in everyone. She thanks everyone – even when she's suffering, she's kind. She was grateful to the nurses while she was in true pain. She is deeply compassionate and can't hurt anyone but she can be a rascal. She loves to tease. She has the best softest lips I've ever kissed. She loves beer and football more than I do (and I love beer and football). She is the strongest person I've ever known."
Long later wrote that Bosworth "makes everything" in his life better, even his favorite songs and movies. "She strives to be better but she's the best person I know. She will do anything for her friends," he continued. "She is so generous she makes my parents slightly uncomfortable around the holidays (she also makes the best cookies). She is the most beautiful human being I've ever seen. She is purely good. She will stand up to anyone who isn't. She has true integrity and grit. She has, by far, my favorite smile. She is sitting next to me writing her own Instagram post that I know will be eloquent and funny and deeply honest – because she is all those things. She is going to write such a great inspiring book one day. She is my joy. She is my best friend. Happy Birthday."
Bosworth was previously married to her Big Sur director, Michael Polish. They married in August 2013 and separated in August 2021. Long previously dated his He's Just Not That Into You and Going the Distance co-star Drew Barrymore and Amanda Seyfried.
0
comments