Marsai Martin 'Excited' and 'Relieved' to Debut New Disney Show 'Saturdays' (Exclusive)
Marsai Martin made history in 2019 when she became the youngest person to produce a movie (Little at 13 years old). And now that Martin is 18, she has another project she's producing called Saturdays, a television series that premieres on the Disney Channel on Friday, March 24. PopCulture.com spoke exclusively to Martin, who is ready for fans to see her new show.
"I feel excited. I feel relieved that we are here," Martin exclusively told PopCulture. "It has been a long time coming. I kind of remember the moments where we were just in the beginning stages of it. So looking back and reflecting on the work and the amazing thing that we built is absolutely surreal. So I'm excited. I'm hyped for the world to watch it, my audience to see it. And no, it's lots of fun."
Martin is an executive producer on the series along with Josh Martin, Carol Martin and Nicole Dow for Genius Entertainment. The series is created by Norman Vance Jr. who also wrote the 2005 film Roll Bounce. And like Roll Bounce, Saturdays is all about kids at a rollerskating rink.
As the synopsis states, Saturdays "revolves around 14-year-old Paris Johnson and her best friends Simone and Ari, who hone their roller-skating skills on the cool parquet floor of Saturdays, a local skating rink in Chicago. Together they form the We-B-Girlz skate crew and are determined to show and prove they have the hottest skate routines on the planet!" Saturdays stars Danielle Jalade as Paris Johnson, Daria Johns as Simone Samson, Golden Brooks as Deb Johnson, Omar Gooding as Cal Johnson, Jermaine Harris as London Johnson, Peyton Basnight as Ari, Tim Johnson Jr. as Derek D-Rok.'
"Oh, they're so sweet and they're so nice and very outgoing," Martin said about the cast. "I enjoyed watching them film and be able to still hang out and still laugh after the camera's cut. And no, I enjoyed it. And I was familiar with most of the cast too. So being able to say that, I'm like, 'Oh my God, Golden.' ... Being able to say that is really, really exciting. So no, I love them and I enjoyed it. I enjoyed it."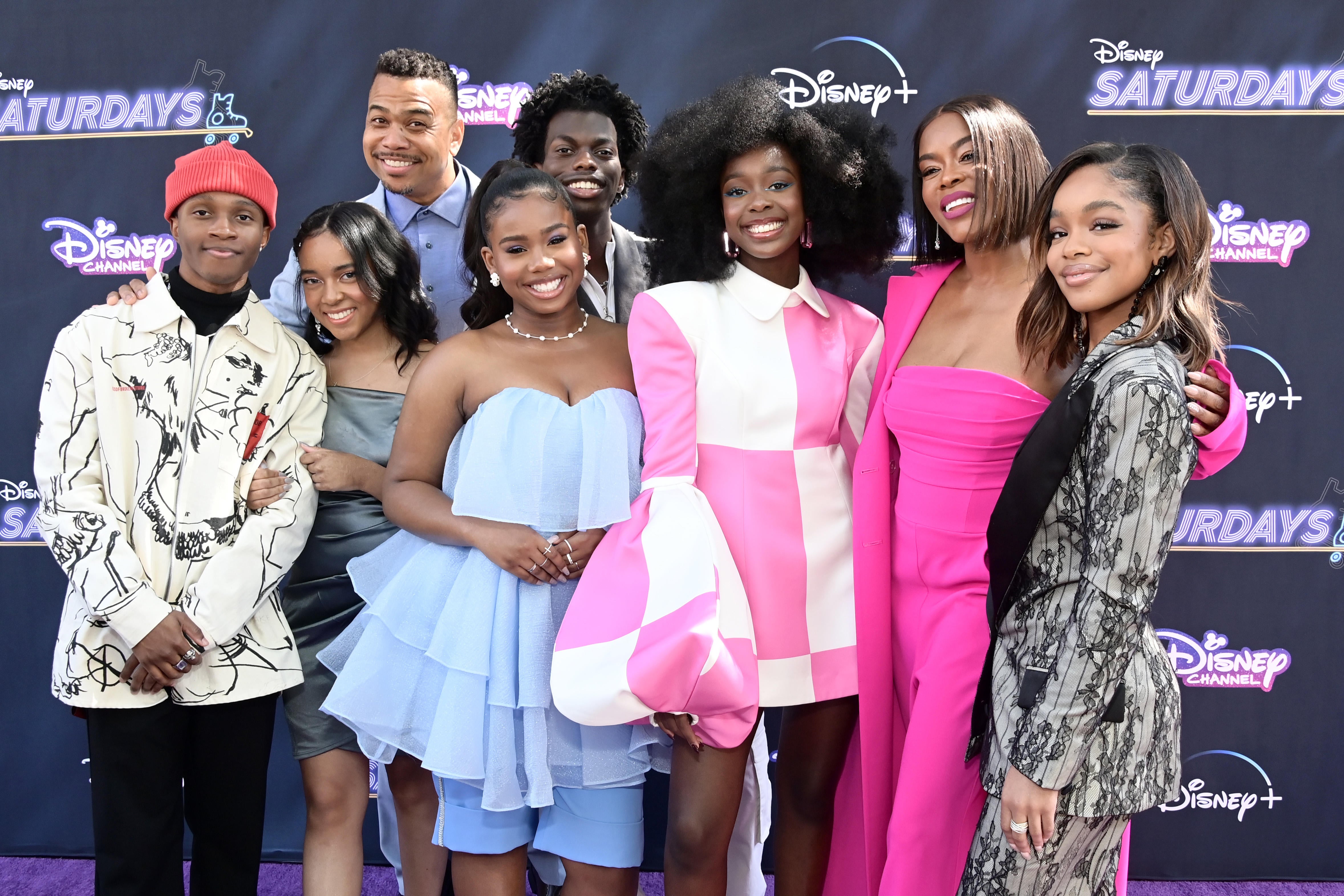 Martin, who won multiple awards for her role on Black-ish, also talked about what she wants fans to take away from Saturdays. "I think what I want people to take away is that we can show different points of views of life, and everybody can relate to it in a way where it makes sense from this young black girl's point of view, she said. I feel like we've been so used to seeing it from a particular point of view all the time. So being able to see it in a different light. And I think showing the levels of it, like the skating culture, the family, the friendships in Chicago, there's so many levels to it. So yeah, I just think hopefully people just take away being able to relate, being able to feel comfort and watching this young black girl grow and strive and achieve her goals."
In addition to airing on the Disney Channel, Saturdays will also stream on Disney+ starting March 25.
0
comments