'Good Morning America': T.J. Holmes and Amy Robach Scrubbed From ABC News Intro
Each product has been independently selected by our editorial team. We may receive commissions from some links to products on this page. Promotions are subject to availability and retailer terms.
Good Morning America is cementing the decision to move on from T.J. Holmes and Amy Robach. Following the couple's departure from the morning show, ABC went ahead to make a visual change to GMA3. Robach and Holmes formerly hosted the show together and were visible, as is customary. According to TMZ, Holmes and Robach's names have been scrubbed from the show's intro. This type of move shouldn't be a surprising move given that the two anchor were fired from the show due to their relationship being outed publicly.
Watch 'Good Morning America' on Hulu, $8 per month
Watch 'GMA' on Hulu
GMA viewers were greeted with a different intro on Monday's episode. At the top of the episode, the announcer stated, "Now from Times Square, here's what you need to know." When Holmes and Robach were co-hosting the show, the announcer would introduce them by saying, "Now from Times Square, Amy Robach and T.J. Holmes with what you need to know." Of course, with them now out of the picture, GMA is changing things up.
On Thursday, Robach and Holmes reportedly took part in a mediation session with ABC about their respective futures with the network. However, TMZ reported that the mediation session was "extremely contentious." The publication reported that ABC reps accused the anchors of various forms of misconduct, with one source categorizing the situation as a "witch hunt." Robach and Holmes have reportedly signed their exit agreements, which will include compensation packages.
It was originally reported in late November that Robach and Holmes, who were both married to other people, engaged in an alleged affair. While it was later reported that Robach was close to finalizing her divorce from Andrew Shue, Holmes' estranged wife, Marilee Fiebig, was reportedly blindsided by the news. She subsequently filed for divorce from the GMA personality in December. At the time, Fiebig also released a statement via her attorney that stressed that her focus is on her daughter, Sabine, whom she shares with Holmes.
"During the holiday season and in light of the challenging times, Marilee's sole focus has remained on the overall best interests of her 9-year-old daughter," the statement read "To that end T.J.'s attorney and I have been working together to move their divorce forward privately, expeditiously and as amicably as possible." It continued, "Notwithstanding, we continue to be disappointed by T.J's lack of discretion, respect, and sensitivity toward Marilee and the parties' daughter. Marilee has been touched by the outpouring of support and looks forward to new beginnings in the new year."
How to watch 'Good Morning America'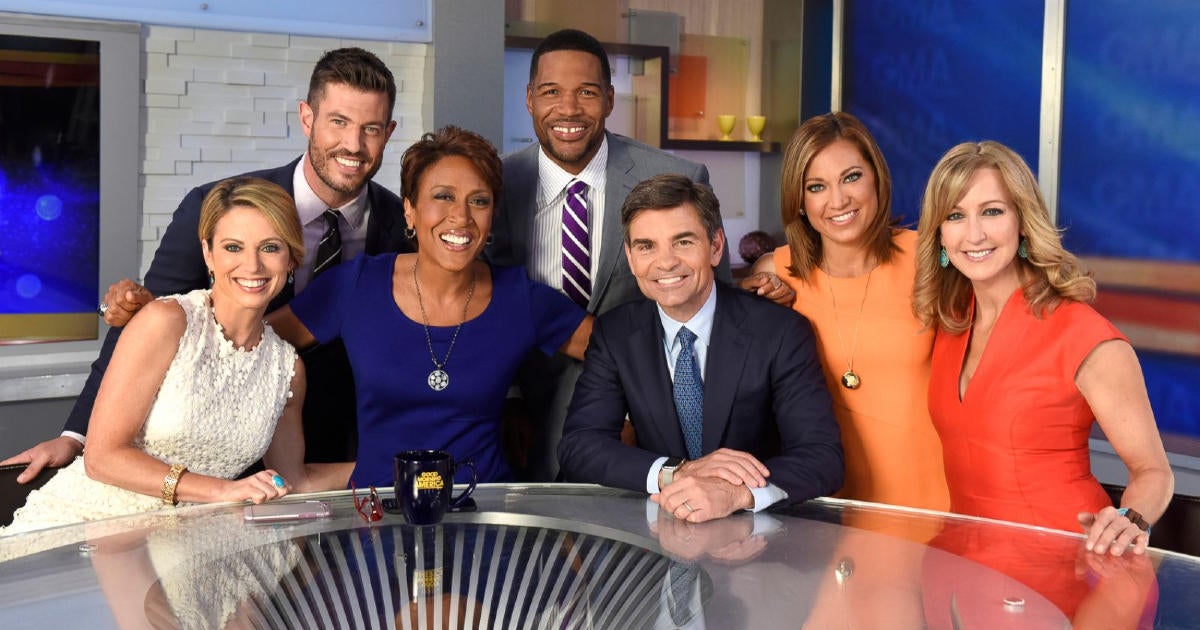 You can stream past episodes of Good Morning America on Hulu starting at $8 a month. You'll get the latest headlines, great celebrity interviews, in-depth reporting, weather, and more. Each morning's show is added to Hulu a few hours after it airs.
Watch on Hulu
How else can you watch 'Good Morning America'?
If you want to watch GMA live but don't have cable, that's not a problem. You can watch the show live every morning when it airs on ABC, starting at 7 a.m. ET every weekday and Saturday.
If you don't already have a cable TV provider, you can sign up for SlingTV. The service offers more than 40 cable TV channels, including ABC, for $40 per month. Right now, Sling TV is offering $20 off the first month. SlingTV includes 50 hours of free DVR storage so you can set it to record GMA each morning. And you won't even have to wait for it to come to Hulu.
Watch Good Morning America on SlingTV, starting at $20 for the first month
Get SlingTV now
Shop TV deals to stream all your favorite morning talk shows
If you want to watch Good Morning America on a brand-new television, we've found a few good smart TV deals for you, too. Just download the Hulu or SlingTV app when your new television is installed.
0
comments