'Fire Country' Star Diane Farr Previews Special Episode Airing After AFC Championship Game (Exclusive)
Fire Country is CBS' hot (no pun intended) new show, and fans are going to be for a treat this weekend. The series won't air during its original time Friday night as a special episode will debut after the AFC Championship game between the Cincinnati Bengals and Kansas City Chiefs on Sunday. In an exclusive interview with PopCulture.com, Diane Farr, who plays Sharon on Fire County, revealed what viewers can expect from the special episode.
"The crew's actually going to be battling a fire after the biggest football game of a Sunday ever," Farr exclusively told PopCulture. "So, I think everyone's going to be so excited, because they're going to be into their wings and into their beer and we're just going to be like, 'Oh, and now let's round it out with a little hero journey.' It's a great episode, it's like Northern California just showing off. Big old vistas. That plane goes down and we have our inmate firefighters fighting right alongside Cal Fire, and it's a story of redemption. They all go into this big open field themselves and it's the people that don't want to leave. It's really looking at what do you want to value. Is it your house, is it the money you spent, or is it your life or the people you love? How do they talk you into living differently than you saw your life going?"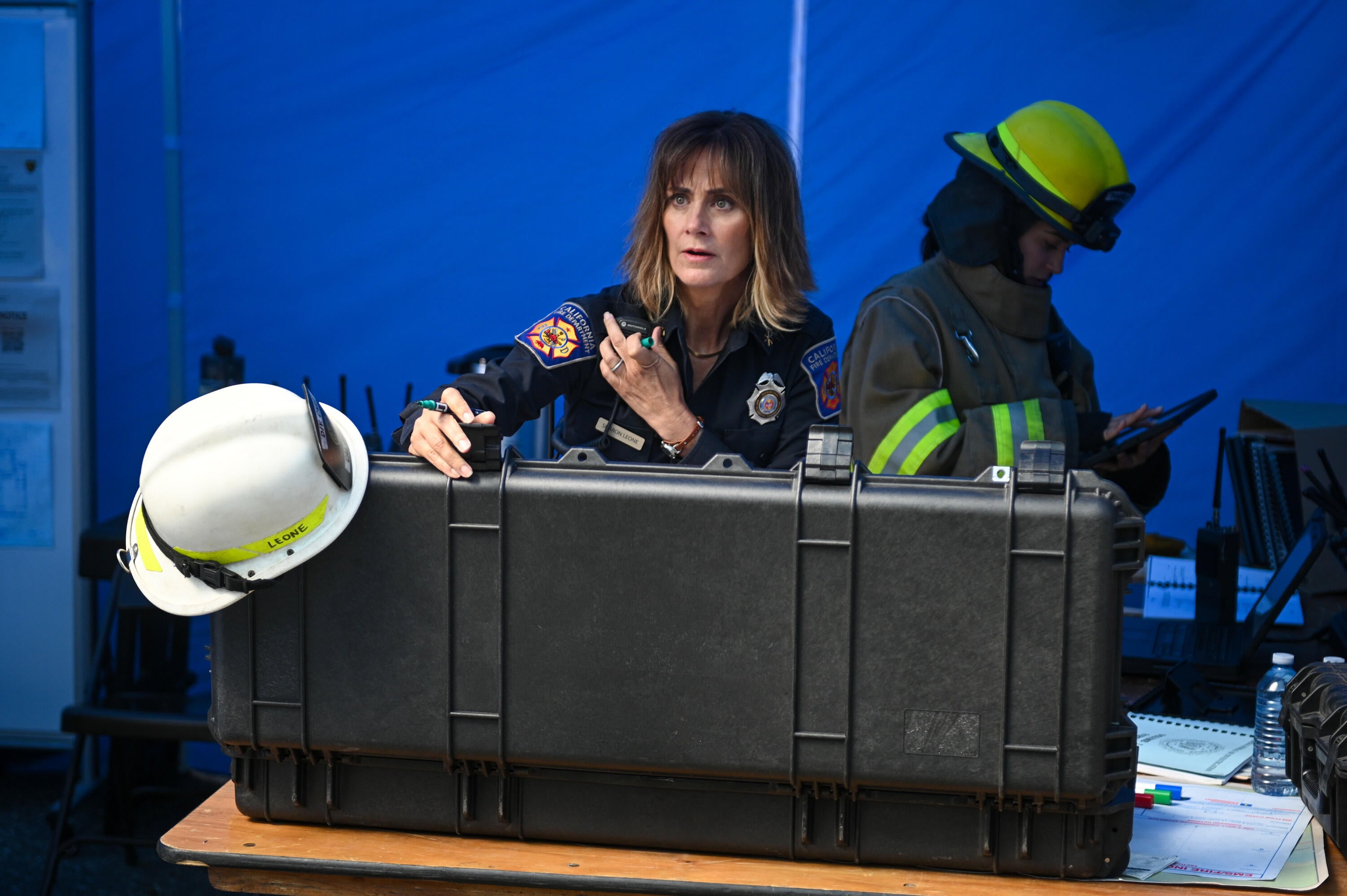 Farr also teases a couple of surprises in the episode. "There's a couple of big surprises in there because it's on a special night and because the AFC game has so many viewers," Farr admitted. "I don't even know if people could understand this, we're the number one new show and we have about 8 million viewers a week, which is an astronomical number, and the AFC game is 20 million. I don't think that's happened in TV since Seinfeld before there was streaming. So, it's a super exciting night for us."
When it comes to Sharon, fans are wondering if she will be okay when it comes to her health. In the most recent episode, Sharon's son Bode (Max Thieriot) is a match for a kidney transplant Sharon needs to stay alive. However, Sharon said she was not going to take a kidney from her son.
"It's a little bit of a surprise for both of us, and as my daughters say, 'Mom, if they kill you, do we still get to go away this summer?'" Farr stated. "The constant threat of, 'Is it over?' My own friends are like, 'Are you going to die on there?' I'm like, 'Well, they're not going to tell me.'"
"I love that they are addressing what it is to have live donors for people with chronic kidney disease. And I love that my character's reaction is, 'I am not taking my kid's kidney.' Now, she may lose that argument, but that's really where she stands up. How do you take an organ out of somebody else's body and live to thank them? What is that relationship like forever?" After this weekend — when Fire Country airs Sunday after the AFC Championship on CBS — new episodes of Fire Country will air every Friday at 9 p.m. ET on CBS and will stream the next day on Paramount+.
0
comments