Chick-Fil-A Removing Major Item From Menu
Chick-fil-A urges customers not only to eat more chicken but to also indulge in more waffle fries as well. To make this a little easier, the fast food chain is getting rid of the side salad from menus, as several locations revealed on social media recently. They shared a notice from the company, confirming that the salads will no longer be available after April 3.
"Spring is here and we are taking the opportunity to refresh our menu," reads the notice a location in Tifton, Georgia, posted. "One of the changes is a farewell to our Side Salad beginning April 3." Chick-fil-A said it had to "make some hard choices about what we continue to offer" on their menus while still providing the high-quality fans expect. "We're always innovating to find your next favorite menu item and excited to let you know that we're working on some new menu items for you to enjoy," the note reads.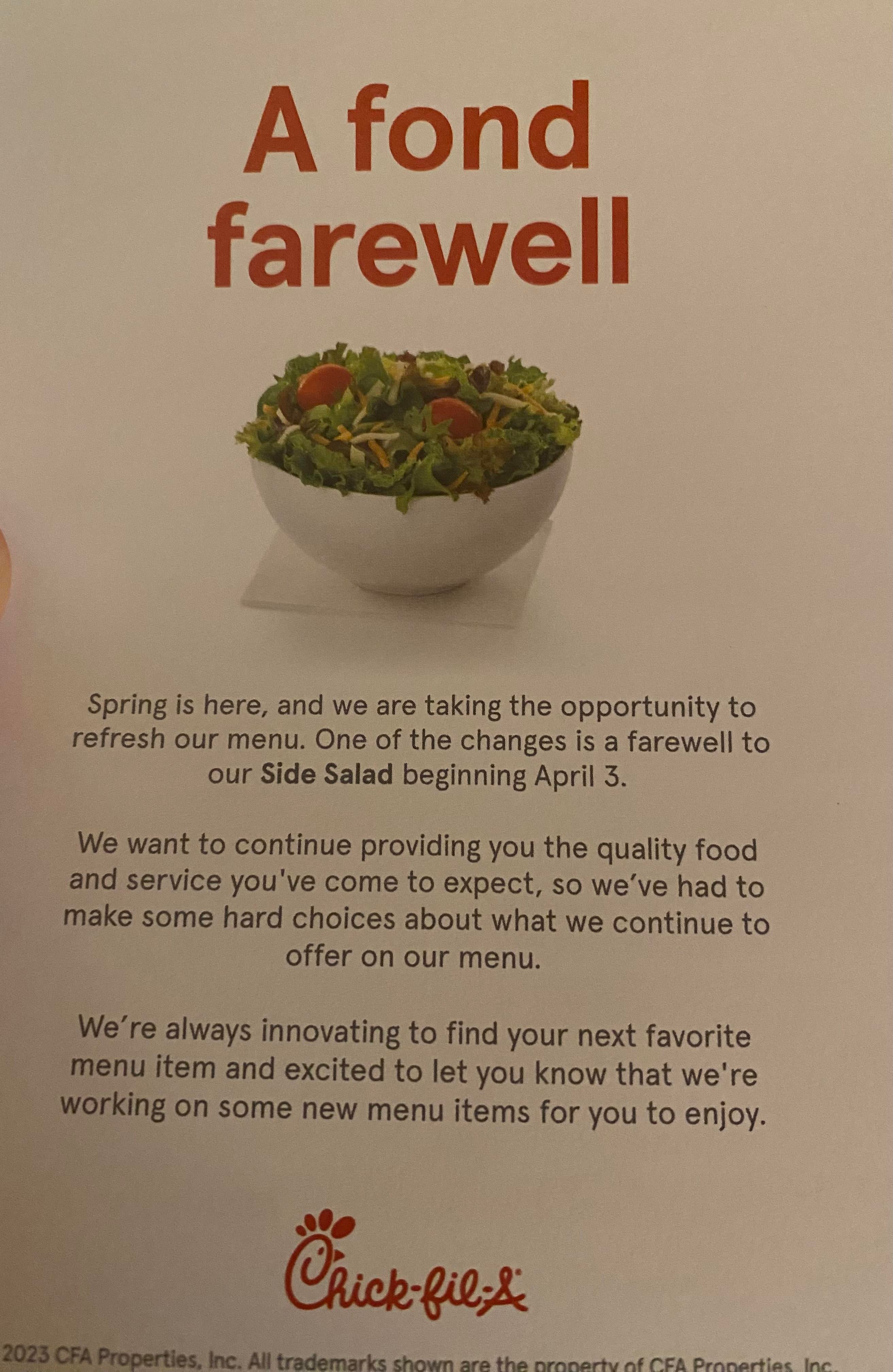 It's not surprising that the Side Salad is being kicked to the curb. It was nowhere to be found on Chick-fil-A's list of most ordered menu items of 2021. Waffle Potato Fries topped the lists for every region of the country. The Side Salad wasn't also that much healthier than fries, although it was good for low-carb eaters, notes Mashed. The Side Salad only contained 16 carbs compared to the fries' 45 carbs. The Side Salad also contained 7 grams of protein and 42 grams of fat.
In 2018, dieticians Lisa Muras and Nadine Jakim Young classified the Superfood Side Salad as a menu item "masquerading" as healthy. "With the trendy nomenclature, this side dish might seem like a better option than the original Side Salad, but it contains added sugar from the dried cherries, syrupy dressing, and roasted nut blend," they told The Washingtonian.
While the Side Salad might not be popular everywhere, its fans let their frustrations be known. "No!! That's part of my order!! Boooo. Please don't do this. Why do they always take away the good stuff? It was the perfect size. It's the only side salad I actually like from restaurants with drive-thrus," one fan wrote on the Yukon, Oklahoma Chick-fil-A's Facebook page. "But why? That is the dumbest thing I've heard of. It's a healthy choice. Many people get it," another wrote.
Over on the Tifton location's page, one fan even suggested they would visit less often. "Oh no! I always get the side salad and grilled nuggets. This will limit our visits," one fan wrote. "I think this is not a good decision. A lot of people eat that salad with nuggets," another commented. "Whyyyy? That's stupid! Why take away a healthy side option," one added.
0
comments