Jeremy Renner Face Bruises Removed From 'Mayor of Kingstown' Poster After Snowplow Accident
Paramount+ changed up the artwork for Mayor of Kingstown Season 2 following star Jeremy Renner's snowplow accident. The original poster featured the actor with a bruised and bloodied face, but the injuries have since been digitally removed, reports Variety. Renner, 52, was hospitalized on Jan. 1 after he was run over by his large snowcat, which he was using to clear a road near his Reno, Nevada home. He is now recovering at home after over two weeks in the hospital.
In Mayor of Kingstown, Renner plays Mike McLusky, a member of the most powerful family in a Michigan town. The series was created by Taylor Sheridan and Hugh Dillon. Paramount+ released the Season 2 key art in December, showing a rugged Mike (Renner) walking through a damaged cityscape with bruises and cuts on his face. The new art is the same, just without the blood on Renner's face. Renner still has the old art on his Instagram page. The first episode of the new season was released on Jan. 15, with each subsequent episode released on Sundays.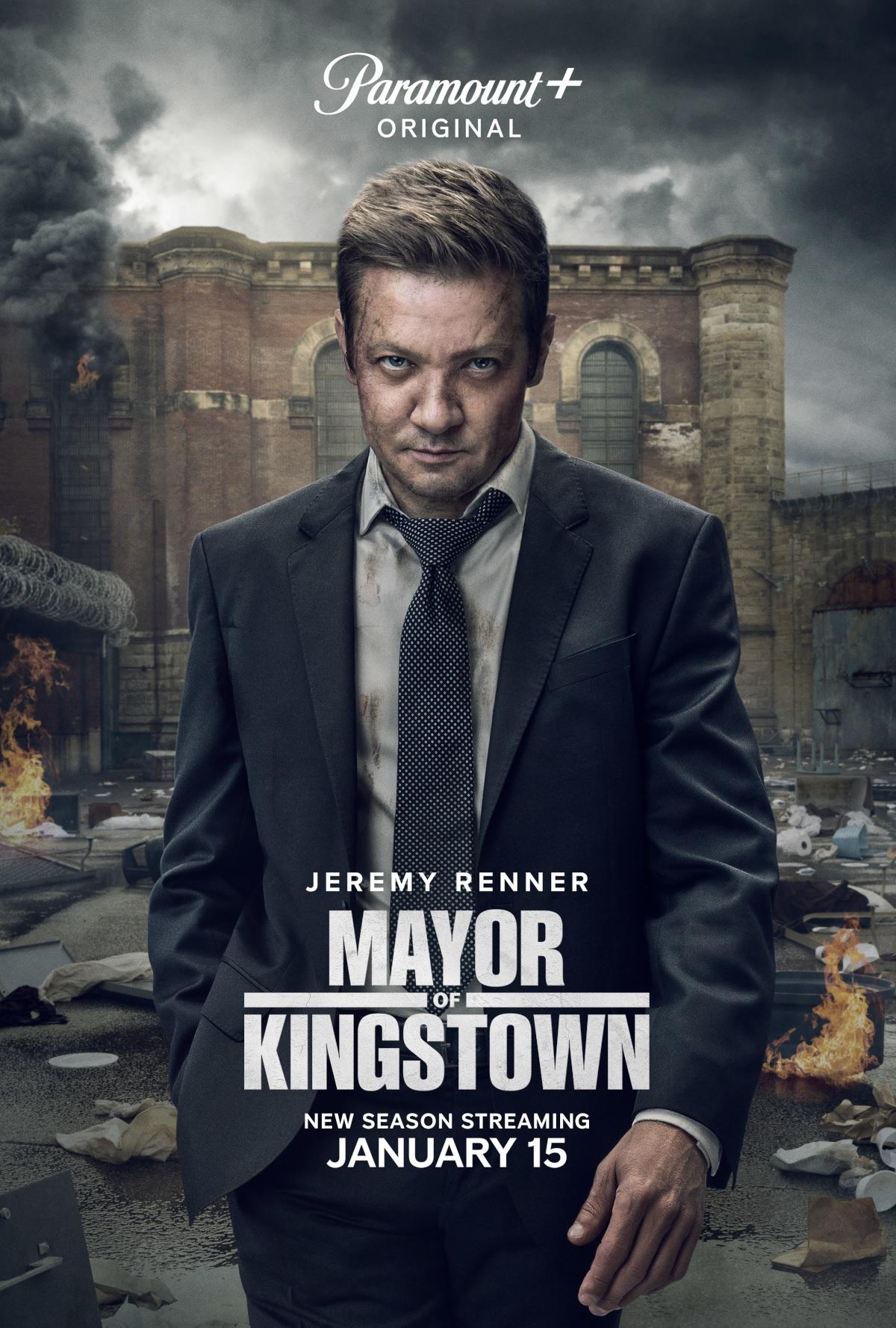 Renner was hospitalized on Jan. 1 after suffering blunt chest trauma and other injuries when he was hit by his snowplow. The Hawkeye star was taken to a nearby hospital by helicopter, then transferred to Renown Regional Medical Center in Reno. He underwent two surgeries on Jan. 2. The next day, he posted a selfie from his hospital bed. "Thank you all for your kind words," Renner wrote. "I'm too messed up now to type. But I send love to you all."
After the Mayor of Kingstown Season 2 premiere was released, Renner revealed on Twitter he is now home recovering. "Outside my brain fog in recovery, I was very excited to watch episode 201 with my family at home," he tweeted on Jan. 16.
"Jeremy's family would like to express their gratitude to the incredible doctors and nurses looking after him, Truckee Meadows Fire and Rescue, Washoe County Sheriff, Reno City Mayor Hillary Schieve, and the Carano and Murdock families," Renner's family said in a statement after the accident. "They are also tremendously overwhelmed and appreciative of the outpouring of love and support from his fans."
0
comments
Renner is best known for playing Hawkeye in the Marvel Cinematic Universe, appearing in The Avengers, Avengers: Age of Ultron, Captain America: Civil War, and Avengers: Endgame. He also starred in his own Disney+ miniseries, which was released in 2021. Renner has Oscar nominations for his supporting roles in The Hurt Locker and The Town.