Best Christmas Movies and Holiday Specials for Sports Fans
Christmas is only a few days away, which means Christmas movies and specials are dominating the film and TV world. And while there are some classic films and specials that everyone should see, the real question is what are some of the best for sports fans? If there's one that stands out, it has to be Rocky IV with Sylvester Stallone and Dolph Lundgren. It may not be a Christmas film to the average fan, but Christmas does play a big part in the story.
David Maars of the Daily Squat wrote: "If your childhood Christmases were anything like mine, watching two men beat each other up was a frequent occurrence, so nothing puts me in the Christmas spirit quite like Rocky IV. And whether or not "Rocky IV" is a Christmas film isn't even up for debate. The climactic fight between Rocky Balboa and Ivan Drago takes place on December 25th. For the unenlightened, that is Christmas Day."
Rocky IV is a non-traditional Christmas movie, but there are others that are included on this list that feature WWE Superstars, an iconic hockey team and a lovable soccer coach. Here's a look at the best Christmas movies and holiday specials for sports fans.
'Ted Lasso ' Holiday Special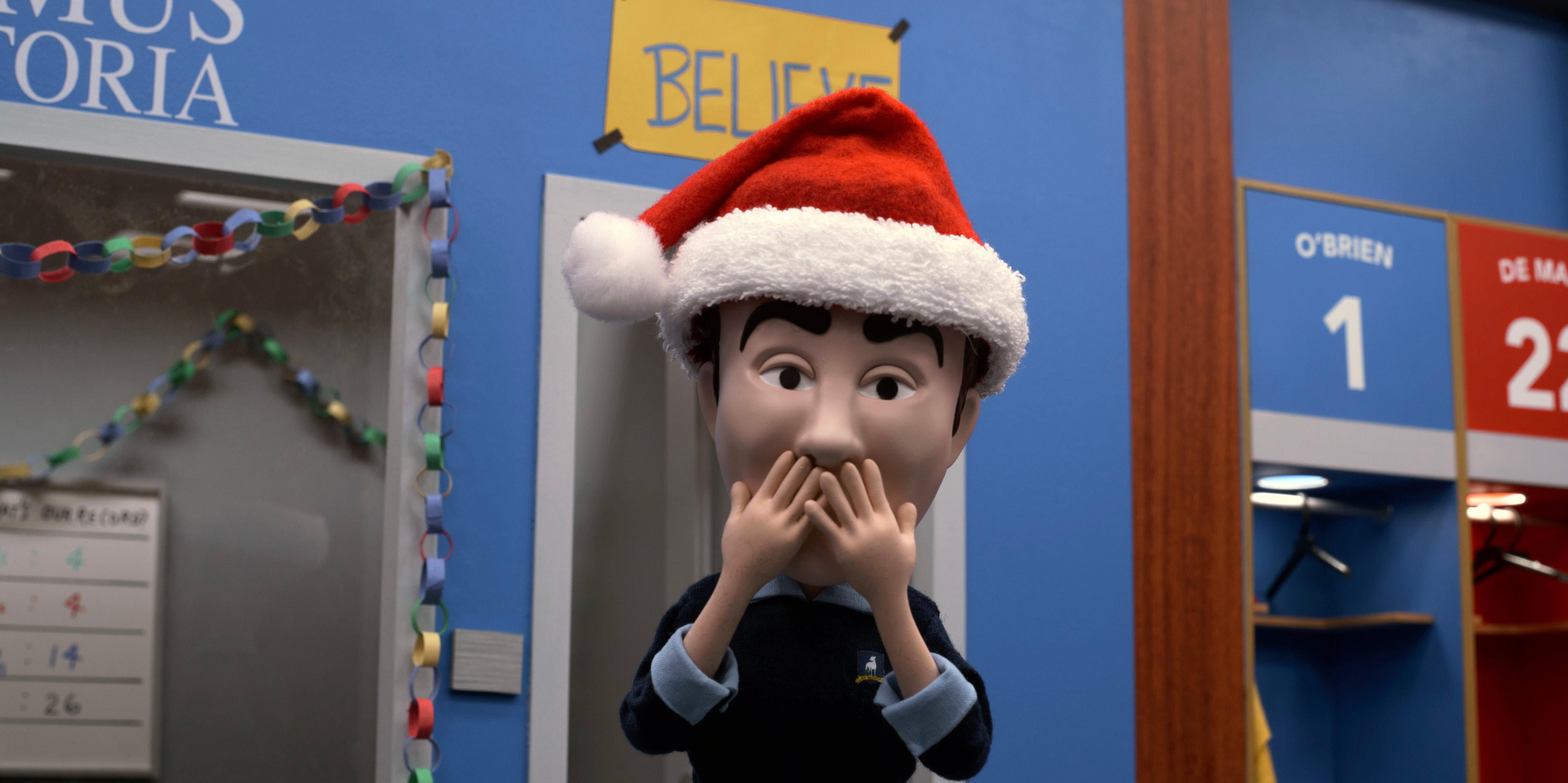 Ted Lasso is a huge hit for Apple TV+ as it has won multiple Emmy Awards. This year, AppleTV+ released a five-minute animated special that features the voices of the Ted Lasso cast, including Jason Sudeikis, Hannah Waddingham and Brett Goldstein. The special can be seen on AppleTV+ or on its YouTube page.
prev
next
Robbie the Reindeer: Hooves of Fire
This animated special follows Robbie, a reindeer who looks to join Santa Claus' sleigh team just like his father Rudolph. He travels to the North Pole and encounters Blitzen, who looks to "destroy" Robbie.
prev
next
Santa With Muscles
Everybody talks about the best Christmas movies... but what about the worst?

Here's mine: 'Santa with Muscles' starring Hulk Hogan. pic.twitter.com/QO0uFcoHxk

— Chuck Thomas (@chuckthomasuk) December 22, 2021
As mentioned earlier, Santa with Muscles features Hulk Hogan, and he plays a self-made billionaire who gets in trouble after playing paintball. He is targeted by police, leading him to hide in a mall and wearing a Santa Clause outfit. Hogan's character hits his head, resulting in amnesia and being convinced he's Santa Claus.
prev
next
Miracle
This not a Christmas movie, but it does have a Christmas scene. Miracle is a film based on the United States Hockey team upsetting the Soviet professionals in the 1980 Winter Olympics. The film was well-received by critics and earned $64.5 million at the box office.
prev
next
Rocky IV
Rocky IV is not considered a Christmas movie, but the fight between Rocky and Ivan Drago does happen on Christmas Day. At the end of the fight, Rocky wished his son a Merry Christmas as he celebrates his big win.
prev
next
Santa's Little Helper
WWE's The Miz starred in the direct to TV film Santa's Little Helper and played the role of Dax and a greedy corporate man who gets fired a loses everything. He is then reviewed by Bille, an elf from the North Pole, to be Santa's little helper. Former WWE Superstars Paige and Maryse also star in the film.
prev
next
Christmas Bounty
Before Santa's Little Helper, The Miz also starred in the TV film Christmas Bounty. It also features Francia Raisa, Will Greenberg and Chelan Simmons.
prev
next
0
comments
The Big Show Show: Christmas
WWE's The Big Show had his own series on Netflix, but it was canceled after one season. In the final episode, the cast of The Big Show Show get together for a special Christmas episode, which can now be seen on the streaming service.
prev