Selena Gomez Says Hailey Bieber Reached out to Her About Death Threats
Selena Gomez is speaking out as she tells her fans to stop the hate when it comes to Hailey Bieber. The 30-year-old singer and actress took a stand on her Instagram Story Friday, revealing that the wife of her ex-boyfriend, Justin Bieber, has reached out to her amid rumors of a feud between the two.
"Hailey Bieber reached out to me and let me know that she has been receiving death threats and such hateful negatively," Gomez wrote. "This isn't what I stand for. No one should have to experience hate or bullying. I've always advocated for kindness and really want this all to stop." Gomez also started following Hailey on Instagram again to show her goodwill towards the model.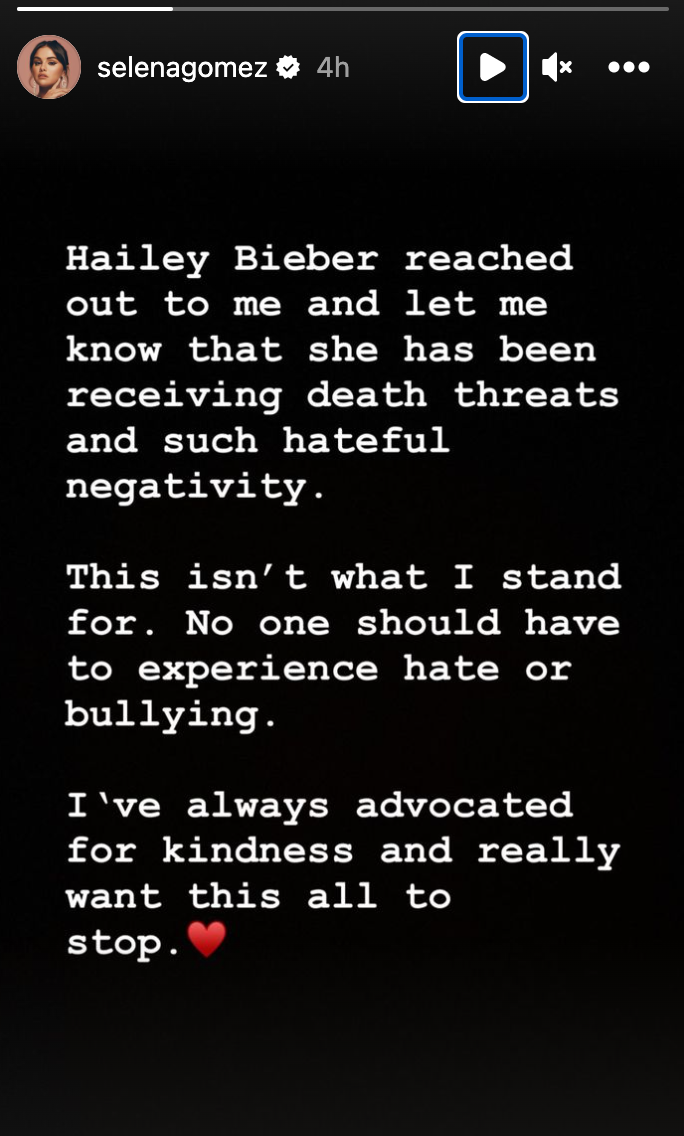 The Only Murders in the Building star has been calling for an end to the drama for weeks after alleged social media drama with Hailey and Kylie Jenner started last month. After Gomez shared a post joking about over-laminating her eyebrows, people on social media thought Jenner, 25, and Hailey, 26, shared their own eyebrow posts in a mocking manner.
Jenner and Gomez shut down the speculation at the time, with The Kardashians star writing on TikTok, "This is reaching. no shade towards selena ever and i didn't see her eyebrow posts! u guys are making something out of nothing. this is silly." Gomez then supported Jenner's comment, writing, "Agreed @kyliejenner. It's all unnecessary. I'm a fan of Kylie!" in response.
The drama continued, however, when Gomez responded to a resurfaced video of Hailey mocking Taylor Swift, with whom the Rare Beauty founder is close friends. In the clip of Hailey's old show, Drop the Mic, the daughter of Stephen Baldwin pretended to gag and rolled her eyes at the mention of "Taylor Swift's last album," sparking a comment from Gomez. Showing her support for her friend in the comment section, the Wizards of Waverly Place alum wrote, "So sorry, my best friend is and continues to be one of the best in the game."
Gomez soon after announced she would be taking a social media break. "I'm going to be taking a second from social media, because this is a little silly. I'm 30 and am too old for this. But I love you so much and I'll see you guys sooner [rather] than later," she said on TikTok.
Gomez and Hailey have been rumored to have bad blood with one another since Hailey's relationship with the "Yummy" singer bloomed following his relationship with the "Rare" singer. Both parties have shut down the narrative numerous times, however, with Hailey saying during a September 2022 interview on the Call Her Daddy podcast that it was "all love" between her and Gomez. The following month, the two women posed together for photos.
0
comments