Christina Applegate Makes Statement With 2023 SAG Red Carpet Stop Alongside Daughter
Christina Applegate made what could be her final red carpet appearance on Sunday night at the 29th Screen Actors Guild Awards. The Dead to Me star arrived at Fairmont Century Plaza in Century City, California with her daughter Sadie, just as she did at the Critics' Choice Awards last month. She also carried a cane with a very direct message about multiple sclerosis.
Applegate, 51, carried a cane with the hashtag "FU MS" written on the bottom, notes Entertainment Tonight. The cane also included Applegate's and Sadie's names. She wore a velvet tuxedo with a long train, while 12-year-old Sadie wore a black jacket, pants, and combat boots. Sadie also wore an all-black Fiddler cap.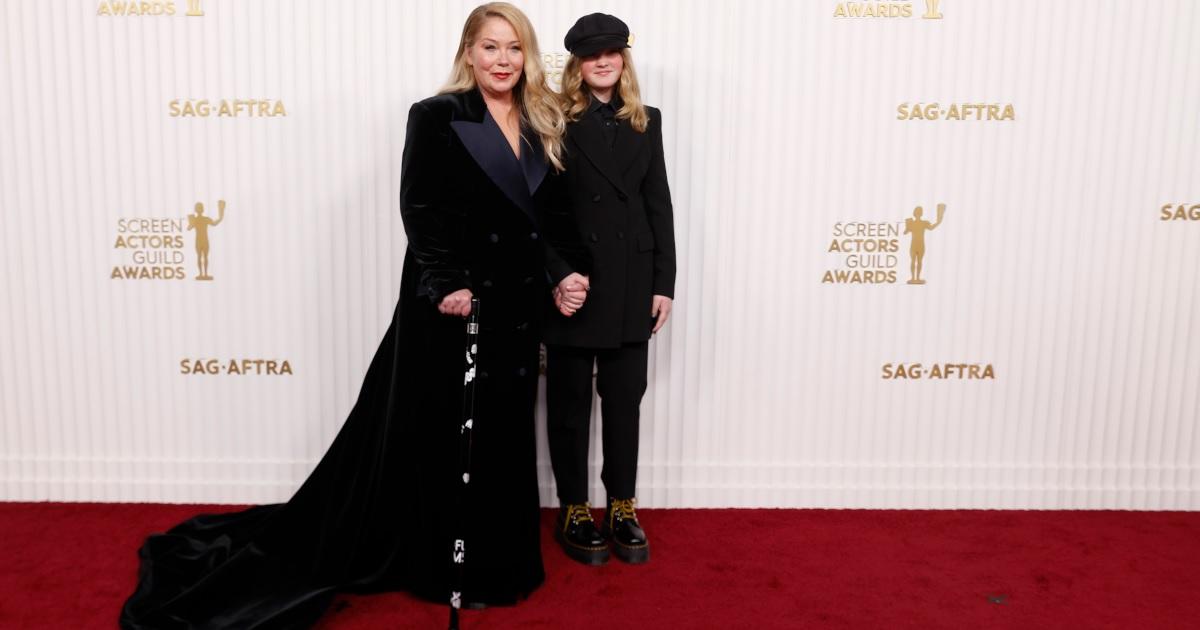 Earlier this month, Applegate told the Los Angeles Times that the SAG Awards will "probably" be her last awards show as an actor. "Right now, I couldn't imagine getting up at 5 a.m. and spending 12 to 14 hours on a set; I don't have that in me at this moment," Applegate said. She hopes to continue working as a producer, developing other projects, and "doing a s— ton of voice-overs to make some cash to make sure that my daughter's fed and we're homed."
This was Applegate's seventh SAG Award nomination. She was up for Outstanding Performance by a Female Actor in a Comedy Series but lost to Hacks star Jean Smart. She earned three solo nods for Samantha Who?, two other solo nominations for Dead to Me, and another nomination as a member of the Dead to Me cast in 2021. Applegate has been a SAG member since 1975.
The Married... With Children star was diagnosed with MS in 2021 while working on the third and final season of Dead to Me for Netflix. Applegate was committed to finishing the show though, with the support of co-star Linda Cardellini, the rest of the cast, and the crew. "She literally pulled me under her wing and protected me, and took care of me every single day," Applegate told the LA Times. "Also the tables were turned: [Applegate's character] Jen is taking care of her friend who's dying, yet Linda was taking care of me as I was saying goodbye to the person that I'd always known – so part of me was dying."
Applegate made her first public appearance since her diagnosis in November 2022 when she received a star on the Hollywood Walk of Fame. She attended the Critics' Choice Awards in January, her first time at an awards show since 2019. During that event, Applegate had the names of her and Cardellini's Dead to Me characters written across her fingernails.
All three seasons of Dead to Me are streaming on Netflix. The Screen Actors Guild Awards are streaming on Netflix's YouTube page.
0
comments