Joanna Gaines Responds to Negative Comments About Her Latest Design
Joanna Gaines' new home renovation project included giving a bedroom new wallpaper that made it look more like a bathroom. Her Instagram followers were quick to point it out, pushing Gaines to respond by shrugging off the negative reviews in an Instagram Story post on Monday. The design falls into line with the "modern farmhouse" aesthetic that made Gaines a household name.
On Sunday, Gaines posted an Instagram Reel, showing herself turning an unfurnished room into a decorated bedroom. The renovation included putting wallpaper that looked like blue tiles on the lower half of the walls. "See how [Gaines] transforms a plain, white space into a room with story and character – a blend of old and new. What corner is your favorite?" the Magnolia team wrote in the caption.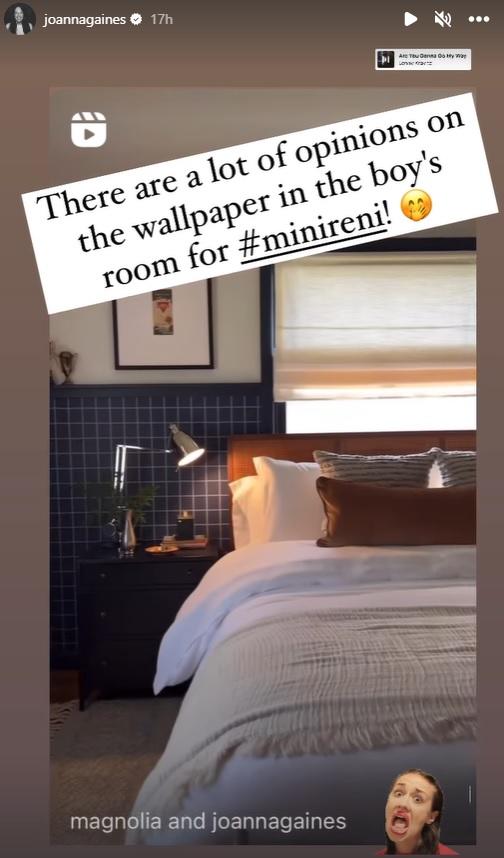 Instead of sharing what their favorite corners were, Gaines' Instagram followers all made the same observation. The "tile" wallpaper made the bedroom look like a bathroom. "Where's the toilet?" one person asked. "Can't get down with this design. Looks like the bedroom is in a bathroom," another wrote. "Don't like the squares. Looks like a giant bathroom. Cold and impersonal," another commented.
Gaines also published before-and-after photos of the room. This post was also filled with comments from Instagram users who were convinced it looks like a bathroom. "Missing plants. It looks like a bed in a bathroom," one person wrote. "Girl! Why are you having these people sleep in my 1960s bathroom?" another asked.
Gaines responded by acknowledging the comments. "There are a lot of opinions on the wallpaper in the boy's room for [mini renovation]!" she captioned one Instagram Story post. Next, she shared a poll, asking fans if the wallpaper looks like "a cute wallpaper for boy's room" or "80's airport bathroom wall tile."
The former Fixer Upper star and her husband, Chip Gaines, have faced harsher criticism in the past over much more than just stylistic choices. In an interview with The Hollywood Reporter before their Magnolia Network launched, they responded to allegations that they do not support LGBTQ rights. They never included same-sex couples in the original Fixer Upper series. In 2016, they filmed a conversation with a pastor who spoke out against LGBTQ rights.
"Sometimes I'm like, 'Can I just make a statement?'" Gaines told THR when asked to respond to skeptics. "The accusations that get thrown at you, like you're a racist or you don't like people in the LGBTQ community, that's the stuff that really eats my lunch – because it's so far from who we really are. That's the stuff that keeps me up."
0
comments