Lea Michele's Toddler Son Hospitalized With 'Scary Health Issue'
Lea Michele was forced to miss Wednesday's performances of Funny Girl on Broadway after her son, whom she shares with her husband Zandy Reich, fell ill. The former Glee star apologized to fans but said Ever Leo Reich, 2, had a medical emergency and she needed to be by his side. Michele has been playing Fanny Brice in the revival since September 2022.
"I'm so sorry, but unfortunately I will be out of [Funny Girl] today," Michele, 36, wrote. "We are at the hospital with our son dealing with a scary health issue that I need to be here for. I'm so sorry. Please send us some love and strength." The post included a photo of Michele holding Ever's arm, with a teddy bear by his side. A hospital wristband was visible on Ever's wrist.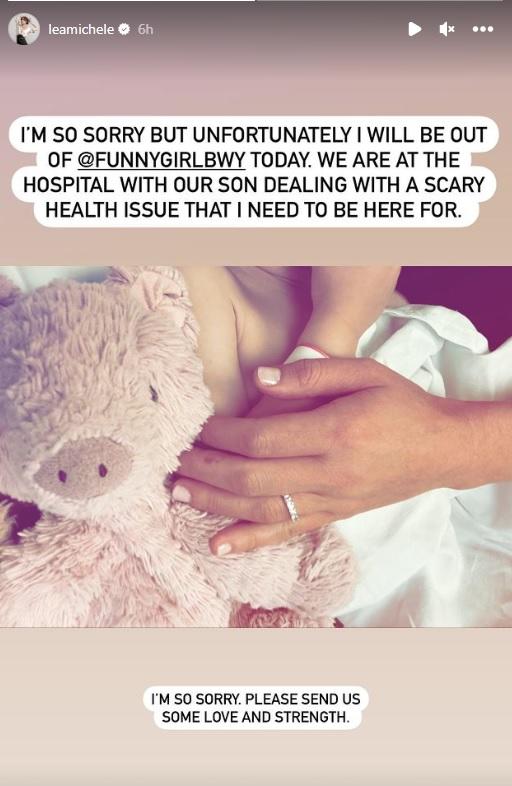 The Funny Girl producers also announced Michele would be missing both the matinee and evening performances on Wednesday. Julie Benko took over as Fanny for the two shows. The production also stars Ramin Karimloo, Jared Grimes, and Tovah Feldshuh.
The new production of Funny Girl at the August Wilson Theatre is the first Broadway revival since the original production opened in 1964. Beanie Feldstein starred as Fanny at first, earning mostly negative reviews from critics. She left the production in July, with Michele announced as her replacement. Before Michele took over the show last September, Benko played the role. Since Michele took over, the show has been a box-office success. In March, producers announced the show will close on Sept. 3, 2023.
During a stop on Live with Kelly and Ryan, Michele told Ryan Seacrest and Kelly Ripa that she was originally only going to star on until June. "Signing on to this and taking on this role with a toddler. I haven't been on Broadway in 15 years. I really didn't know how this was going to all sort of feel and be for us as a family and being back in New York," she said. "But I'm having such an amazing time and we have the most amazing cast and it is just such a beautiful experience. So myself, Tova Feldshuh, Ramin, and Jared, we've all decided that we are going to see this to the end of September 3rd."
Michele's success on Broadway comes after the public's perception of her took a hit when former Glee co-stars began speaking out against her. They accused her of being hostile or rude towards them. Michele later apologized for her behavior.
"I think these past two years have been so important for everybody to just sit back and reflect," Michele told Interview Magazine in February. "I did a lot of personal reach-outs. But the most important thing was for everybody to just take a step back. More than anything, I'm so grateful to have this opportunity to apply the things that I've learned over the past ten-plus years in a positive way."
0
comments