'The Equalizer' Star Adam Goldberg Previews 'Essential' Episode Exposing Antisemitism (Exclusive)
The Equalizer returns this weekend with another special episode on the evils of hate crimes. In "Never Again," Harry reconnects with his Jewish faith when a series of antisemitic attacks hit the neighborhood where his mother grew up. In an exclusive interview with PopCulture.com, actor Adam Goldberg, who plays Harry, shared why this upcoming episode is "essential" for viewers to watch on March 12.
Harry Keshegian takes command of the team in "Never Again" after Robyn McCall (Queen Latifah) is asked to investigate the string of antisemitic crimes that hit a New York City neighborhood. With antisemitic attacks on Jews in America on the rise, Goldberg said it "frankly seems somewhat inevitable" that the topic would be covered on The Equalizer since they have made so many episodes already dealing with marginalized people. The episode was written by Equalizer showrunner Adam Glass and Ora Yashar, who are both Jewish. Goldberg is also half-Jewish and half-Catholic.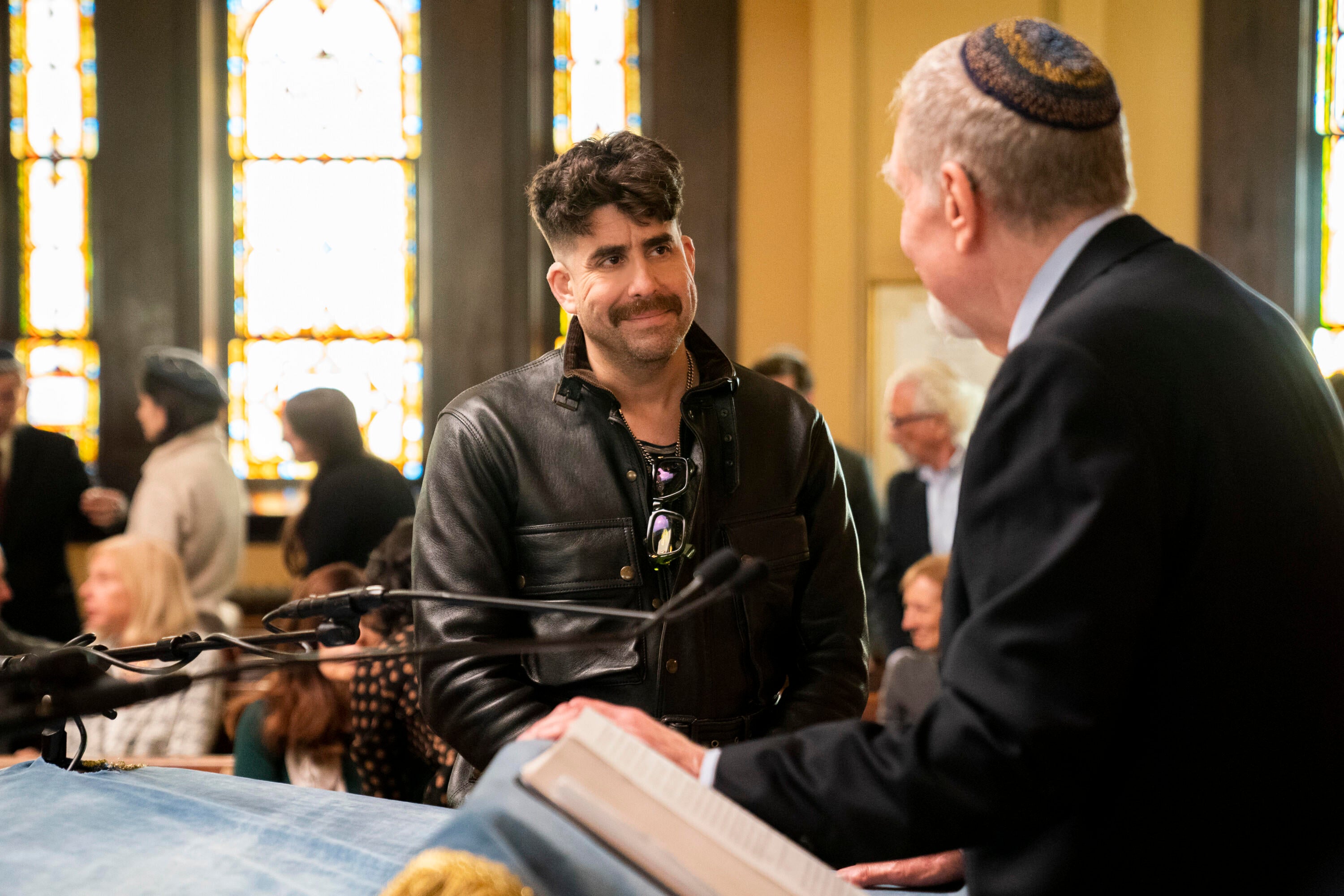 Although Glass and Yashar wrote the episode before coming to Goldberg with the idea, Harry's story runs parallel to Goldberg's own experience as a "secular half-Jewish guy" in America. As viewers learn, Harry also did not grow up in a religious household and did not have his Bar Mitzvah. The episode also shows Harry remembering some of the key aspects of Jewish life that are not always presented on mainstream television.
"I think normalizing Jewish life is f—ing essential," Goldberg said. However, Goldberg notes that it is also important to expose "Jewish hate in all its colors" to audiences as well. "I think showing this stuff in its grizzly, grizzly reality is essential and mainstreaming the hell out of what's been going on, because some of this stuff doesn't end up on the news," Goldberg said. "A bunch of things have happened since we shot the episode alone, and if I weren't on Instagram, I wouldn't have known that two guys on separate occasions were assaulted leaving temple right now where I used to live in the Pico Boulevard area in Los Angeles."
Goldberg hopes that the episode helps audiences realize that the rise in antisemitism isn't just in the comment sections online. It's happening in the real world. The Saving Private Ryan star recalled how people would be shocked when he shared Nazi propaganda on his Instagram page to show the evils of antisemitism. "I would like to think that people would say, 'Holy, s—. This is really happening,'" Golberg said.
The Equalizer will have many more opportunities to tell stories that challenge audiences to face real issues since the show was already picked up for a fourth season. After years of starring in short-lived shows, Goldberg said he is "really lucky" and "constantly grateful" to now be on a series that's not going anywhere. The Equalizer airs on CBS Sundays at 8 p.m. ET and is available to stream on Paramount+.
0
comments