Lindsey Vonn's Major Skiing Record Broken by Olympic Gold Medalist
Lindsey Vonn's major skiing record has officially been broken. Mikaela Shiffrin now has 83 World Cup victories after earning a win on the Kronplatz mountain in northern Italy on Tuesday. She is now just three wins away from Ingemar Stenmark's all-time World Cup record of 86 victories.
Shiffrin has become the women's World Cup victory leader at the age of 27. This was big for her considering she did not earn a medal in the 2022 Winter Olympics. She won the gold medal in slalom at the 2014 Winter Olympics. She then won a gold and silver medal at the 2018 Olympics in giant slalom and combined, respectively.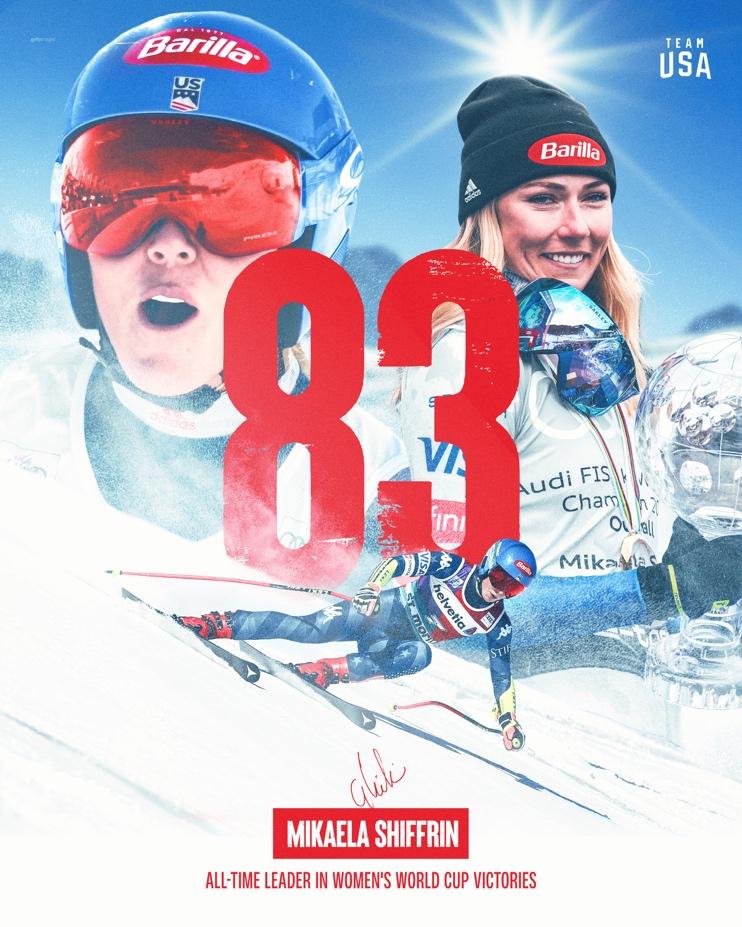 Shiffrin recently told NBC Sports that she will compete in the 2026 Winter Olympics. "Anything could happen, and I could decide to retire," Shiffrin said. "But I don't see it happening before the [next] Olympics." Shiffrin also told NBC Sports she could love to go back to the 2019 season when she won 17 World Cup races. "For the last two years, I've had a note with something I wrote down," Shiffrin stated. "It says, basically, what I would like most in life is to go back, like two-and-a-half years. I want to go back to where I was at the start of the year right after that 17-win season. It was my greatest season ever, and I was so happy. And I'd give anything to go back to that feeling."
Overall, Shiffrin has earned 51 World Cup slalom victories, 18 World Cup GS victories, five World Cup Super-G victories, five World Cup parallel victories, three World Cup downhill victories and one World Cup alpine combined victory. She has also earned 11 medals (six gold) in the World Championships.
Vonn, 38, won her 82nd World Cup race in 2018 surpassing Annemarie Moser-Pröll. She has also won three Olympic medals and eight medals in the World Championships. Vonn officially retired in 2019 but returned this month to ski the Streif, becoming the first woman to compete on the course.
0
comments
"Only when you ski the Streif are you a real downhiller," Vonn said in a statement. "The Streif is the pinnacle of all downhills, the most difficult course in the world. Nobody believed I could do it. After all my injuries, to now get the once-in-a-lifetime chance to kick out of the starting gate here and fulfill my dream is incredible.