'Teen Titans Go!': Robin and Cyborg Show off Golf Skills in Exclusive Clip
Cyborg and Robin are looking to be the next great golf stars. PopCulture.com obtained an exclusive clip of an upcoming episode of Teen Titans Go! which shows Robin teaching Cyborg how to play golf. The episode is titled "Winning A Golf Tournament Is The Solution To All Of Life's Money Problems," and Robin enters Cyborg into the DC Invitational golf tournament in hopes of using the prize money to pay off his parking tickets. In the clip, Cyborg seems to be more interested in eating sandwiches than winning a golf tournament. The new episode of Teen Titans Go! premieres on Sunday, March 13, at 6 p.m. ET/PT on the Cartoon Network.
Teen Titans Go! debuted in 2013 and follows the adventures of the young Titans — Robin, Cyborg, Beast Boy, Raven and Starfire with Batman. The series, which is currently in its eighth season, has been so successful, it has led to four full-length movies. The most recent film — Teen Titans Go! & DC Super Hero Girls: Mayhem in the Multiverse, was released direct-to-video last year.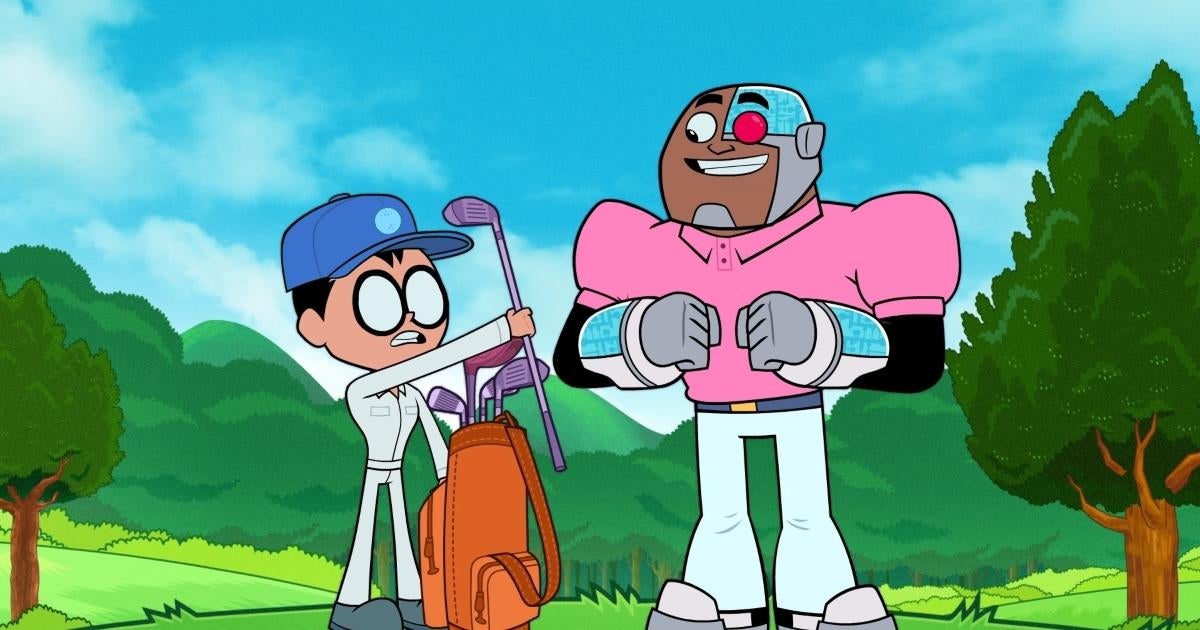 Khary Payton voices Cyborg in Teen Titans Go! and recently told Screen Rant about the evolution of his character. "Honestly, I feel like Teen Titans and Teen Titans Go!, the tone difference is [key]," he said in the interview that was published last year. "In the first show, sometimes it would be really serious and sometimes it would be really silly, and we just kind of leaned into the silly side of the old show and then just took it to another level. But it's really just different sides of myself.
"At this point, I've come to the conclusion that Teen Titans Go! is the five of us from Teen Titans got together, started drinking, had a little too much, went a little nuts, woke up the next morning and thought, What in the world just happened?' And we just keep doing that 11 minutes at a time." Over the years, Teen Titans Go! has earned multiple Awards nominations including a Primetime Emmy Award in 2018 and 2019 for Outstanding Short-Format Animated Program. In 2019 the show won a British Academy Children's Award for International Animation. Teen Titans Go! is based on the DC Comics superhero team which debuted in 1964.
0
comments