'La Brea' Season 3 Fate Revealed at NBC
The Harris family's adventure in the science-fiction drama series La Brea will continue. NBC renewed the show for a third season on Tuesday. La Brea has been a surprise hit for the peacock network, and its second season resumes this week with back-to-back episodes tonight, starting at 9 p.m. ET.
La Brea begins in the early 2020s, when a massive sinkhole opens in Los Angeles, near the La Brea Tar Pits and Wilshire Boulevard. The Harris family survives and they attempt to reunite. Meanwhile, investigators discover a second sinkhole in the Mojave Desert and learn that the sinkholes transported the survivors to the same locations in 10,000 B.C. In Season 2, viewers learn that the sinkholes were created by people from the future hoping to reverse the extinction of necessary resources.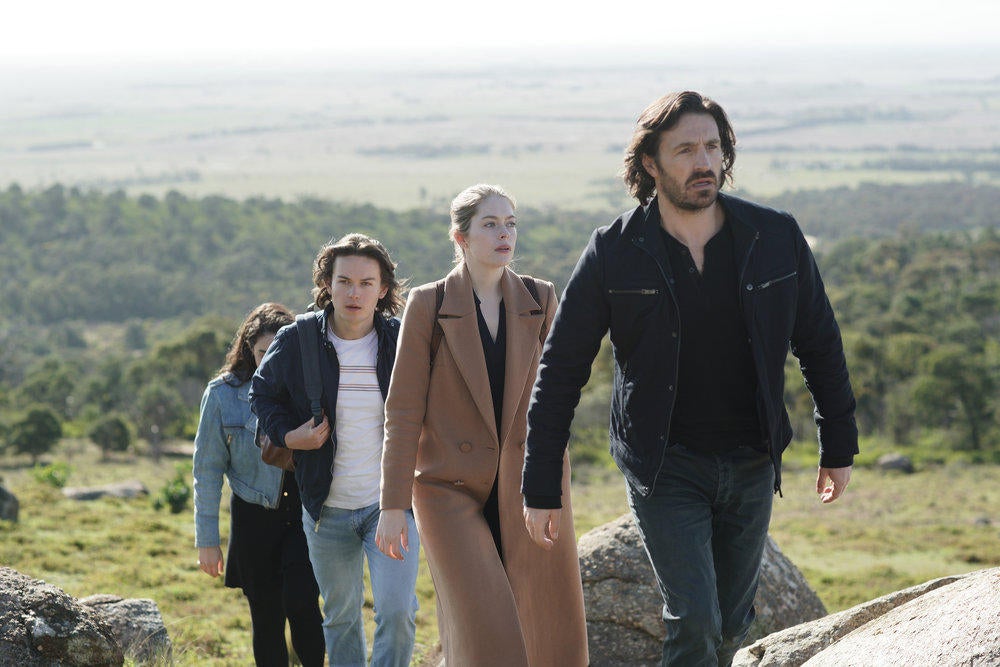 The show was created by David Appelbaum. Natalie Zea, Eoin Macken, Chike Okonkwo, Zyra Gorecki, Jack Martin, Veronica St. Clair, Rohan Michrandaney, Lily Santiago, Chloe De Los Santos, Michelle Vergara Moore, Jon Seda, Josh McKenzie, Nicholas Gonzalez, and Tonantzin Carmelo make up the ensemble cast. Universal Television produces the series with Matchbox Pictures, Keshet Studios, and Bad Apple. The initial Season 3 order only covers six episodes, but that could grow in the future, reports TVLine.
Season 2 resumes with the episodes "Stampede" and "Murder in the Clearing." In the second half, one of the survivors is murdered, so Lucas (McKenzie) and Sam (Seda) launch an investigation to find the killer. Meanwhile, Gavin (Macken) tries to save Eve (Zea) to make sure his vision of her death does not come true.
The vision will play a central role in the rest of Season 2. "It's going to be a real problem – how do we prevent that?" Appelbaum told TVLine. "It's going to complicate all the relationships, knowing that that is a thing that could happen."
The first half of La Brea's 14-episode second season averaged 5.4 million total weekly viewers and a 0.6 demo rating (with Live+7 playback). New episodes air Tuesdays at 9 p.m. ET. The entire series is available to stream on Peacock.
La Brea is the second NBC series confirmed to have a spot on NBC's 2023-2024 schedule. The network previously renewed its Quantum Leap revival for a second season in December 2022. Quantum Leap airs Mondays at 10 p.m. ET and is also streaming on Peacock.
0
comments