Recall Alert: This Coffee Mug Might Ruin Your Valentine's Day
Coffee drinkers, look before you sip! Costa Coffee has recalled one of its mugs for a pretty scary reason. The company, in cooperation with the U.K.'s Office for Product Safety and Standards, is pulling all Costa Coffee Valentine's Mugs. As shown in the photo below, the pink and clear glass cup has a solid glass heart fixture attached to the base of the cup. While it's a pretty neat detail, it's also a health hazard.
Per the recall notice, "the product presents a choking risk as the small glass heart within the glass cup could detach and become a small part, which young infants may place into their mouths and choke." As a result, customers who bought the cups have been asked to return them to a Costa Coffee location. Affected consumers will receive a refund.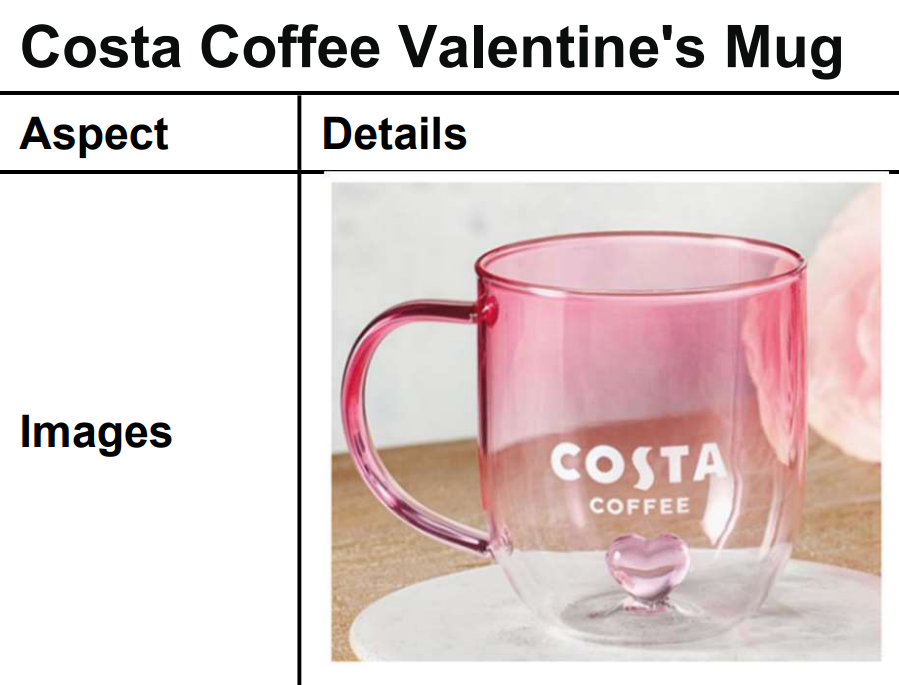 The coffee company posted a recall notice on its official site home page, as well as a full statement on the matter. "As a precautionary measure, we have issued a product recall for the Glass Heart Cup, due to a potential safety issue," the company statement read. "In a small number of cases the glass heart has broken off during use of the cup, presenting a potential choking hazard or risk of injury. Although only a small number of cups are affected, customers are advised not to use the Glass Heart Cup and return it to a Costa store where a full refund will be given. When returning your cup please also return any packaging and your receipt of purchase if you still have these."
Those wishing to see the full government notice that the U.K. issued, click here. For continued coverage of product recalls that could affect you and your family, be sure to like PopCulture.com on Facebook and follow us on Twitter (@PopCulture).
0
comments