Lions DE Aidan Hutchinson Praises Eagles Defense Ahead of Super Bowl (Exclusive)
Super Bowl LVII is on Sunday, and the Philadelphia Eagles look to take down the Kansas City Chiefs. It won't be an easy task as Chiefs quarterback Patrick Mahomes is the reigning MVP of the NFL and has won the award twice in the last five seasons. But when PopCulture.com spoke exclusively to Detroit Lions star rookie defensive end Aidan Hutchinson, he believes Philadelphia can come away with the win.
"It's got to be the Eagles," Hutchinson exclusively told PopCulture. "I think that Philly defensive line is so dominant." Hutchinson, who was recently named Pepsi Zero Sugar NFL Rookie of the Year, is not wrong about the Eagles' defensive line as they helped the defense earn 70 sacks this past season. Three of the Eagles' defensive linemen each had 11 sacks and linebacker Haason Reddick led the team with 16 sacks. Then there's defensive lineman Fletcher Cox, a future Hall of Famer who notched seven sacks in 2022 and now has 65 in his career.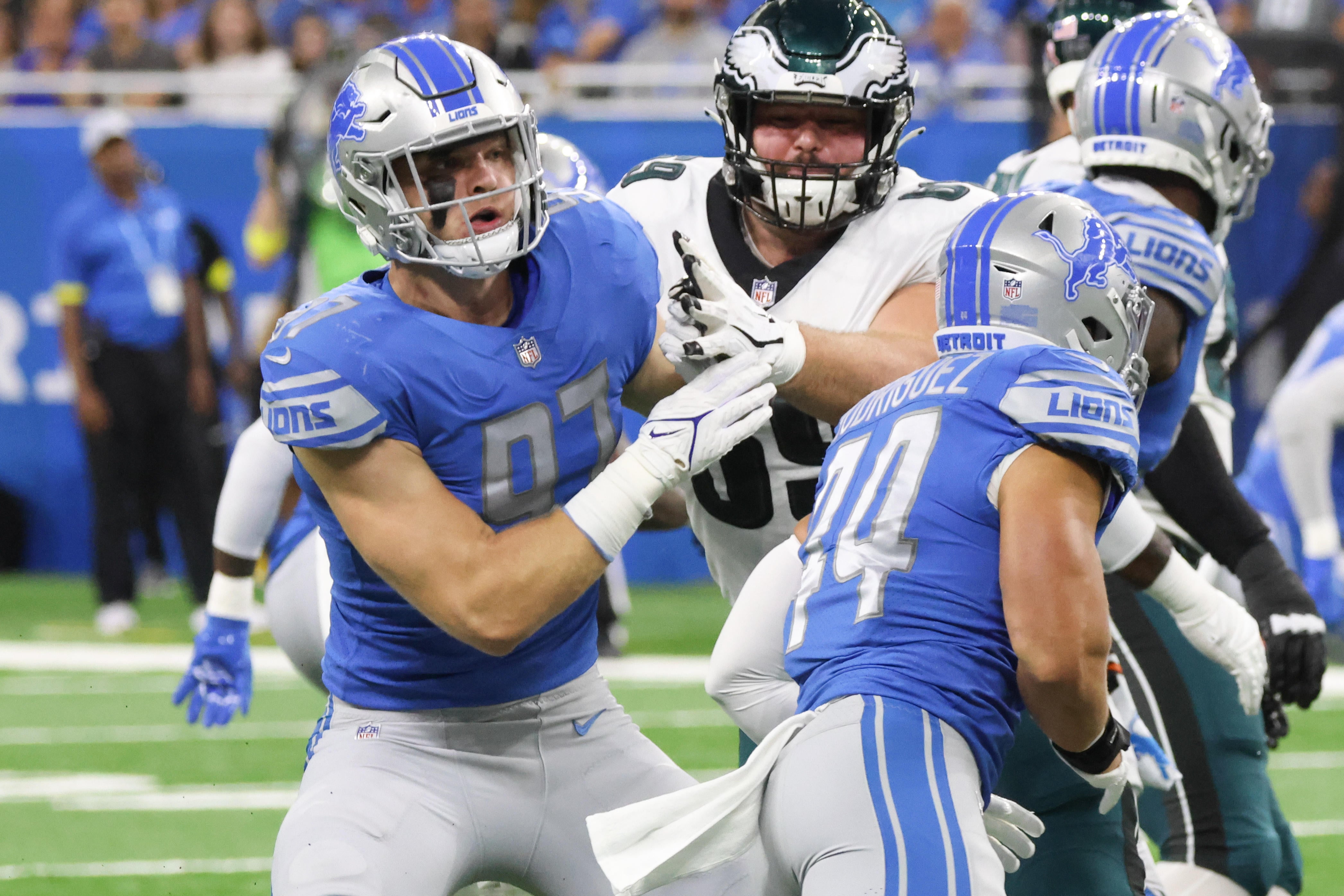 Hutchinson has seen the Eagles up close and personal. In the first week of the 2022 season, the Eagles took on the Lions and won 35-27. The Eagles defense only recorded one sack in the game, and Hutchinson recorded just one tackle for the Lions' defense. The Eagles would go on win their next eight games and finish the regular season 14-3. The Lions struggled to get anything going in the first half of the year, losing six of their first seven games. But they turned things around and finished the year 9-8 while missing the playoffs by one game.
This year's Super Bowl will be played at State Farm Stadium in Glendale, Arizona, and Hutchinson has been in the area all week. One reason he's there's he has partnered with Bounty to make sure fans who are having Super Bowl parties have Bounty whenever they are eating wings.
"You can't have football without wings, and you can't have wings without Bounty," Hutchinson said. "Whenever I'm eating my wings, whenever I got my barbecue sauce in my face, I got my quicker-picker-upper behind me to wipe my face. They're the best." As for how Hutchinson will spend the Super Bowl, he keeping things simple. "Probably going to my grandma's house, to be honest with you," Hutchinson admitted. "Going home, eating some wings, having some Bounty there, just chilling out."
0
comments