Jinger Duggar Reveals 'Crippling Fear' She Experienced in 'Harmful' Religious Upbringing (Exclusive)
Jinger Duggar Vuolo is speaking out against the "harmful" religious teachings she was brought up under as a child. The former 19 Kids and Counting star, 29, opened up to PopCulture.com in an exclusive interview ahead of the release of her new memoir, Becoming Free Indeed, sharing how she managed to disentangle herself from the strict rules imposed by parents Jim Bob and Michelle Duggar as an adult.
Being raised by her parents under the rule of Basic Life Principles, an organization established by disgraced minister Bill Gothard in 1961, Jinger said she had to "disentangle truth from error on my way to finding freedom," which was a difficult and lengthy process that took six years of her life.
"[I] wanted to share my story because I know that these teachings from Bill Gothard that I followed for so many years are so harmful, and I saw how that really affected my life," she told PopCulture. "And his teachings were based on fear, superstition, manipulation, control. So I really wanted to communicate my story, and I felt like now's the time, because I've had time to work through a lot of the things that I was raised with. So I felt strong enough to speak now."
Jinger recalls being left with "crippling fear" in every area of her life due to Gothard's teachings that were passed down to her. "He told a story of a young man who died in a car accident because of [listening to music with drums in it],'" she recalled. "So I remember one time, I was in a car ... and a guy in the vehicle turned on music with drums, and I was terrified because I thought, 'Oh no, we're for sure going to die in a car accident because we're listening to this.'"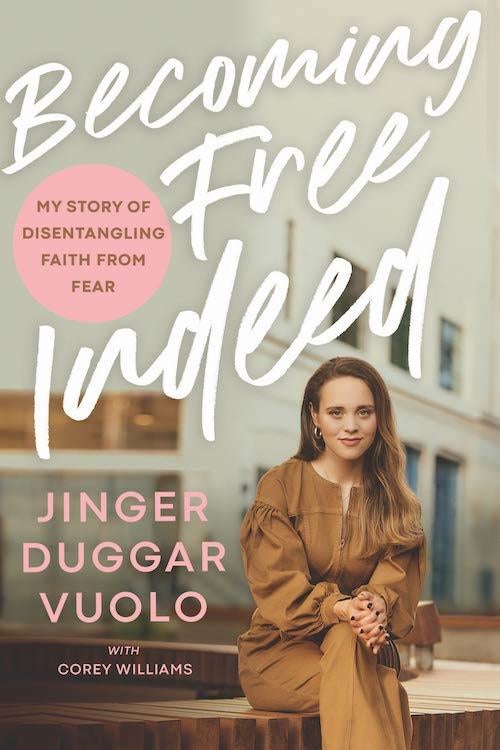 She continued, "I just thought, 'Man. I really don't know what God expects of me. I feel like he's always out to get me.'" Getting older, marrying husband Jeremy Vuolo and welcoming daughters Felicity, 4, and Evangeline, 2, prompted Jinger to reexamine her beliefs, however, and prompted her to shed the teachings of her parents for an "amazing" new relationship with her faith.
While some people who tuned in to the Duggars' TLC series wanted Jinger to "throw off all restraints, to leave the faith altogether," she's not worried about the expectations of others. "Even [though] I know some people may be bothered by that ... that's where I am and that's where my story is, and I'm really grateful for that." As for her family, some of whom still follow Gothard's teachings, Jinger notes, "I think that, at some point, you just agree to disagree." Becoming Free Indeed is available now wherever you buy books.
0
comments