'Shazam! Fury of the Gods' Star Grace Caroline Currey Talks 'Bigger' 'Shazam!' Sequel (Exclusive)
Shazam! Fury of the Gods hits theatres on Friday, and it's the sequel to the hit DC film Shazam! which was released in 2019. But can the upcoming movie be as successful as the first that scored 90% on Rotten Tomatoes? PopCulture.com spoke exclusively to Grace Caroline Currey who plays Mary Bromfield in Shazam! Fury of the Gods, and she explains what gives the movie a chance to be better than Shazam!
"Oh gosh, it's bigger and there's more people, even more people than the first time, there's more monsters, there's more action," Currey exclusively told PopCulture. "We got to launch off of the foundation that the first one established with all of the characters and the lore. And with this one, the characters actually go on an adventure. The Shazam family actually is up against something together and having to... We get to see their powers more this time around."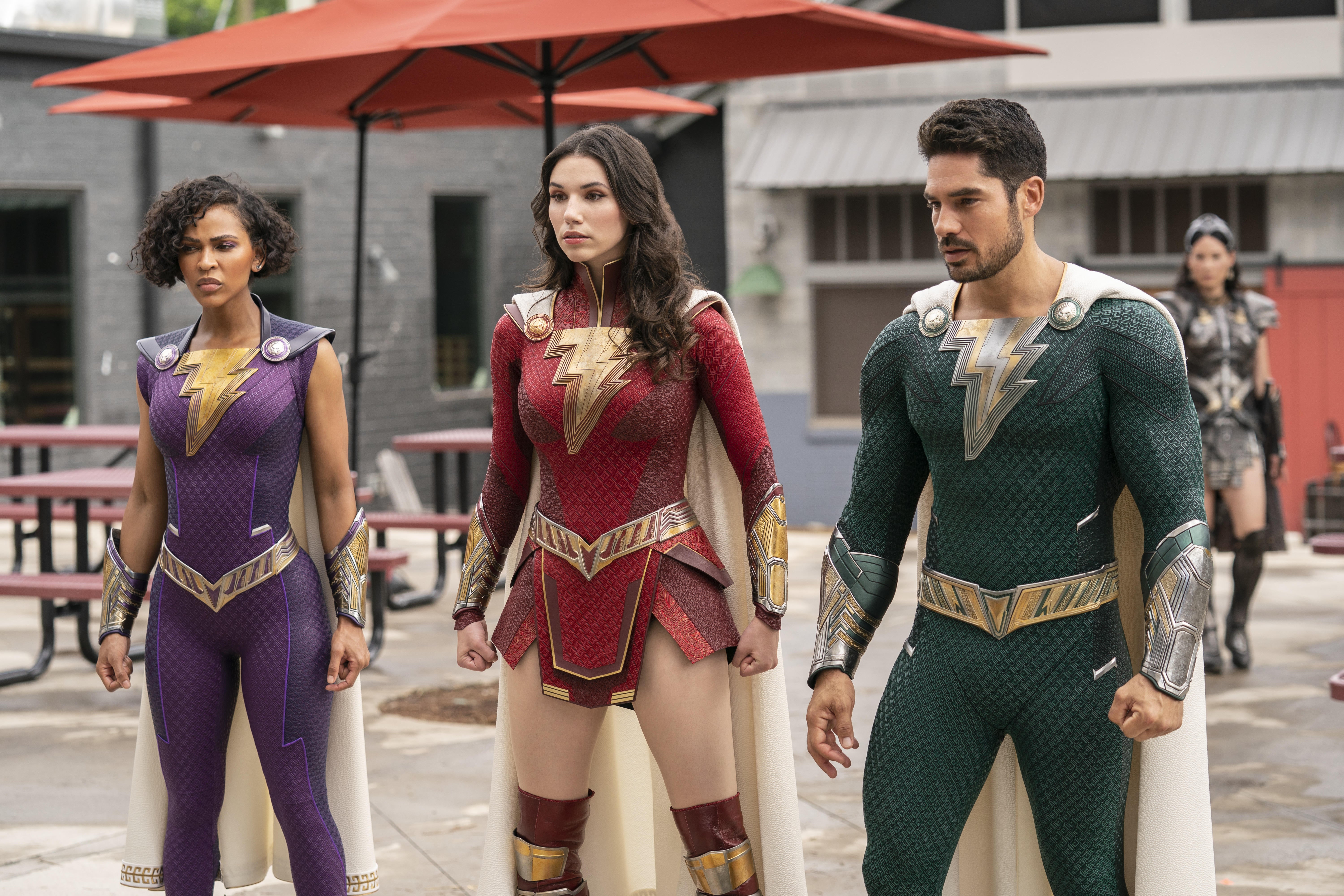 Currey stars in Shazam! Fury of the Gods along with Zachary Levi as Shazam, Asher Angel as Billy Baston, Jack Dylan Grazer as Freedy Freeman, Adam Brody as Super Hero Freddy, Ross Butler as Super Hero Eugene, Meagan Good as Super Hero Darla, D.J. Cotrona as Super Hero Pedro, Faithe Herman as Darla Dudley, Ian Chen as Eugene Choi, Jovan Armand as Pedro Pena, Marta Milans as Roza Vasquez and Cooper Andrews as Victor Vazquez. And the new cast members are Rachel Zegler, Lucy Liu and Helen Miren.
Currey is in a unique position for Shazam! Fury of the Gods as she plays Mary Bromfield and Super Hero Mary, making her the only cast member to play two different characters. "I was just so delighted," Currey stated. "And it was so exciting to get to jump into training and trying to get more of the physicality. And honestly, it was really exciting to have more to chew on, right? I just got to play even more of Mary and literally have more action to do."
In Shazam! Currey just played Mary Bromfield while Michelle Borth played Super Hero Mary. Currey talked about how she talked to Borth during the first movie, but it was about Borth portraying Mary and how she was going to look in adult form. "With the first one, we spend so much time with the kids, and then all of a sudden these adult counterparts are introduced and you really want to feel like there's that string of the same character, Currey explained. "And so it was actually really lovely on the first one because she came to me and asked me, "Who are you making Mary be? What's her mindset? Where is she coming from? What's her physicality?" And so we had a really lovely conversation. I felt like she was really thoughtful of carrying what I was doing into the suit form. But no conversations about how to be super, I think the suit does so much work."
0
comments