'Champions': Woody Harrelson and Kaitlin Olson Lead Feel-Good Basketball Movie (Review)
Woody Harrelson makes his return to the basketball court. No, he's not teaming up with Wesley Snipes to become a street legend like fans saw White Men Can't Jump 30 years ago. But the Academy Award-nominated actor shows off his skills as a basketball coach in the film Champions which is all about triumph and redemption. The film, which is Bobby Farrelly's solo directorial debut, is predictable, but it doesn't make it less enjoyable.
Champions stars Harrelson as Marcus who is an assistant coach for the minor-league basketball team in Iowa. He is desperate to be in the NBA but has a major setback when he shoves the team's head coach Phil Perretti (Ernie Hudson) and gets arrested for hitting a parked police car while driving drunk. To avoid jail time, Marcus is ordered to manage a basketball team with intellectual disabilities.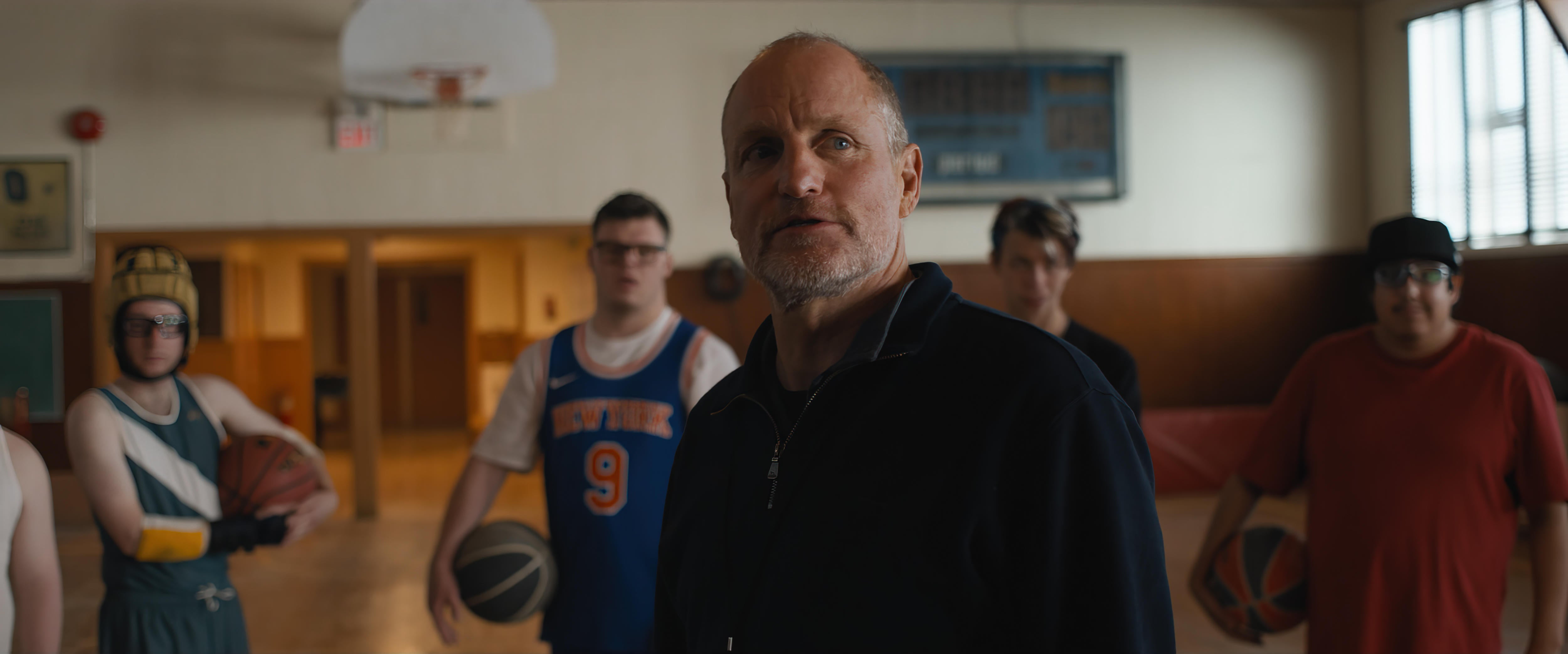 To nobody's surprise, Marcus is not too keen on coaching the players, but he eventually warms up to them. What is likable about Harrelson's portrayal of Marcus is that he's not very likable at first but always showed love to the players. The balance Harrelson shows is a reason he's earned three Academy Award nominations in his career.
The basketball team features 10 actors with intellectual disabilities. Joshua Felder, Kevin Iannucci, Ashton Gunning, Matthew Von Der Ahe, Tome Sinclair, James Day Keith, Alex Hintz, Casey Metcalfe, Bradley Edens and Madison Tevlin looked like they have been acting for years despite having little to no experience. Tevlin, who plays Consentino in the film had some of the best lines and made you believe her character could coach the team if she wanted to.
It's always great to see Kaitlin Olson on the big screen. Known for her work on It's Always Sunny in Philadelphia and Hacks, Olson, who plays Marcus' love interest and the older sister of Johnny (Iannucci), delivers a funny performance while going toe-to-toe with Harrelson, which can't be easy to do. Olson is doing great work in television, but it would be nice to see more movies down the road. And also starring alongside Harrelson is Cheech Marin who plays Julio, the manager of the recreation center where the team (known as the Friends) practices. Like Olson, Marin has some entertaining moments in the movie as his character tries to guide Marcus in the right direction.
Farrelly is known for producing and directing slightly offensive movies with his brother Peter such as Dumb and Dumber, Shallow Hal and There's Something About Mary. And while Champions uses language that could offend some, it's also needed to raise awareness that people with intellectual disabilities are no different from everyone else. Champions, which is an English remake of the 2018 Spanish film Campeones, is a film that fans have seen before. But Farrelly, Harrelson, Olson and the rest of the cast hit the right buttons emotionally, making it an enjoyable two-hour experience.
0
comments