Carrie Underwood Shows Her 'Star Trek' Fandom in New Photo
Carrie Underwood is not shy about her love of Star Trek, and the country singer revealed her fandom again in a new photo. Taking to Instagram, Underwood showed off her Star Trek: Generations shirt, which features both Sir Patrick Stewart as Captain Jean-Luc Picard and William Shatner as Captain James T. Kirk. "No caption needed," Underwood wrote at the bottom of the image.
Underwood's Star Trek clearly goes back many years. Back in 2015, Stewart shared an image from a Q&A the country superstar did with Us Weekly, where she confessed to having a "massive crush" on the legendary actor. "Always have, always will," she added. Stewart joked that her kind words brought him more joy "than the solid results of my recent bone density scan." Additionally, during the 49th Annual Country Music Association Awards the singer appeared on stage with a Star Wars Stormtrooper who she unmasked to be Shatner.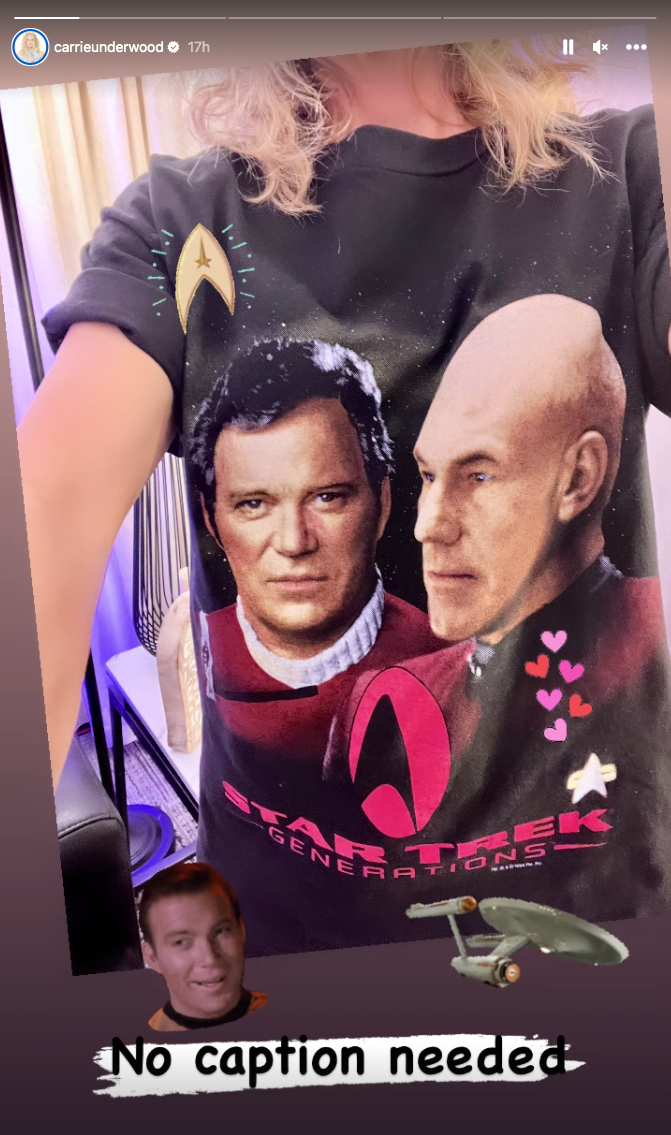 Some might be surprised to learn that Underwood is a sci-fi fan, but the singer is no stranger to revealing some interests that might not be so predictable. Back in 2021, Underwood divulged that she has a specific heavy metal album on her workout playlist, and it was certainly an unexpected surprise. During a CBS Sunday Morning interview, CBS News correspondent Michelle Miller asked Underwood about her playlist tunes, specifically what she jams while exercising. "[While] working out I honestly listen to like, metal or super hard rock music," the country superstar replied.
Underwood then named dropped I Prevail, a melodic metalcore band from Michigan. "Their Trauma album is one that I have on repeat when I'm working out." The singer then added, "There's a lot of not-children-friendly words on it. That's important to note." Underwood also joked, "I'm like, 'Don't go buy, you know, My Savior [her new Christian music record] and then go buy Trauma and be like, 'Carrie Underwood told me to.'"
I Prevail formed in 2013 and then quickly catapulted to fame in 2014 with their cover of a song by one of Underwood's peers: Taylor Swift. The band released their amped-up version of "Blank Space," which was a bonus track on their debut EP — Heart vs. Mind — and was also featured on the Punk Goes Pop Vol. 6 compilation album. The track launched I Prevail into the top 10 on Billboard's rock music charts, and "Black Space" has since been certified platinum by the RIAA.
In 2016, I Prevail released their debut album, Lifelines. That album had two tracks prominently featured by All Elite Wrestling — "Come and Get It" and the title track, "Lifelines" — and it peaked at #15 on the Billboard 200. Three years later, I Prevail released Trauma, which they had spent 10 months recording.
0
comments