Carrie Underwood Reveals Huge Addition to Her Home
Carrie Underwood resides with her husband, Mike Fisher, on a sprawling 400-acre farm in Tennessee with their two boys, Isaiah and Jacob. Occasionally, Underwood has shown fans her home, especially her stunning kitchen. She has recently been eager to show off her garden, which she once referred to as her "happy place," and she unveiled the latest major addition to her property on Monday.
Instagram users got a glimpse inside the expansive greenhouse where she will house her many plants. She revealed she is working with Epic Gardening to transform it, and they shared several videos of the process. "Got to work with the incredible [Epic Gardening] to set up my greenhouse! check 'em out!" read the text over the clip as Epic Gardening staff narrated the subsequent video. "What's up guys? I'm here in Tennessee with Carrie Underwood and Jacque, the Garden Hermit. We're doing a greenhouse build out. Carrie just got this incredible greenhouse, so we are decking it out with beds. Stay tuned. A lot more to come." Another video showed a few men shoveling large mounds of dirt and soil, with the Underwood's video text reading, "Promise I'm working too."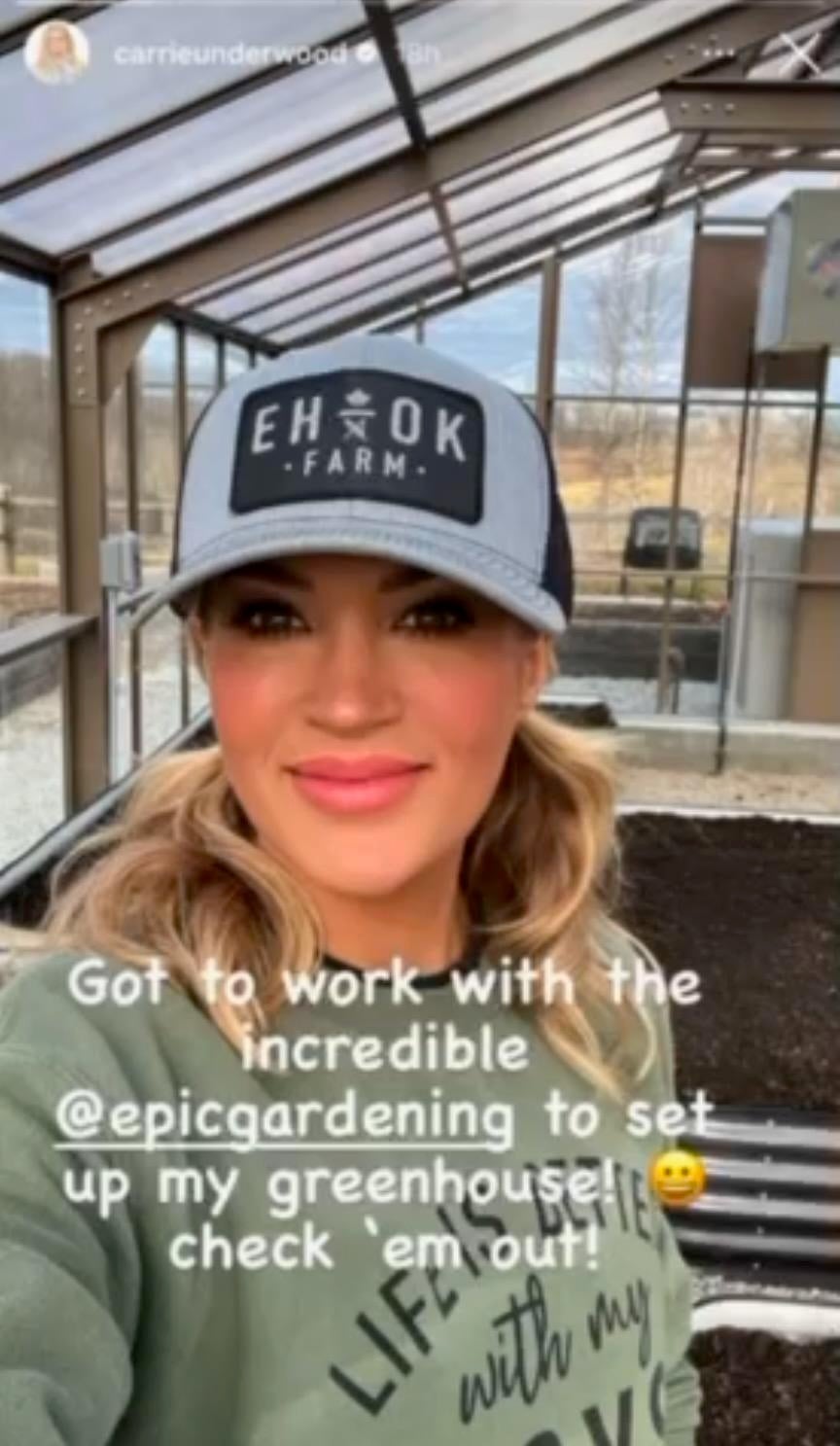 The next clip read, "Day one done! Crushed it [Carrie] – tomorrow starting seeds, potting bench, and more. "Hey, it's the end of day one," the staff member said in the video. "We filled all the soil up. Carrie absolutely crushed it. Looking through some seeds for tomorrow. Yeah, so tomorrow we're starting seeds. We're gonna put a potting bench here, some citrus trees. It's gonna be epic. So stay tuned. "The potting bench is here at [Carrie Underwood's] greenhouse," said the text over a short clip. The Epic Gardening staff said, "Day two here at the Underwood greenhouse. We got some trees in already. And then I think that's Jacque right there. Where? Where are you, Jacque?" Suddenly Jacque appeared, smiling and holding a large plank of wood. "What do you got in your hands?" "Think it's the potting bench," Jacque said. "We got the potting bench," echoed the staff member. The last video displayed the text, "Potting bench is done!" As the bench gets its camera time, the EG staff remarked, "We have just completed the potting bench, and I have to say it looks incredible already. Kind of decking it out with some trays, some soil, some accoutrements."
As a means of optimizing the space, the structure had already been filled with "long and short beds" and "a couple of L-shaped beds." Carrie wasn't afraid to get her hands dirty, helping to fill the beds and shoveling piles of dirt. The Epic Gardening Instagram Stories has a picture of Underwood and crew in front of the greenhouse with the caption, "That's a wrap! Had a blast with [Carrie Underwood] and the EG crew – full tour and greenhouse setup coming Saturday on YouTube!"
EG will apparently spotlight the finished result on their Youtube channel on Feb. 18. Underwood revealed to fans a detailed look at all the fruits and vegetables she grew on her land last July, including mushrooms, zucchinis, squash blossoms, berries, watermelons, and tomatoes. She captioned the video: "My garden is one of my happy places…when I'm getting my hands dirty it's my time for thought and reflection. Enjoy a little taste of calm…from my garden to yours." Underwood and her family live in Franklin after spending $3 million on the land in 2011 and building their dream home with their own lake and horse stables. She explained to Country Living in 2016, "My husband, Mike, and I are designing our forever home," she said. "My must-haves are a wood-burning fireplace, a porch swing, and rocking chairs." The couple's finished house includes several bedrooms, the master bedroom has a walk-in closet that displays endless clothing, shoes, and bags, bathrooms, living rooms, and a basement.
0
comments