Pokimane Admits Her New Year's Eve Photos Were 'Deceiving'
Twitch star Imane "Pokimane" Anys reminded her followers that life as a successful streamer isn't all glamour. The Moroccan-born Canadian content creator is one of the most prominent female streamers on Twitch. She has over nine million followers, attracting a huge community of fans. In addition to having multiple YouTube channels, she has over six million subscribers to her main channel. Suffice it to say, she is a giant in the streaming world and, therefore, must command a glitzy photoshoot befitting a successful online personality.
And Pokimane provided with a New Year's Eve Instagram shoot in a sexy black outfit baring her midriff paired with sleek black shades. The images were accompanied by a cheeky caption in which Anys wrote, "got a new year's kiss," with fans begging for one themselves. Skipping to the carousel's end shows that she eventually got a smooch —from her cat. Besides the furry friend, one might expect the streamer to be decked out for a fancy holiday outing.
However, despite the trendy attire, a later Instagram Story by Anys gave a completely different impression of the star. Clad in an oversized black hoodie and large glasses, she gives a thumbs up to the camera as she takes a selfie in a mirror. Anys wrote in the Story, "altho my pics might be deceiving, [tonight] i'm gonna order in with friends and watch tv." She added: "i love a cozy new years eve!"
In another entry, Pokimane calls her "last story of 2023," she thanks fans for their devotion and dedication in the past year. She wrote, "appreciate y'all for supporting me over the years, i'm excited to continue to grow, evolve & bring you guys along w/me for the ride!"
In December, Anys also revealed her goals for the new year, following a hiatus from content in July to reset her mental health before returning to a revamped Twitch streaming schedule in September. In tweets from her personal account, per Dexerto, she revealed that she has wholly reorganized her priorities starting the new year to become a better version of herself.
0
comments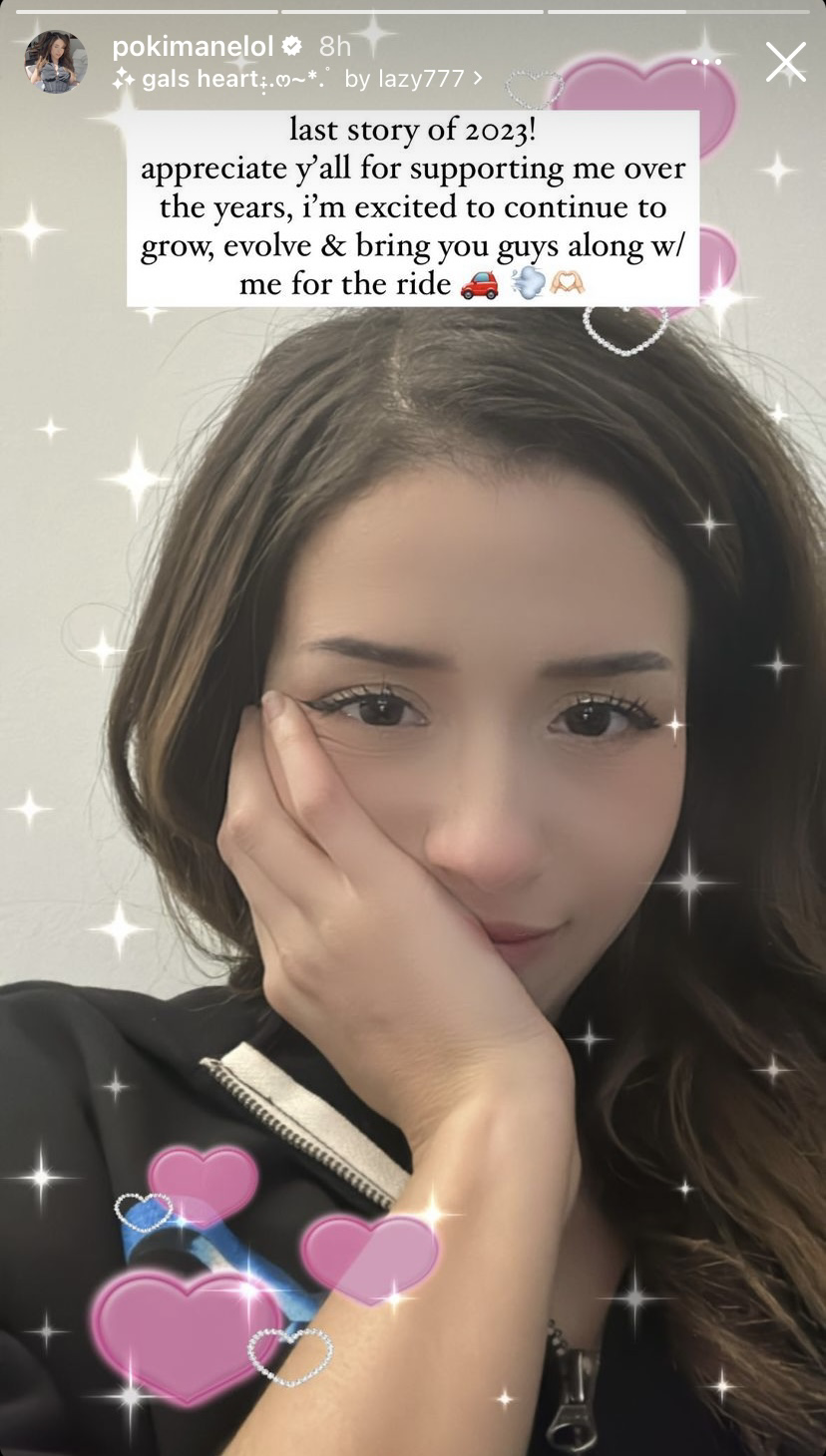 The primary goals Pokimane has for 2023 are to "experience new things" and "get into the best shape of her life." Although she would have to focus less on Twitch streaming and YouTube videos, she suggested this would be the best option for her in the long run. "This might be the first year where content isn't a priority of mine," she added. "But I think it's better to explore, evolve, and output more when I feel like it."