Peek Inside Doris Day's Charming $5.7M Ranch-Style California Home
Doris Day sang about almost every topic imaginable, including Christmas. Surprisingly though, she spent the last years of her life living in an area of California where people do not usually see snow. The "Christmas Song" singer and her pets lived in a charming ranch-style estate in Carmel, California. The bright yellow home was listed at $7.4 million after Day died in 2019 but sold for $5.7 million. Thanks to photos from TopTenRealEstateDeals.com, we can get a good look at the home, which matched the cheery on-screen image that made Day so beloved in Hollywood.
During Day's career, she recorded several Christmas songs and had a big hit in 1964 with The Doris Day Christmas Album. The record included such beloved classics as "Silver Bells," "I'll Be Home For Christmas," "Winter Wonderland," "Have Yourself a Merry Little Christmas," and "White Christmas." She also recorded "The Christmas Song" in 1947 and again for her Christmas Album. Day's Christmas songs made up only a small part of her career though, as she recorded over 650 songs between 1947 and 1967.
Day was one of the most popular Hollywood stars of the 1950s and 1960s until her retirement from movies in 1968. She also starred in her own sitcom, The Doris Day Show, which ran from 1968 to 1973. She spent the rest of her life as a tireless supporter of animal rights. The proceeds from the sale of her Carmel house went to the Doris Day Animal Foundation. Scroll on for a tour of the house she called home for the last 40 years of her life.

The charming exterior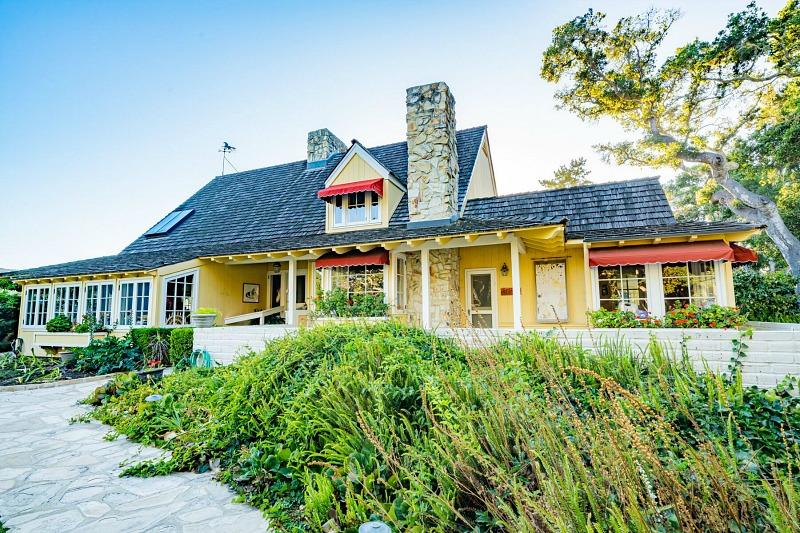 The house sits on nine acres atop a knoll and covers 7,000 square feet. It overlooks the Carmel Valley and the Quail Lodge Golf Course. It has a cheerful yellow color throughout, which should remind fans of the bright colors of her best comedies.
prev
next
Living room area with fireplace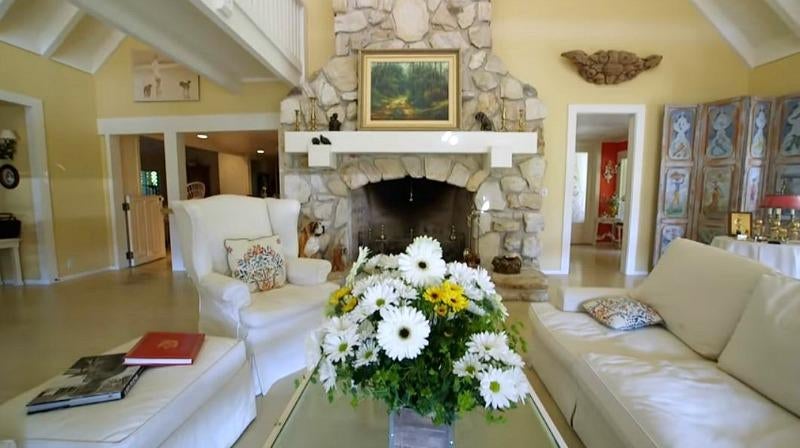 The property, which is covered with oaks, also includes a guest house and a gatehouse with two apartments. While the house and guesthouse are mostly yellow on the outside, the gatehouse has added red accents that pop. Across the three structures, there are six bedrooms and nine bathrooms. The rooms feature impressive views, balconies, and terraces.
prev
next
Amazing dining room views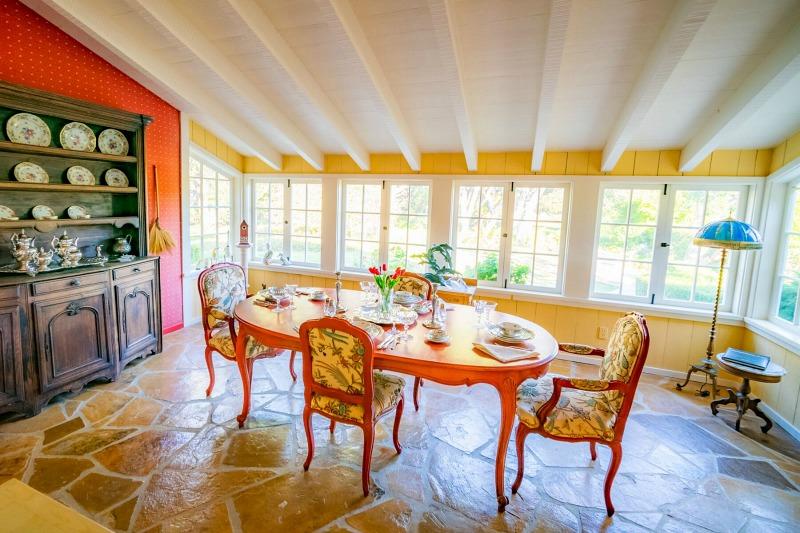 Carmel-by-the-Sea is a lovely village on the Monterey Peninsula that has long been attractive to artists and actors. It is famous for unique municipal codes, including one that bans fast-food restaurants. Day also helped some of the animal-centric codes come to fruition, like one that allows dogs to come to restaurants and shops with their owners.
prev
next
Doris Day painting by the fireplace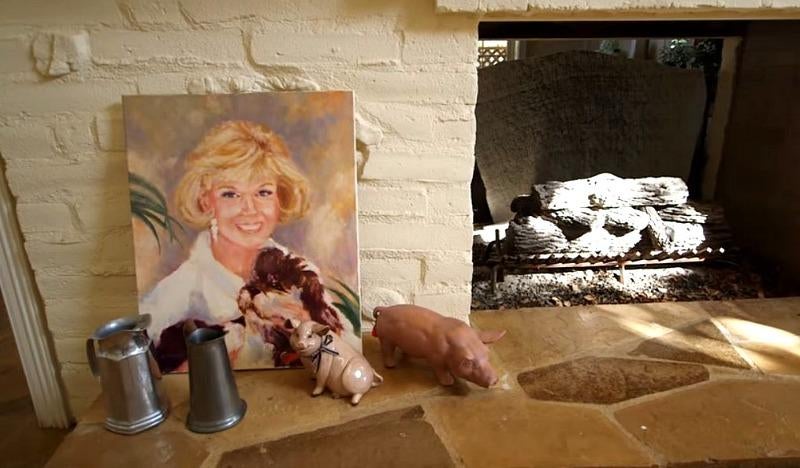 Day was one of the last surviving stars from Hollywood's Golden Age. She died in May 2019 at age 97 in her Carmel home. After her death, pieces of memorabilia from her career generated almost $3 million for the Doris Day Animal Foundation, Julien's Auctions said last year. One of the biggest pieces was the classic 1930 Ford convertible seen in Day's 1980s talk show, Doris Day's Best Friends. The car sold for $96,000.
prev
next
Spacious master bedroom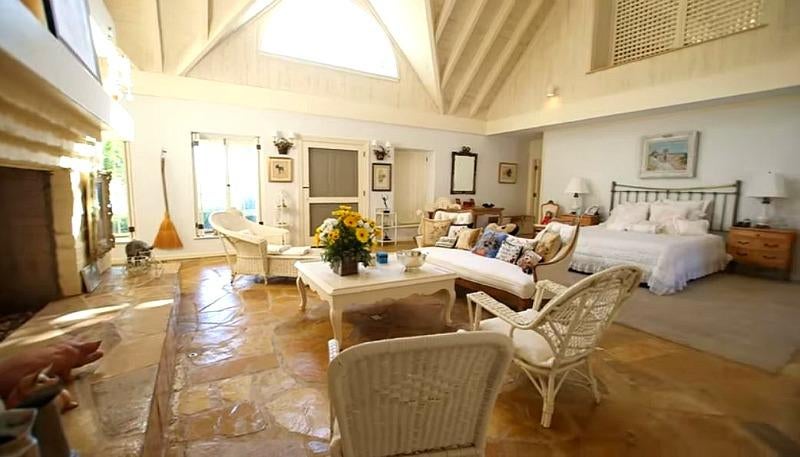 The auction also included Day's four Golden Globe Awards. Her 1962 award for World Film Favorite – Female sold for $25,600. She also won the same award in 1958 and 1960. In 1989, she received the Cecil B. DeMille Award. Day never won an Oscar though and was only nominated once. In 1960, she was nominated for Best Actress for Pillow Talk.
prev
next
Another dining room view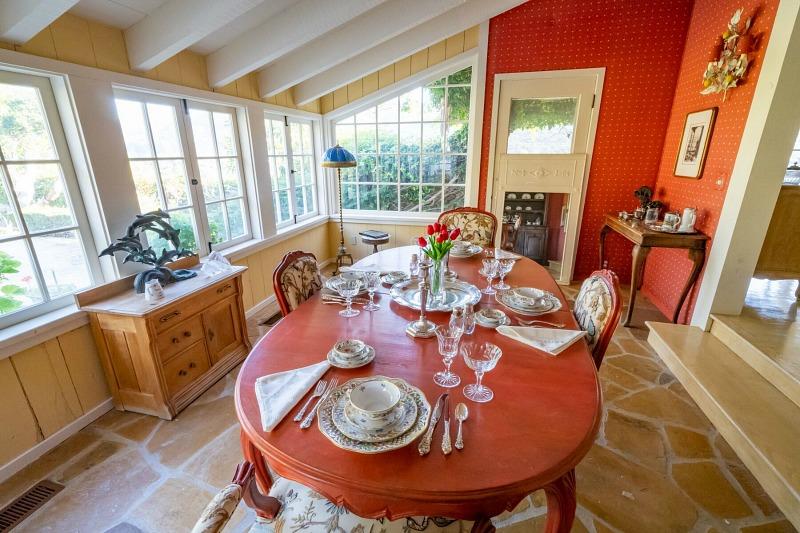 Day remains a beloved figure, but the Doris Day Foundation did not arrange any funeral services or public memorials after her death, per her wishes. Day was in good health until she contracted a serious case of pneumonia before her death. She was surrounded by her loved ones, including her "precious four-leggers," her foundation said. Day's 39 movies include Romance on the High Seas, Young Man with a Horn, On Moonlight Bay, Young at Heart, Love Me or Leave Me, The Pajama Game, Pillow Talk, Midnight Lace, Lover Come Back, and The Glass Bottom Boat.
prev
0
comments