McDonald's Adding New Big Mac to Menu
A new iteration of the iconic Big Mac is joining the McDonald's menu, and sparking a new battle in the ongoing fast food chicken sandwich wars. More than 50 years after the Big Mac debuted on the McDonald's menu, the Golden Arches is swapping out the mouth-watering beef patties for chicken as it prepares to launch the new Chicken Big Mac.
McDonald's Canada – yes, that means McDonald's fans will have to make the trek to Canada to try the new menu item – announced the news Tuesday. While a traditional Big Mac two 100% all beef patties, lettuce, cheese, pickles, Special Sauce, and onions on a sesame seed bun, the soon-to-be-introduced Chicken Big Mac adds a new twist to what one of McDonald's most-popular and most iconic menu items. The Chicken Big Mac keeps all the traditional fixings of a Big Mac, though it replaces the beef patties with chicken patties made with 100% Canadian raised seasoned chicken breast in a crispy, light-tasting coating on a freshly toasted sesame seed bun.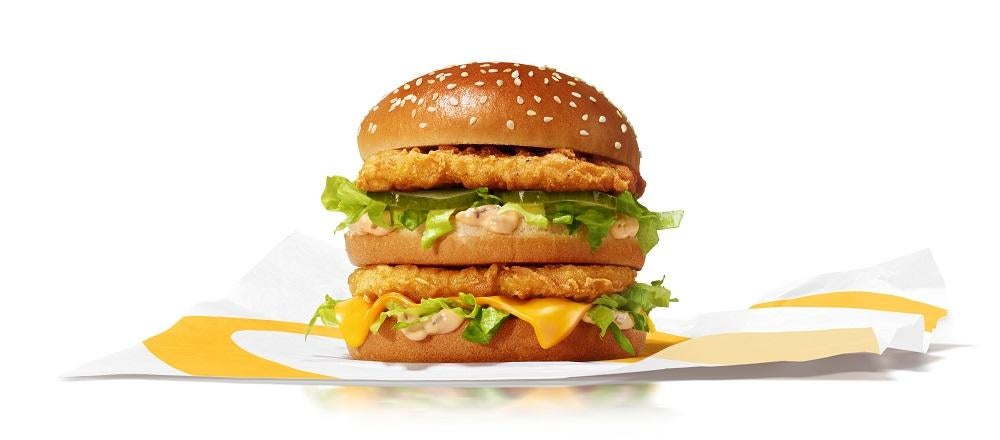 "We know that Canadians have been hacking the Chicken Big Mac in creative ways over the years, eager to get their hands on the real thing," Alyssa Buetikofer, Chief Marketing Officer, McDonald's Canada, said. "To these guests, we love your passion and your hacking days are officially behind you: the Chicken Big Mac is finally here. But it's only for a limited time, so try it while you can."
The menu item's debut will come more than 50 years after the Big Mac first launched in 1968. The burger quickly became a fan-favorite, and has since risen to become an iconic menu item in the fast food realm. McDonald's sells more than 550 million every year. Although the burger has remained a staple, McDonald's has offered different varieties of it throughout the years, including the Big Mac Bacon Burger, which debuted in the U.S.and the U.K. back in 2019. McDonald's Canada,
The Chicken Big Mac is set to debut on McDonald's menus in Canada only on Tuesday, March 7. It will be available for a limited time. It will join the craveable chicken lineup including the McCrispy, Chicken McNuggets, and the McChicken Sandwich. It is unclear if the item could become a permanent menu item or if it could eventually make its way to the U.S.
0
comments