2023 SAG Awards Offered a Mini 'Parent Trap' Reunion With Lisa Ann Walter and Elaine Hendrix
The 29th Annual Screen Actors Guild held a small The Parent Trap reunion, thanks to Abbott Elementary star Lisa Ann Walter. The first-time SAG Award nominee brought Elaine Hendrix as her date to the red carpet. Hendrix played Meredith Blake in the 1998 version of The Parent Trap, while Walter played Chessy.
The reunion almost did not happen thanks to the weather, Walter told Entertainment Tonight. "Well, I invited my date, but then my date flew, and it took her nineteen hours to get here because of the weather, and a little diversion to Vegas, three other planes that were made late and she got here," she said. "I got here, and I was determined," Hendrix chimed in, adding that Walter asked her to be her red carpet date.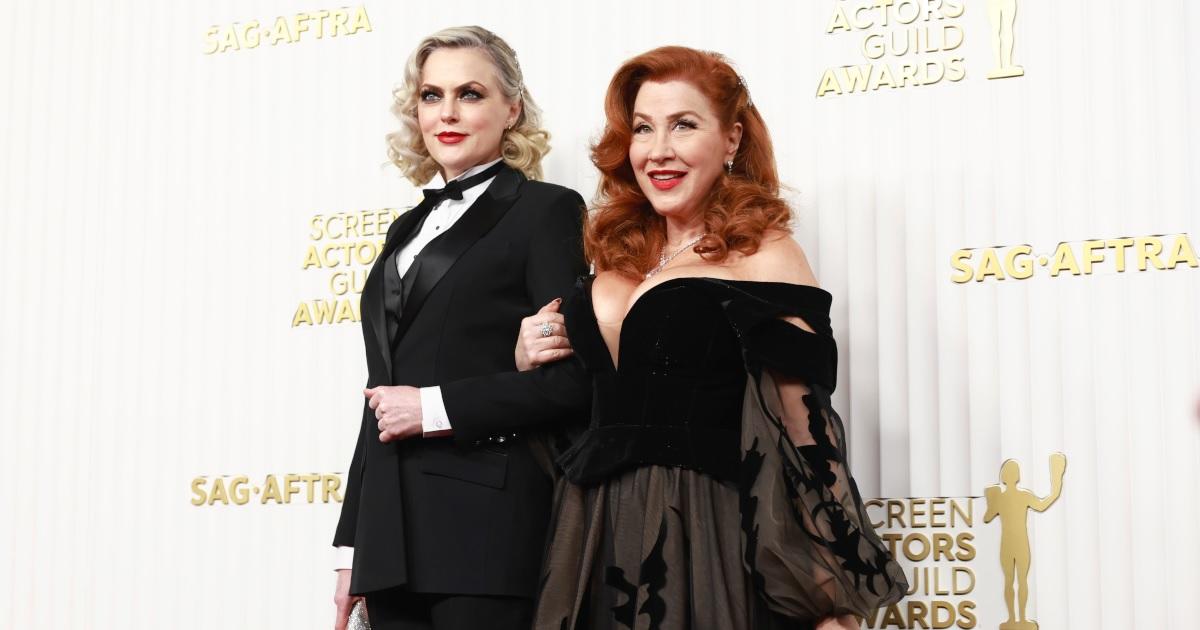 Hendrix wore a fitted tuxedo, while Walter wore a black strapless gown. "It's the best-looking date in a tux I think I've ever had," Walter joked. Hendrix also knew exactly what she needed to wear the moment she got her invitation. "I showed up to be Lisa Ann Walter's date and when she asked me, I was like, 'Oh, I knew exactly what I needed to wear.' So, I got a lady's tuxedo," she told ET.
Walter earned her first SAG Award win as a member of the Abbott Elementary cast. She plays teacher Melissa Schemmenti on the acclaimed ABC comedy. Series creator Quinta Brunson was also nominated for Outstanding Performance by a Female Actor in a Comedy Series but lost to Hacks star Jean Smart. Abbott Elementary also won three Emmys last year.
Walter told ET that she had her idea for what she would wear to the SAG Awards more than five years ago even though she was unemployed at the time. "So, everyone's like gagging, because they're like, 'You manifested this,' and I showed it to my mom, who has passed, and I'm sort of carrying her with me," Walter explained. "I've got my Nana's shoe clips on the front of my shoes, and I've got my mom's Lucite clutch from the fifties, so, it's a little bit of an homage, and my other secret is that I'm wearing my lucky panties."
Abbott Elementary airs on ABC Wednesdays at 9 p.m. ET and is also available to stream on Hulu. The 2023 SAG Awards are being streamed live on Netflix's YouTube channel. Sally Field was presented with the Screen Actors Guild Lifetime Achievement Award.
0
comments