'Freeridge' Cast on Creating Own Legacy in 'On My Block' Universe (Exclusive)
On My Block is a Netflix comedy series that ran from 2018 to 2021. The series focused on four friends growing up in the inner-city Los Angeles neighborhood called Freeridge. And now a spinoff series, which is aptly called Freeridge, tells the story of four new teenage friends getting into a big adventure. PopCulture.com spoke exclusively to Freeridge stars Keyla Monterroso Mejia, Bryana Salaz, Tenzing Norgay Trainor, and Ciara Riley Wilson who are ready to live up to the On My Block legacy.
"I think On My Block just was a powerhouse show in the teen space and something that people had never seen before," Wilson, who plays Demi, exclusively told PopCulture. "And just being a part of that universe is so inspiring. And I think we all share that belief that we're just really, really honored to go alongside them in our own legacy in the same universe as the On My Block world."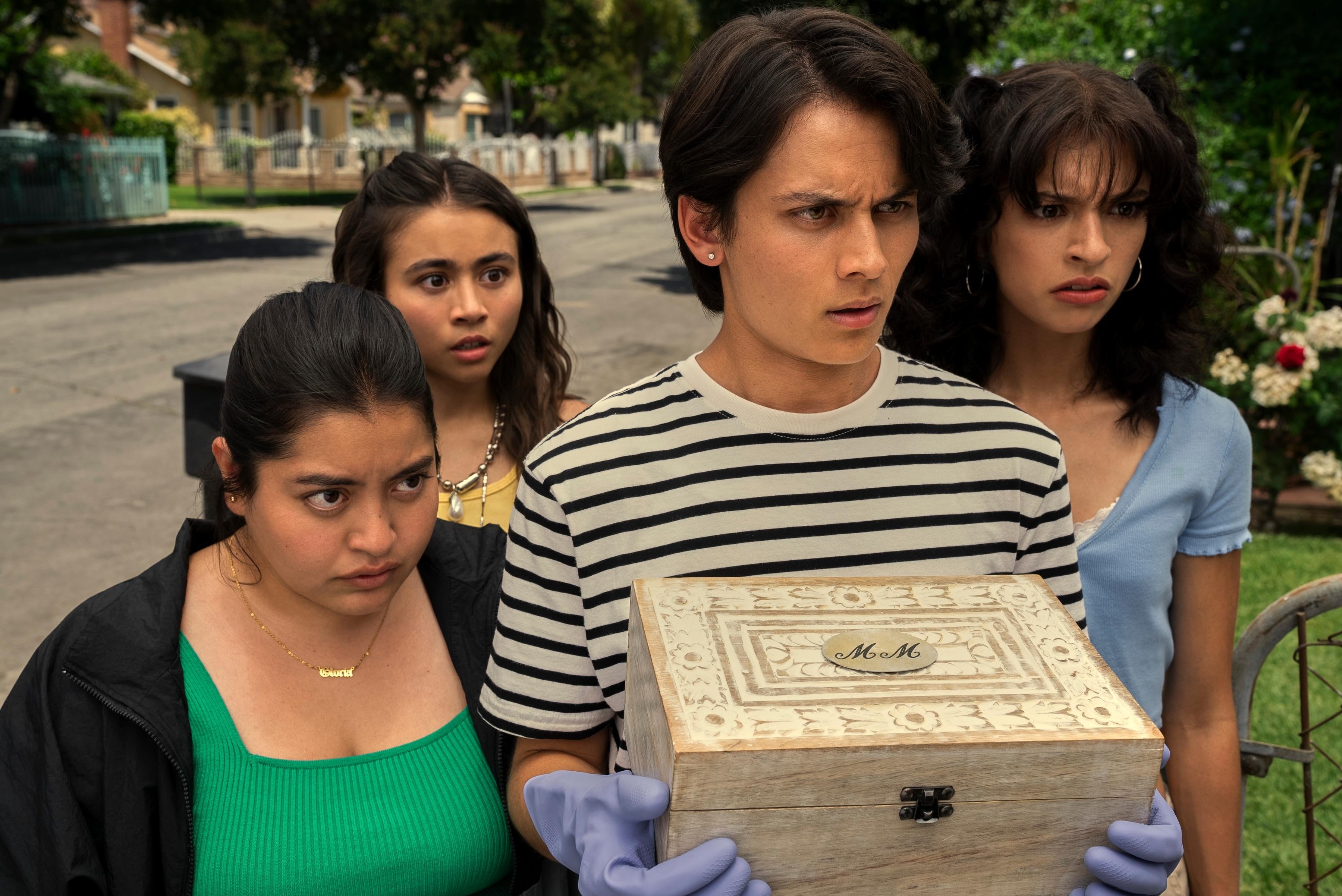 Trainor, who plays Cam, explained the biggest difference between On My Block and Freeridge. "I think this show, it shares a lot of similarities to On My Block," he said. "It takes place in the same town. It has a lot of the same names and maybe a few faces, little Easter eggs here and there. But the difference with our show and that show is while they mainly dealt with RollerWorld, we're dealing with a curse that's on our hands. And yeah, you see us navigate that and all of our crazy craziness that comes with it."
Freeridge is about Gloria (Mejia), Ines (Salaz), Demi (Wilson) and Cam (Trainor) unleashing a curse that brings dark misfortune into their lives. And while the four cast members are new to the On My Block universe, they are not alone in the journey as the show brings back actors from the original series, including Paula Garcés, Eric Gutierrez, Eme Ikwuakor and Raushanah Simmons and Peggy Blow who has a big role in Freeridge.
"She is so cool," Salaz said about Blow "She's a theater geek like me. So, we were singing Broadway tunes together and just talking about this theater. And she's a military kid too. We bonded. We bonded in those trailers."
Of the four characters in Freeridge Gloria is looked at as the leader because of her assertiveness. Mejia likes playing Gloria because of "how empowered she is. My character is badass. She doesn't take no for answers. She's very independent and smart and I like that. I'm not going to lie, I think she's cool." All eight episodes of the first season of Freeridge are streaming on Netflix.
0
comments